A Day's Sport with the Cormorants at Bishopstoke and Brambridge House, Hants.
by Lord William Lennox
                             (from an article published in The Hampshire Advertiser,                                      on Saturday November 7th, 1868).
Compiled with additional illustrations by Chris Humby
(Please note – writing style, wording, and phrasing, differ from that used today)
Within a few years, Mr Salvin, a gentleman of independent fortune and an ardent lover of field sports, has taken upon himself to train cormorants, and thoroughly has he succeeded in his laborious efforts; two of his birds are perfectly tame, highly trained, and as obedient to their master's call as a well broke pointer is to the voice of the gamekeeper. The birds are very fine specimens of the Pelicanus genus, and they are unquestionably the most expert piscators we ever saw. Willoughby, from whom we have quoted, tells us that each bird can swallow five or six fish, and such may be the case, but they must be of a very small size, for we found the pouches of Mr Salvin's cormorants quite full, nay part of the prey protruding, with only two fine speckled trout in each bird. Mr Chamberlayne, of Cranbury Park, near Winchester, than whom a more hospitable man or more, thorough yachtsman and sportsman does not exist, invited Mr Salvin to his house last week with a view of having two days with the cormorants; one at a mill belonging to Mr Chamberlayne and rented by Mr Atkins, near Bishopstoke, on both banks of the river, was crowded with spectators to witness the prowess of the two feathered fishers. Mr Chamberlayne's well-appointed carriages, with his celebrated greys, first drove up, followed by Mr Standish, the popular master of the Hursley foxhounds, and Mrs Standish, and a large sprinkling of officers of the Rifle Brigade stationed at Winchester. The lawn to the water's edge was crowded with well dressed ladies who had previously arrived, and the banks were studded with country folk, all anxious to "get a look at the river poachers."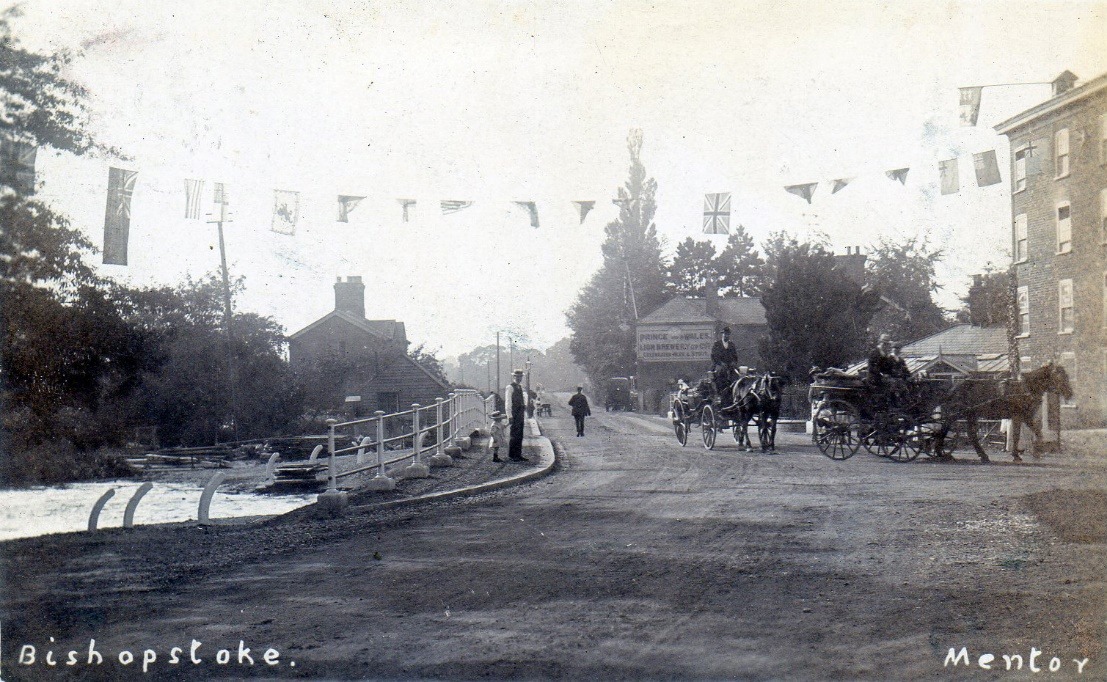 (Carriages arriving at Bishopstoke Mill circa 1900)
Mr Salvin shortly afterwards appeared, in a real water-proof suit, whip in hand, followed by two stalwart men carrying the birds in a sort of palanquin. Upon being removed from this they looked about them for a few minutes, and at the word of command flew into the water, just as a pack of foxhounds are hied into cover. In less time than we can take to record it, each bird was "playing" a fish (rather bad play for the latter), and when each had pouched two fair sized trout, attending the call, landed, and disgorged their prey. This went on for at least two hours, much to the delight of the spectators. When the sport was concluded, Mr Salvin, who had been amphibious, now on the grass assisting his birds to land, now in the river leading them to the most favourite haunts of the trout and slippery eel, rewarded his favourite birds with the fish they had caught; and this was a most satisfactory sight, for one could not help feeling for the birds, who were subject to a temptation great as one of those St Anthony suffered under, namely, that of having food in their pouches which they were debarred from partaking of. It would be like placing a basin of turtle soup, with all its appendages of green fat, calipee, calipash, before a hungry civil alderman with a tight collar round his throat to prevent his swallowing the dainty orcidental food, instead of a loose collar over his shoulders. Mr Atkins, the tenant, showed that he was an Englishman of the right sort, for nothing could exceed his attention or hospitality to the lady guests. Good landlords make good tenants; no wonder, then, that a tenant of squire Chamberlayne's should be one of that class who are the pride of our country.
(South American Cormorant pictured near the Panama Canal, November 2018)
On the following day Brambridge House was the scene of another day's cormorant fishing. This house formerly belonged to the Wells and Smythe families, and subsequently became the property of a gallant Waterloo hero, General Sir John Hanbury, late of the Grenadier Guards, and latterly it belonged to Mr William Craven. The present proprietor, Mr Thomas Fairbairn, jun., has improved the property wonderfully. The mansion has been rebuilt; the gardens have been improved; the grounds have been tastefully laid out; and Brambridge House, for architectural beauty and fine specimens of art, cannot be equalled.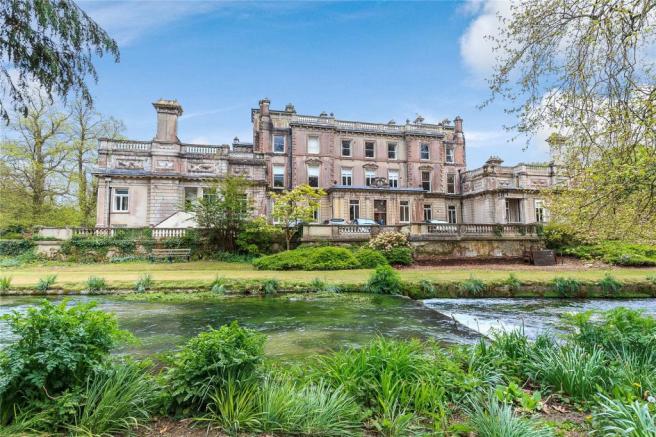 (Brambridge House)
The river runs through the grounds, and as the water was peculiarly clear, the sport was even better than by the more muddy mill stream. A large party from Cranbury, from the neighbouring mansions, and from the barracks at Winchester, were entertained at lunch by Mr and Mrs, T, Fairbairn; and after viewing the new drawing-room and looking over the choice collection of paintings and china, they proceeded to the river side, where the catch of fish was great, the birds behaving quite as well as on the previous day. Mr Salvin, who is an excellent sportsman, and an accomplished naturalist, was highly congratulated upon his powers of domesticating and training these birds, which we understand came from Yorkshire. This may in some degree account for their acuteness; for though I say it that should not, having myself been born in that country, Yorkshire folk are proverbial for their keenness.
To return to Brambridge House, there is a peculiar interest attached to this spot, as having been the scene of the marriage of the Prince of Wales, afterwards George IV., with Mrs Fitzherbert.
(Maria Anne Fitzherbert 1756 to 1837)
There is another spot, not far distant, which is deeply interesting. I allude to Hursley Lodge. This seat formerly belonged to the Protector, Richard, son of Oliver Cromwell, who frequently resided here previous to his voluntary exile on the Continent, but was obliged, some time after his return, to institute a proof against his daughters in order to recover possession of the estate, which on his decease was sold for £35,000 to an ancestor of the Heathcote family, who had the ancient mansion entirely taken down. During the progress of the workmen the die of a seal was found, which, on being cleaned, proved to be the seal of the Commonwealth of England; and was supposed by the artist Vertue, who saw it in 1760, to be the identical seal that Oliver took from the Parliament.
The present mansion is a spacious and substantial structure, standing in a pleasant park and embellished with extensive woods and shrubberies. As some of our readers may like to be reminded of the natural history of the cormorant, we append a brief description condensed from the best ancient and modern authorities upon the subject. Probably in these days, when fresh excitement is eagerly sought after "bird fishing" will come into fashion when the terrific heights of St Kilda, the small Bass island, and the rugged northern shores will be explored to furnish cormorants for the lovers of such aquatic sport. The cormorant, or corvorant is a species of the Pelican genus, the characters of which are – bill strong, straight and either hooked or sloping at the point. Face naked, gullet naked, capable of great distention. Toes four, all webbed together. The cormorant breeds on most of our rocky coasts; their nests are composed of sticks and sea-weed. The eggs are generally three in number, colour white, weighing about two ounces. It frequently builds on the very summit of the highest rocks impending the sea. In the winter it is frequently found in fresh water rivers, at a considerable distance from the sea. It is a great destroyer of fish, and the quantity this bird will swallow at a time is astonishing. The digestion of the cormorant is so rapid that it will devour three or four pounds of fish twice a day. In fishing, this bird always carries the head under water in order that it may discover its prey at a greater distance; and it is almost incredible to see with what dexterity this bird dives and seizes the scared finny tribe. All fishes are invariably turned in the bill, so as to present the head foremost; and when an eel (the most favourite food) is captured, and not seized favourably for gorging, and the resistance of such slippery prey renders it impossible to be turned in the bill, then the fish is thrown up to some distance, and most dexterously caught in amore favourable part, and instantly swallowed. If the fish happens to be of the flat kind, it is invariably turned in the bill so as to reverse its natural position, by which means only could such be got within the bill – Land and Water, Oct.24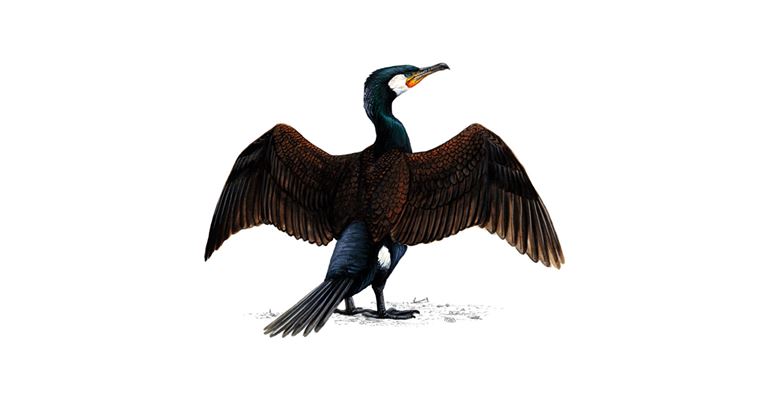 The End