Garnier Letters
These letters are part of a private collection. The original letter was folded, the address added, and the letters would have been sealed with wax. All that remains is the address, with a few words remaining on the back. A collector of post marks, in days gone by, has sadly trimmed the letters so that only the post marks, between 1822 and 1825 remain. In these times reading was a privilege for those that had received an education, and an education was reserved for the wealthy and influential members of society. Not many people received letters, so the address only names the individual and the district where they lived.
Whilst it is sad that we will never know what was written in the letters they are a reflection on the social standing of Dr Thomas Garnier as Rector of Bishopstoke, who was also a friend of Lord Palmerston. It is remarkable is that these flimsy pieces of paper still exist after nearly 200 years, whilst the old St Mary's Church, built by Dr Thomas Garnier at Riverside in 1825 has not survived the ravages of time.
This letter was posted in 1822 to a Miss Hobhouse who was staying with Rev Garnier at his Rectory in Bishopstoke and was sent by Charles Harvey MP, from London. Charles Harvey came from a long established Norwich corporation family, members of which were seven times sheriffs and eight times mayors of Norwich between 1720 and 1800. They were wool merchants and bankers and leaders of the Orange and Purple or ministerialist party in the city, which Harvey's grandfather Robert contested in 1761. His elder brothers Robert (1751-1820) and John (1755-1842) were prominent wool manufacturers. He himself was a barrister on the Norfolk circuit and by the influence of his family became first steward and subsequently recorder of Norwich. Unlike other members of his family, Charles never held the position of Sheriff or Mayor. He represented Norwich as an MP from 1812 – 1818. (Ref https://www.historyofparliamentonline.org/)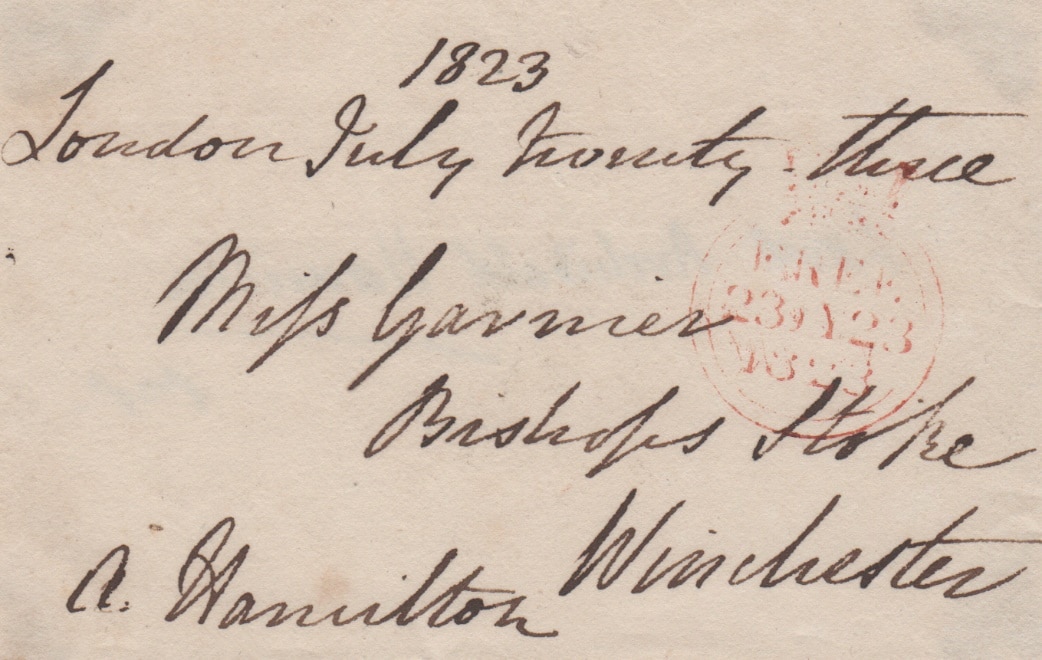 Lord Archibald Hamilton (1769 –1827) was a Scottish politician. Born in 1769 to Lady Harriet Stewart, and her husband, Lord Archibald Douglass-Hamilton, he matriculated at Christ Church, Oxford on 23 April 1788. He received his BA in 1792 and his MA in 1795. In October 1790, he was admitted to Lincoln's Inn, and called to the bar in 1799. He was elected Member of Parliament for Lanarkshire in 1802 and served as MP for 26 years, opposing the governments of Addington and Pitt. Lord Hamilton was also Colonel of the Lanarkshire Militia and Lord Rector of the University of Glasgow in 1811. (Ref https://en.wikipedia.org/)
This letter from 1823 and posted from London to Reverend Garnier at Bishopstoke was sent by Charles Savill Onley MP. Charles Harvey, who sent the first letter shown in this series, had taken the surname Savill Onley on the death of his uncle the Rev. Charles Onley, after he had been bequeathed possession of Stisted Hall, a very fine estate in Essex. From 1818 – 1826 He continued to sit unopposed for the 'comeattible borough' of Carlow (Ireland) placed by the 1st earl of Charleville at treasury disposal, provoking local anger that an 'Englishman and a stranger' had again been 'chosen to represent' a town 'which he never saw. (Ref – https://www.historyofparliamentonline.org/)
This letter was sent from London by Sir Robert Harry Inglis, 2nd Baronet to Rev Garnier in 1825. Inglis represented Oxford University, as the uncompromising champion and defender of the Protestant establishment, who opposed Peel on the Maynooth issue in 1845 and repeal of the corn laws in 1846, until he retired because of 'impaired health' in 1855. According to https://www.historyofparliamentonline.org/ Inglis's abilities were modest, but he enjoyed considerable 'consequence' among the more obscurantist Conservative backbenchers. It was said of him that 'there is this redeeming quality in his alleged bigotry – he cordially pities those whom his creed obliges him to condemn'. Tom Macaulay likened him to his hero Perceval, except in talent: 'the same opinions both religious and political, the same rectitude of principle, the same sweetness of temper, the same bigotry and narrowness'. He became, as Hobhouse noted, 'essentially a part of the House of Commons for many years'; and an anonymous obituarist wrote that 'the younger Members … will, for many years to come … recall to-mind the Member for Oxford University, moving quietly on towards his place … with a fresh flower at his button-hole, and with a genial smile and courteous word for everyone'.
There is a long, but quite entertaining biography of Sir Robert at https://www.historyofparliamentonline.org/