Eastleigh Airfield                                                                                by Chris Humby
(From a talk first presented in May 2019)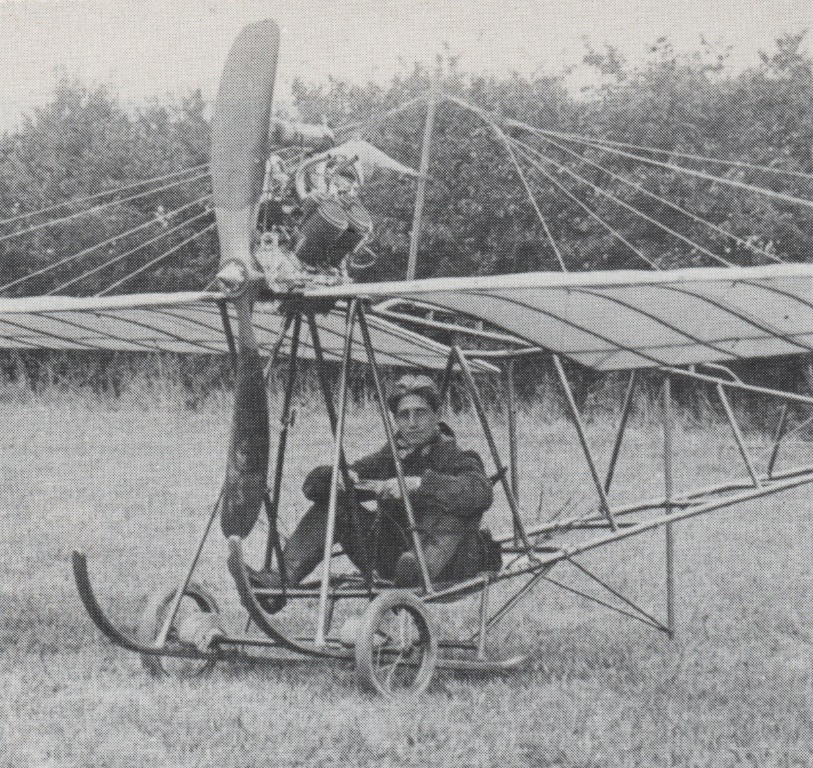 Edwin Rowland Moon was pictured with his Moonbeam 2 in the meadows of North Stoneham Farm in the spring of 1910. He is credited with being the first to fly from what was to become known as Eastleigh Airfield.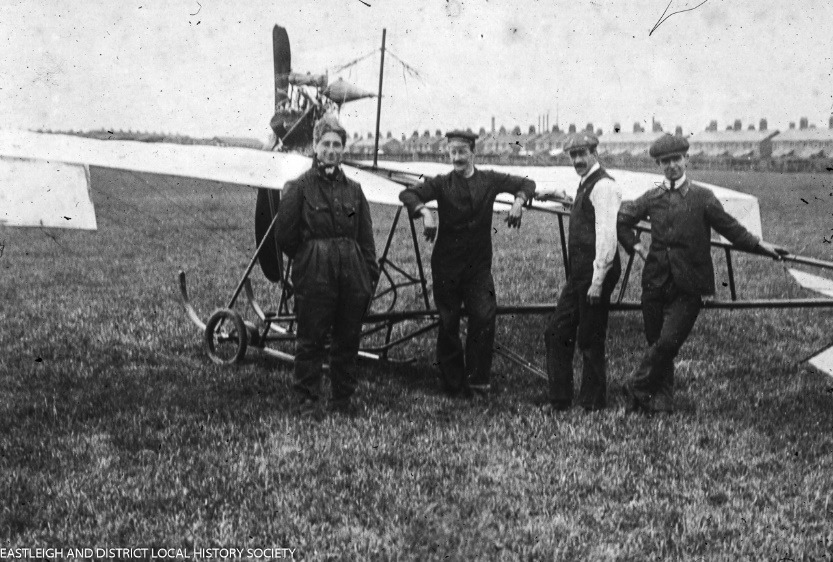 The brand-new Eastleigh Locomotive Works and the houses in Campbell Road can be seen in the background. Edwin Moon had an involvement in the family business, the Moonbeam Engineering Company Ltd, in Town Quay, Southampton, which gave him the opportunity to indulge in his passion for aeroplanes and automobiles. He joined the Royal Naval Air Service in 1914 and on promotion to Flight Lieutenant, was stationed at Felixstowe where he was assigned to North Sea patrols.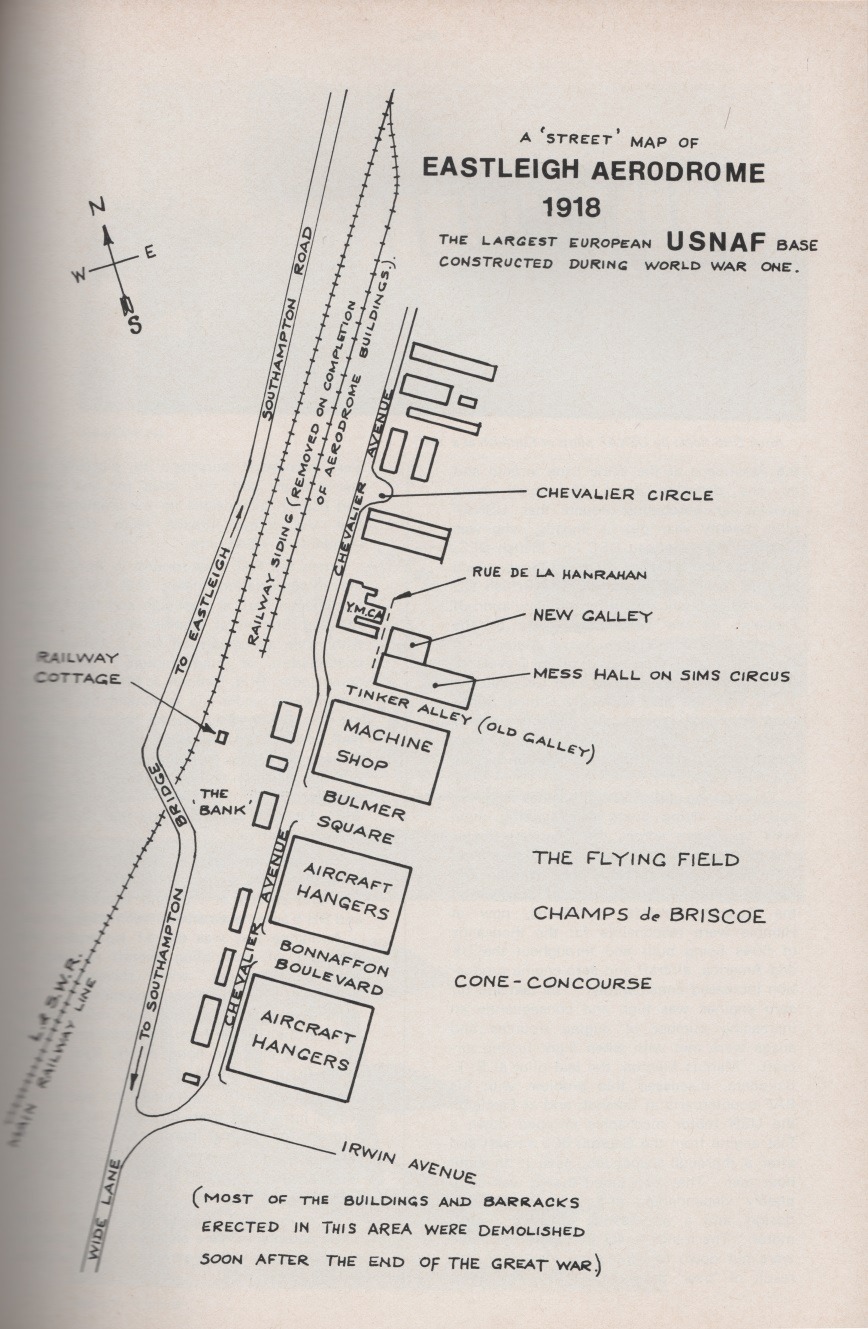 (Map courtesy of Peter New)
During WWI, an airfield was created on the fields at Wide Lane. It was originally intended as an aircraft acceptance base for the Royal Flying Corps. When the United States entered WWI, the United States Naval Air Force formed a northern bombing group in France. The sites, they had already established, for the repair and maintenance of aircraft came under attack from German aircraft, so the Americans sought permission to establish a suitable site in the UK that would be out of range of German aircraft, whilst still within flying distance of their front-line bombing squadrons. Eastleigh was offered as a viable location, and preparation works, which included some hangers already under construction for the Royal Flying Core, enabled the American base to become operational more rapidly. Eastleigh already had another airfield for repair and maintenance of aircraft, which was operating along similar lines to that proposed by the USNAF. The Royal Flying Corps site was located further west in fields belonging to Nutbeem Farm, where the Pirelli General Cable Factory was later built.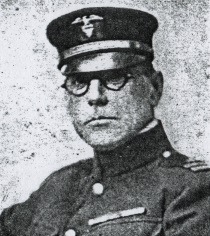 (Lieut. Commander George de C. Chevalier) (Commander Bayer T. Bulmer U.S.N.)    (Lieut. C.A. Tinker U.S.N.R.F.)
            (Captain E.W. Bonnaffon U.S.N.)         (Captain N.E. Irwin U.S.N.)                      (Captain H.I. Cone U.S.N.)
              (Lieut.-Commander Benjamin Brisco U.S.N.R.F.)                                  (Captain D.C. Hanrahan)
During WWI, parts of the Wide Lane Airfield were named after US Navy senior officers.
The first commanding officer, in late July 1918, and driving force behind establishing Eastleigh Airfield, was Lt.-Commander George de Chevalier. Within four weeks of his arrival, the base at Eastleigh was operational, and 4000 officers and men were installed in tents and huts alongside the railway line. The main road into the airfield, that ran parallel with the railway, was named Chevalier Avenue in his honour. (Today it is called Mitchell Way). Chevalier, his task completed, was replaced as commanding officer by Commander Bayer T. Bulmer in September 1918.
This picture depicts DH 9A's at Eastleigh Aerodrome ready to be flown to France by USNAF pilots in the late summer of 1918. A poem titled, The Flying Yeoman, reflects one ratings opinion of being stationed here: –
I wonder why it was my fate,
to come to Eastleigh, Hants?
I wonder if it's not too late,
to have another chance.
This scene illustrates the scale of operations at Wide Lane. It was the largest U.S.N.A.F. base in Europe during WWI, yet it was only operational for four months.
On the 2nd of December 1918, less than a month after peace was declared, the US personnel began leaving their base at Wide Lane to return home, whilst 600 men remained to arrange removal of equipment. In January 1919, a farewell dance was organised by the Americans who remained at Eastleigh, and the whole of one hanger was elaborately arranged for the event. There was a sixty-piece orchestra, and the hanger was decorated with flags. Over 2000 people attended including many local dignitaries from Southampton and Eastleigh.
The site was handed back to the Royal Air Force who used it for disbanding surplus squadrons, until it was closed in May 1920. Flying was officially suspended, although aircraft did continue to use the airfield for unlicensed landings. In the spring of 1922 the WWI hangers and buildings were adapted to house refugees, mainly from Eastern Europe, and the site was named Atlantic Park. The park was formed as a joint venture between shipping companies such as Cunard, White Star and Canadian Pacific so that large numbers of displaced families seeking a new life in America could be processed, before being assigned passage on one of their liners to New York. Atlantic Park became a self-contained township with its own school, medical centre, synagogue and even a library containing books in English, Polish, Russian, German and Yiddish.
Atlantic Park could accommodate 2000 people at any one time. In theory this was a transit camp where people would stay for about one week to undergo medical checks, and have documentation cleared before being accepted for embarkation. At the height of operations, during 1923, 20,000 immigrants were processed. These numbers declined in 1924, when America introduced quotas under their National Origins Act. By1928, there had been a dramatic reduction in immigrants travelling to America, and the Atlantic Park Hostel was closed in October 1931.
(Picture courtesy of Southampton University Collection)
About 2 percent of passengers were denied admission to the U.S. and sent back to their country of departure. It is recorded that some families lived at Atlantic Park for 5 years or more whilst they sought a permanent place to live.
This picture shows an entry from Atlantic Park by the refugees in Eastleigh Carnival. Although in principle residents of Atlantic Park were confined to the hostel, many interacted with the local community. They had freedom to temporarily leave the site, however, the British Government would not allow any to settle in the UK.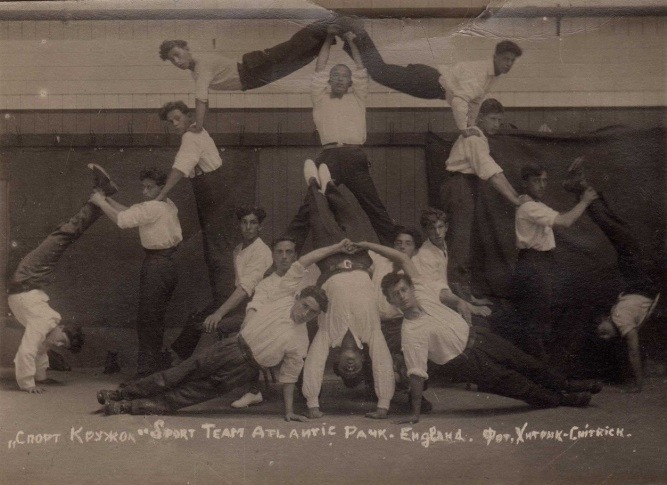 These pictures show residents from Atlantic Park. By the time Atlantic Park closed in October 1931, some 90,000 migrants had passed through its gates. The site lay dormant until November 1932.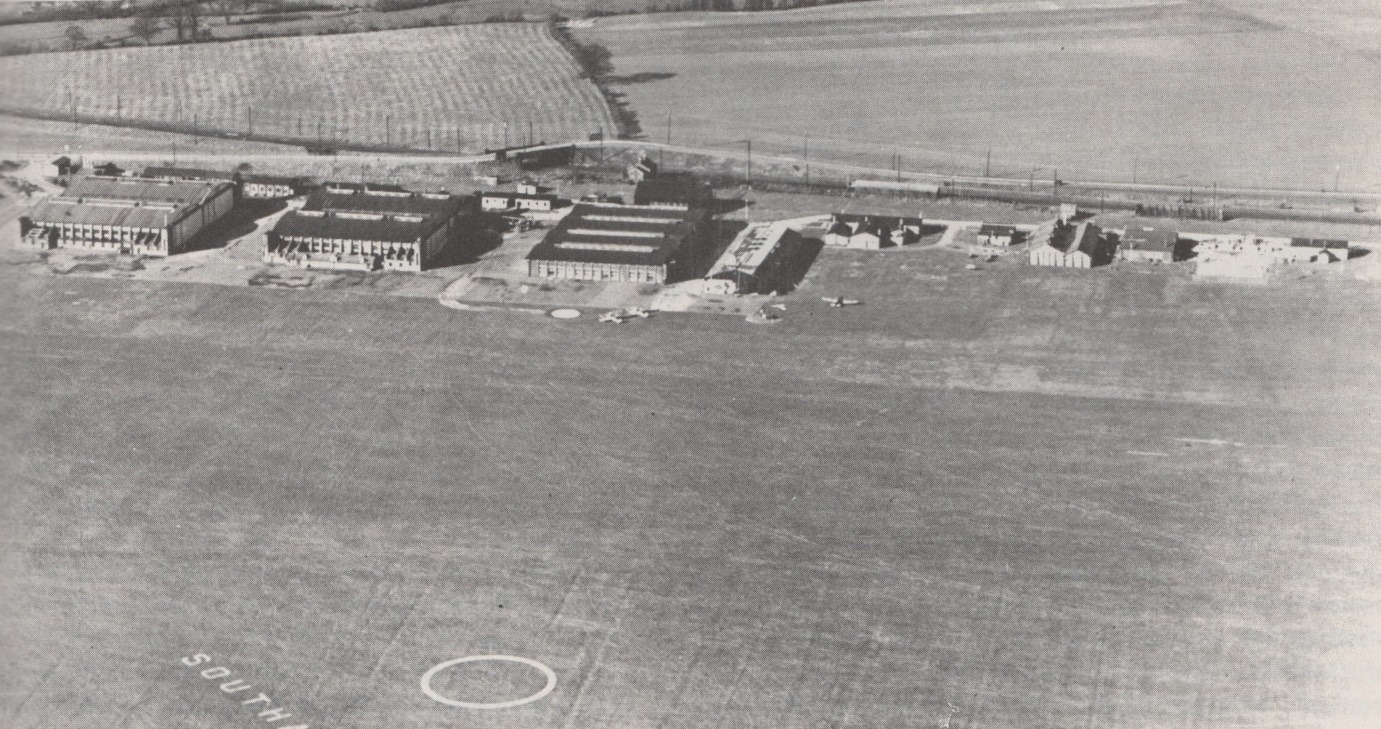 Many towns and cities investigated having their own airports, and Southampton was no exception. In 1929, Southampton Corporation purchased the airfield but not the buildings as they were still in use as Atlantic Park. Purchase of the buildings was completed in January 1933, and work commenced to complete Southampton Municipal Airport. Later the name was changed to Southampton (Eastleigh) Airport, as the airfield was within the boundary of Eastleigh, not Southampton. It was usually referred to locally, as Eastleigh Airport. The first commercial user of the new airport was Provincial Airways with a service from Croydon to Plymouth via Southampton. They started an airmail service in December 1933, but they did not have Post Office approval, so the service only operated for a few days.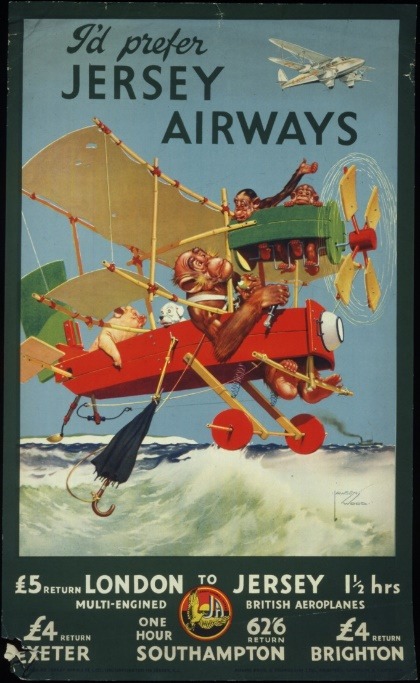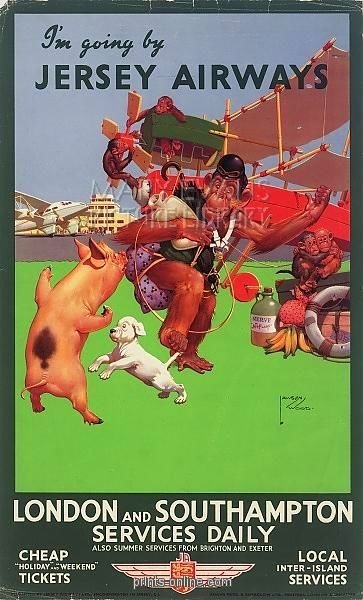 On 1 December 1934, Channel Islands Airways was registered as a holding company for Jersey Airways Ltd., and its subsidiary, Guernsey Airways Ltd. In March 1934, Jersey Airlines extended their service from Portsmouth to Southampton, and during the summer of 1934, a service was introduced to Paris.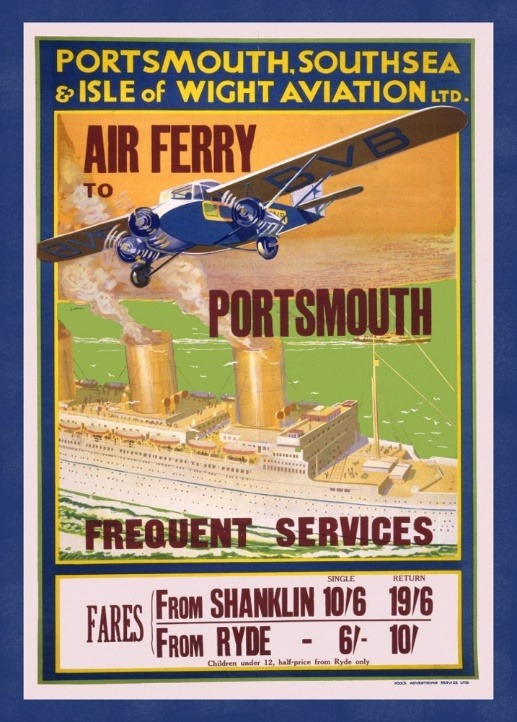 Portsmouth, Southsea, and Isle of Wight Aviation Ltd. was also owned by Jersey Airlines. In 1935, Southampton became Jersey Airlines main terminal. Railway Air Services also linked Bristol, Birmingham, and Cowes via Southampton, with connections to Manchester, Liverpool, Leeds, Belfast, and Cardiff. Smaller companies established services to other destinations including Hull. These posters display the services being offered in 1933. An air tour of about 60 minutes around the Isle of Wight would have cost 29/-6d.
Jersey Airways used a fleet of Dehavilland 84 Dragons, each capable of carrying eight passengers. Following expansion in 1935, six four-engined DH 86s and two DH 89 Dragon Rapides were introduced. On 8 January 1935, a service began to Rennes, in France, although on 29 March 1935 it ceased. Pictured is G-ACMJ – named: St Aubin's Bay.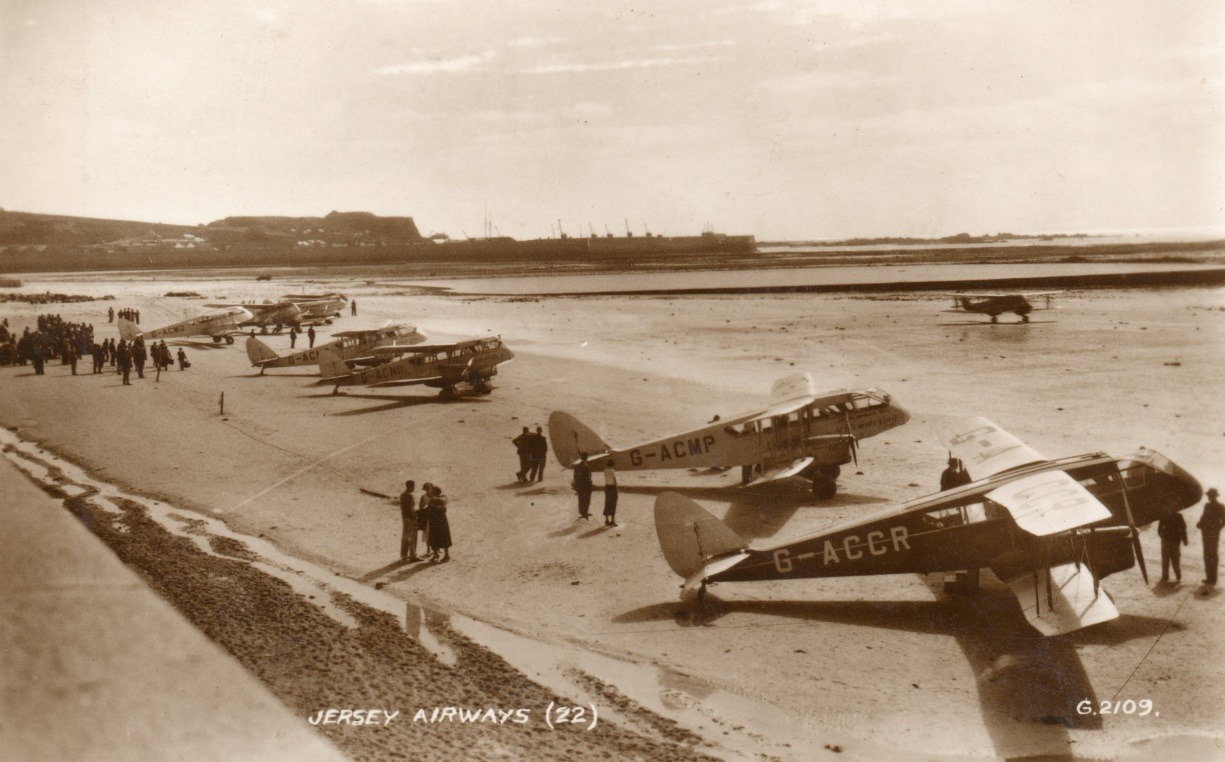 Compared to the relative sophistication of Southampton Airport, planes going to Jersey had to land, and take off from the beach at West Park, St Helier.
This picture shows Jersey Airways' entire fleet of aeroplanes on the beach at West Park in 1936.
Facilities were limited, this bus was the booking office.
In busy periods an additional bus was brought into service as a waiting room.
Facilities had to be flexible, and mobile, hence the busses.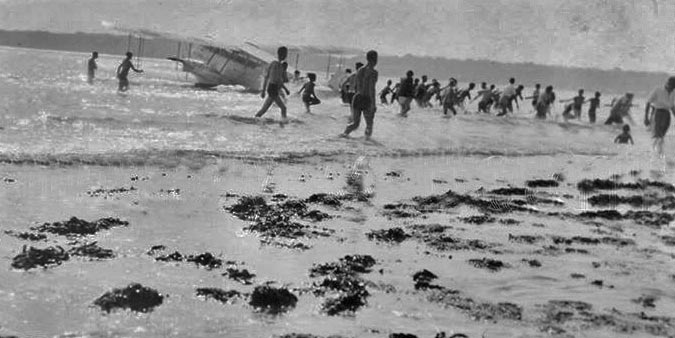 Sometimes plans go awry. The tides move very rapidly in the Channel Islands, and at times, both booking office, waiting room, and planes had to be rescued from the incoming water.
It must have come a relief to passengers when, Jersey Airport opened on the10th of March 1937 at St Peter, towards the west of the Island, and Jersey Airways was able to operate a fixed timetable which no longer depended on the state of the tides.
Passengers at Eastleigh had been used to being served in a more orderly fashion. Although Eastleigh had a grass landing strip, there was a concrete apron immediately alongside the arrival's terminal.
Passengers leaving the aeroplane, Quaine Bay, of Jersey Airways, on arrival at Eastleigh in the 1930's.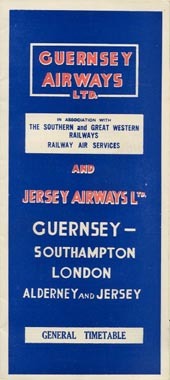 The Great Western Railway and Southern Railway bought substantial shares in Jersey Airways. When these schedules were published in 1939 more than 20,000 passengers were travelling by air to the Channel Islands each year from Eastleigh. On the 3rd of September 1939 war was declared, and In June 1940 commercial operations to the Channel Islands were suspended for the duration of WWII.
Eastleigh Airfield pioneered a number of prototype aircraft in the 1930s. This futuristic looking contraption is an Autogiro, with an unpowered rotating wing. This was the forerunner of the helicopter. It had been originally invented by Juan de la Cierva in the 1920s. Oddie, Bradbury and Cull were building rotor blades for Ceirva, at Eastleigh Airfield in 1934.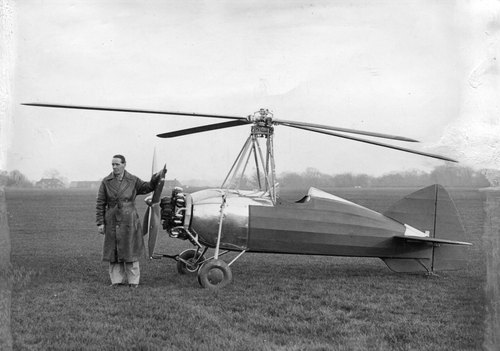 Oddie, Bradbury and Cull also built the first Kay Autogiro at Eastleigh. G-ACVA (pictured) first flew from Eastleigh on the 18th of February 1935.
In 1938, Oddie, Bradbury and Cull received an order to build five of these Ceirva C40 Autogiros for the R.A.F.
Other work by Oddie, Bradbury and Cull included production of the Oddie Fastener which was, and still is, used for quick release panel fixing on many types of aircraft, and other applications. These quick release fixings were used on the very first Spitfire. In 1951, Oddie, Bradbury and Cull left the airfield and moved to new premises in Portswood Road. A company of the same name now operate from the West Midlands.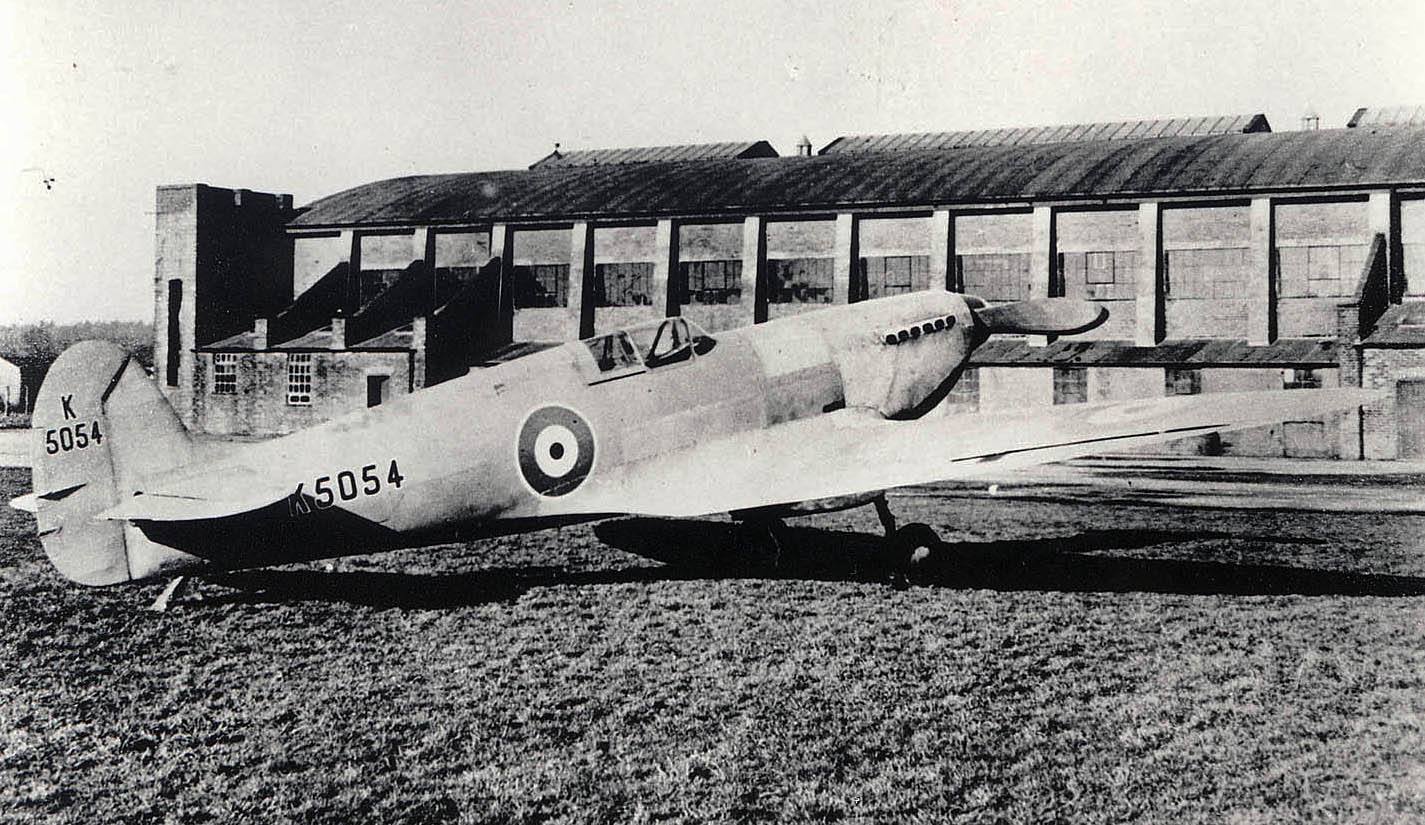 The most famous prototype test flight at Eastleigh Airfield was that of Spitfire K5054 on the 5th of May 1936, with Vickers test pilot Mutt Summers at the controls. It was to become the most iconic aircraft of WWII and was designed by R.J. Mitchell. The first production Spitfire, K9787, was flown from Eastleigh on the 14th of May 1938.
My father-in-law, Harry Chamberlain, who lived in Campbell Road, witnessed the first flight as a young lad. It left a lasting impression, and he wrote this poem shortly before his death at the age of 83.
I stood on a steam engine awaiting repair, I saw the first Spitfire take to the air.
I watched it weave and climb towards heaven, I was 10 years old, nearly 11, and then it dived towards the ground, the Rolls Royce Merlin was a wonderful sound.
It was coloured pale blue with a hint of grey, difficult to see on a bright sunny day.
It had eight machine guns, four in each wing, when in combat that was its sting, and then it came into land at base, the cockpit was open, I saw the test pilot's face.
And so, by our wonderful creation, a new word was born in aviation. Spitfire. These are my memories of the Spitfire glory, the very beginning of the Spitfire story."
Pictured after the first flight of K5054 at Eastleigh are: (left to right)
Joseph "Mutt" Summers – Vickers chief test pilot.
Squadron Leader Harold J. "Agony" Payne – who became chief designer after Mitchell's death in 1937.
R.J. Mitchell – Vickers Supermarine chief designer.
S.Scott Hall – Vickers Supermarine resident technical officer.
Jeffery Quill – Vickers assistant test pilot. During WWII he became an RAF pilot, was shot down twice, and ordered to return to Supermarine at Woolston, where he went on to be instrumental in developing improvements to the Spitfire and Seafire throughout WWII.
R.J. Mitchell, worked for the Vickers Supermarine Aviation Works Ltd at Woolston. In the 1920's, he designed racing float planes which were built for the Schneider Trophy contests of 1925 to 1931. These planes had some similarities to the early Spitfire. The trophy was won on three successive occasions and Britain became the permanent holder of the award. The final version, the Supermarine S.6B, was the first aeroplane ever to exceed 400 mph.
Mitchell died in 1937, and never witnessed the success that his plane achieved. He is buried in South Stoneham Cemetery, to the south of Eastleigh Airfield. When a fly past to commemorate WWII takes place, out of respect these flights pass over Mitchell's final resting place.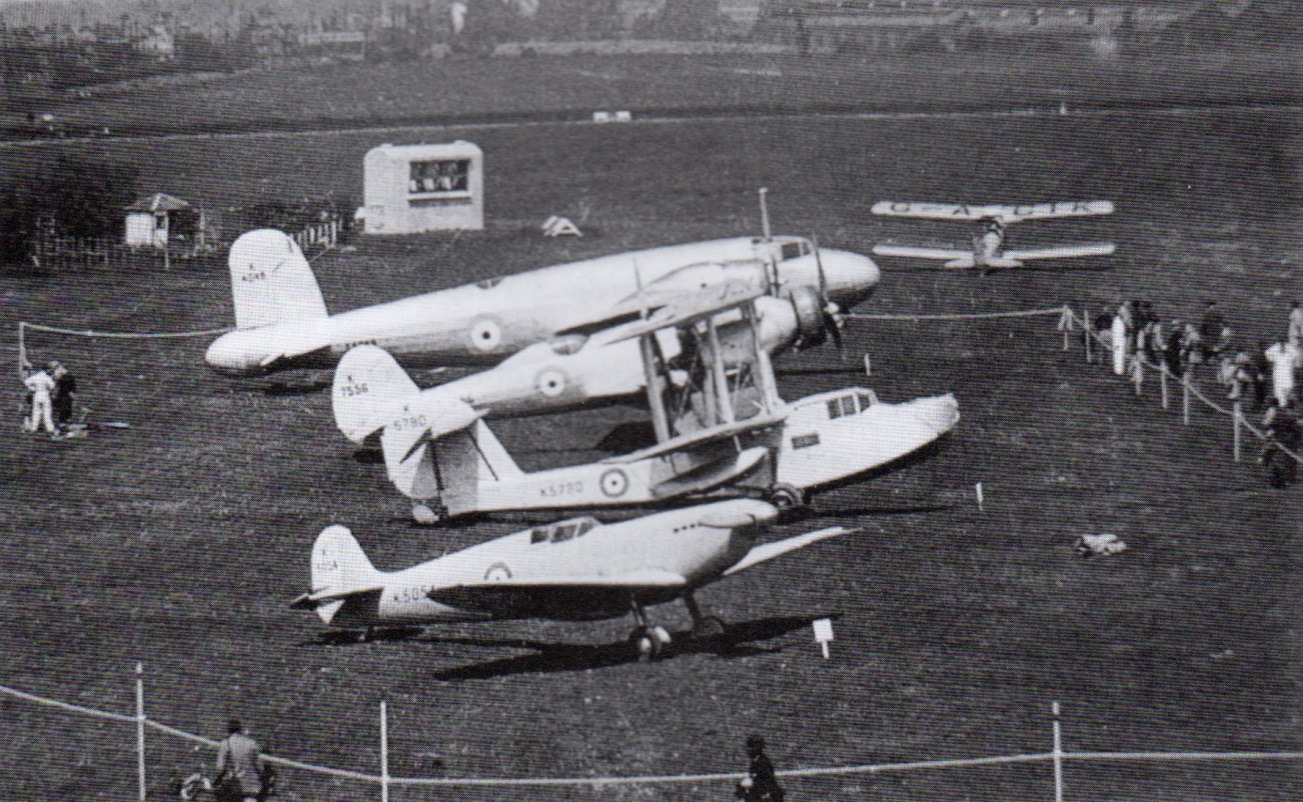 This is a picture taken at Supermarine's and Vicker's Press Day at Eastleigh in June 1936. On display are Spitfire prototype K5054, A Walrus sea plane, a Wellesley prototype, and a Wellington prototype. At the time Supermarine described the Spitfire as "the World's fastest fighter." If you wish to see a short film by Pathe News about this event visit https://www.youtube.com/watch?v=x3cRipir-mY
There have been occasional mishaps at Southampton Airport. On Tuesday May 11th 1937, headlines in the Southern Daily Echo reported that a freight plane had crashed. The report said that "a Curtis-Condor overshot its landing and crashed nose down on a steep embankment. The pilot and his companion escaped with scratches. The machine was being flown on a test for the first time, after being assembled at the airport and was due to have gone to Paris, and then Croydon, to commence service for International Air Freight Ltd."
"The machine, which had used the east west runway, lay with its wheels buried in a swamp at the bottom of a 20-foot embankment on the far side of the Airport facing in the Botley direction. The blades of the right-hand side propeller were partly embedded, and the right-hand wing had crumpled up." As you can see in this picture. At the time, there was an east/west runway as well as a north/south runway. Eastleigh police had to go to the airport to prevent sightseers from walking across the airfield landing area to have a look.
Another pioneering designer, was Geoffrey Wickner, who in partnership with V.Foster, formed the Foster, Wickener Aircraft Corporation in 1936. They had built their prototype plane at Bromley, in a furniture factory. The plane was designed to be low cost and about half the price of contemporary light aircraft. To achieve this the original plane (pictured at Eastleigh) was built using a Ford V8 automobile engine and the sale price was £425. The company relocated to Eastleigh Airfield in 1937. The V8, water cooled Ford engine had proved unsuitable for aviation use, and was replaced by an aeronautical engine, and the wing covering was changed from fabric to plywood. These changes raised the price to £650.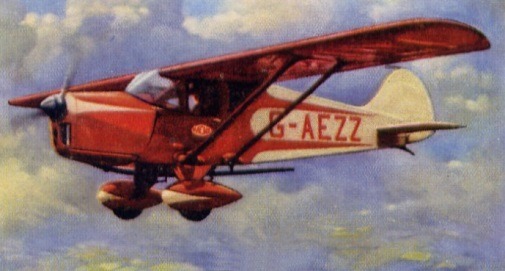 The first of the "Wicko" aircraft, built at Eastleigh was G-AEZZ. A total of nine production aircraft were built before civilian aircraft construction was halted by the advent of WWII. Had war not intervened, it is considered that this highly manoeuvrable aircraft may well have been a major success story.
Mr. L.F. Payne had become manager of Eastleigh Airfield in 1934, and many innovations in aircraft design, during the 1930's, took place during his tenure. One of his more controversial proposals was to dam the River Itchen, alongside the eastern boundary to provide two, one-mile runways for the operation of flying boats. This idea did not materialise, however, under his guidance the airport grew in status and became one of the "big four", alongside Croyden (south London), Heston (Hounslow, west London) and Liverpool. It is interesting to note that out of the four, only Liverpool and Eastleigh (Southampton) remain as fully operational airports. In 1935, an area in the north east corner of the airfield had been leased to the Air Ministry as a RAF reconditioning base called 'RAF Eastleigh'. This was renamed 'RAF Southampton' in August 1936 and later, in July 1939, became 'HMS Raven'. Under control of the Admiralty, it became a training base with an allocation of 50 aircraft. Much mirth was created when, during WWII, the German propaganda machine claimed to have sunk HMS Raven.
This picture, taken in 1936 shows detail of the RAF encampment around North Stoneham Farm. You can see the farm buildings and the River Itchen in the background. In his book, Solent Sky, Peter New recalls a stories about cook house staff from HMS Raven, mushroom picking on the airfield. Apparently, planes were regularly kept from landing, whilst tenacious mushroom pickers were rounded up and forcibly cleared form the landing area. HMS Raven had its own road access, around the perimeter of the airfield. Famously, the most repaired ambulance in the Royal Navy during WWII, was stationed at HMS Raven. To access the base, vehicles had to drive from Southampton Road, over a level crossing. The driver, in a hurry, would have to open and close the crossing gates. Close by there was a tunnel under the railway track, which appeared an easier and quicker option. New drivers, of which there were many, were (for some reason) never informed that the height of the tunnel was no more than the height of the ambulance, and with a bumpy ride, the ambulance was frequently decapitated by the low headroom.
By the spring of 1941, the ships compliment at HMS Raven mustered 1,400 officers and men. An area of the airfield was marked out representing the flight deck of an aircraft carrier, so that pilots could be trained for carrier landings under supervision. This picture shows Lancaster's and Spitfires at the airfield during WWII. Note the chairs in front of the car for aircrew awaiting the "shout" to get airborne. It is believed that the famous actors, Sir Ralph Richardson, and Sir Lawrence Olivier were both stationed at HMS Raven for a short time. Apparently, Sir Ralph Richardson was not particularly gifted as a pilot and was awarded the nickname "Pranger" by his colleagues.
.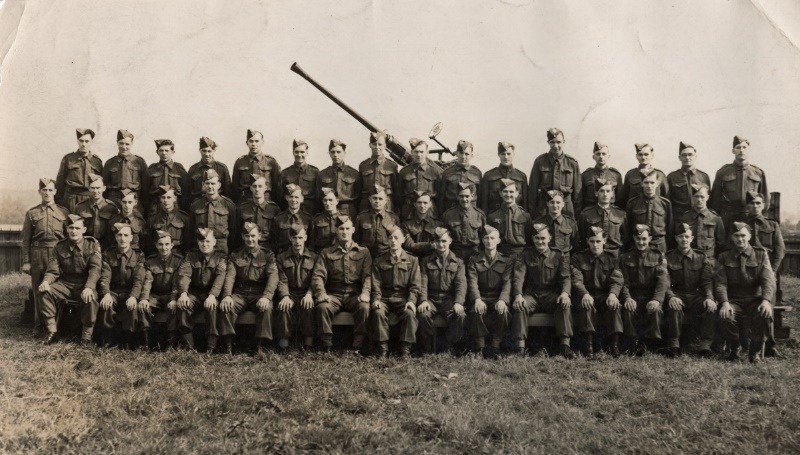 Eastleigh Airfield was defended by anti-aircraft guns and barrage balloons. Some of the anti-aircraft guns were positioned in Doncaster Drove, Chestnut Avenue, and Fleming Park.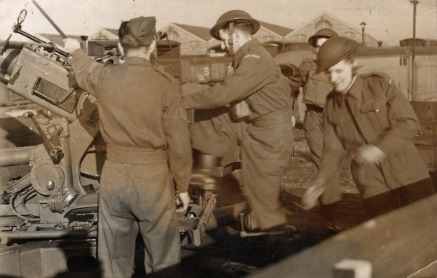 These pictures are of an anti-aircraft battery in the railway marshalling yards between the Locomotive Works and Carriage Works. Another anti-aircraft gun emplacement was established on the corner of Quob Lane, and Allington Lane, near Fair Oak. Balloons were hoisted from various sites such as the Leigh Road recreation ground, the corner of Cranbury Road with Cherbourg Road and Stoneham Lane.
There are at least two incidents recorded when our own planes were brought down by these defences. In August 1940, a Lockheed Hudson was just taking off from the airfield when an alarm was signalled, and nearby balloons raised. The plane was brought down when a balloon drifted across its flight path. The plane crashed into a house in Nutbeem Road, killing the two occupants, crew, and passengers. Another fatal incident occurred, a year or so later, when a Lysander crashed into the Travis and Arnold timber yard, near Mill Street, after striking a balloon tether following take off.
This is an unexploded bomb that fell on Eastleigh Airfield during a raid in 1940. It was converted into a collection box by the men of HMS Raven. The picture on the left was taken in Leigh Road, outside the Town Hall. The man with the peaked cap is Petty Officer George Spencer. Notice the "sand bag" wall protecting the main entrance. The picture on the right shows a group of dignitaries, including Mayor West, with the collection box at the rear of the Town Hall. The bomb collection box is being presented by Commander C. Tidd, RN, the C.O. of HMS Raven.
This picture taken at HMS Raven is of a Barracuda being prepared for an attack on the German battleship, Tirpitz, in Norway during 1942 according to the information written on the back of the photo.
Pictures taken in July 1943 at HMS Raven showing a Vickers Engine test bed for the Bristol Pegasus engine which was used in Fairey Swordfish and Vickers Wellington bombers.
Members of HMS Raven pictured outside mess hut no 2. Wrens stationed at HMS Raven were billeted at Asfordbye, in Church Road, Bishopstoke. It is believed that wrens at HMS Raven were being trained as radio operators.
With the outbreak of war imminent, control of the commercial airfield was taken over on 2nd September 1939 by the Air Ministry. This lasted until April 1946 when it was handed back for civilian use, although scheduled passenger flights had restarted earlier on the 10th of September 1945. In 1937, at the southern end of Eastleigh Airfield, a forty-four-acre site had been acquired by British American Tobacco, the chairman of which was Sir Hugo Cunliffe-Owen. The company had been formed to build the Burnelli Flying Wing aircraft under licence. The factory was renamed Cunliffe-Owen Aircraft Limited in May 1938, and officially opened by the Mayor of Southampton in February 1939.
Vincent Burnelli was an American aeroplane designer who had developed the concept of using the fuselage as part of the aircraft wing to develop greater lift and therefore shorter take off requirement. This plane, the only example produced at Eastleigh, was called the Clyde Clipper.
Pictured outside the departure gates at Eastleigh Airport, this plane was designed to carry 14 passengers. It was one of the first planes to be designed with a toilet in the rear.
The Clyde Clipper pictured in-flight over Southampton Docks.
At the start of WWII this aircraft entered service in the R.A.F. and eventually was allocated to the Free French Air Force in Africa, where at one time it served as the personal transport of General Charles de Gaulle. It is pictured here creating considerable interest by the French military, possibly in Algeria. It is believed to be the first prototype aircraft to have ever entered regular military service. Worn out by its wartime activity, the Clyde Clipper ignobly met its end as the centrepiece of a V-J Day (Victory over Japan Day) bonfire, somewhere in north Africa.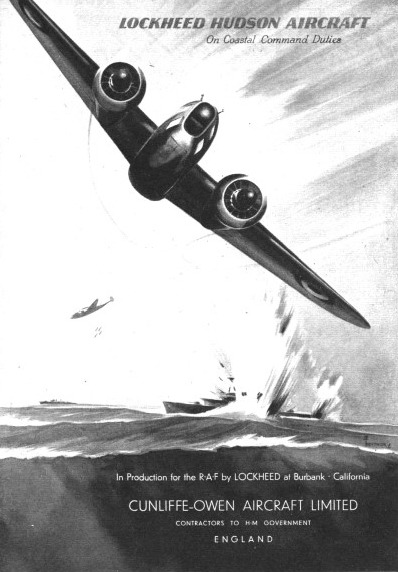 With Eastleigh taken over by the Fleet Air Arm in 1939, all of the Cunliffe -Owen facilities were directed towards the war effort. Cunliffe-Owen, the Supermarine factory, and Vickers Armstrong, switched to the production of Spitfires and other military aircraft, much of which took place in the old WWI hangers,
Basically, Eastleigh airfield reverted to the role it had successfully held under the USNAF, during WWI, as an aircraft repair, assembly, and training operation. As during WWI, the workshop facilities at Eastleigh assembled American built aircraft, which had been shipped to Southampton docks in kit form, as well as assembling and repairing Spitfires and other home-based aircraft.
Partly completed spitfire Mk 1s at Eastleigh early in 1939 (picture left). Cunliffe Owen also produced a Naval version of the Spitfire, the Seafire (pictured right). Over 400 Seafires were constructed at Eastleigh during the war, as well as the assembly of Blenheim, Halifax, and Walrus aircraft.
Eastleigh Airfield was also home to the Air Medical School, which developed suits to prevent pilots, forced to land in the Atlantic, from freezing to death.

During the war, Southampton was the ninth most attacked city in Britain. Eastleigh Airfield, just north of the city, was attacked ten times by the Luftwaffe. The most serious incident took place on the 11th of September 1940. 52 workers were killed in the Cunliffe Owen factory and another 92 were injured. A roll of honour commemorating the 52 people killed in the daylight raid on Cunliffe Owen is housed in the Chapel of Remembrance in South Stoneham Cemetery. At the time of the raid, the Cunliffe Owen building was engaged in assembling Lockheed Hudson aircraft for the RAF, the buildings nearby, being used to build Spitfires, were undamaged.
A month later, the Luftwaffe attacked the Supermarine factories at Woolston and Itchen causing extensive damage and many casualties. After these bombing raids on Woolston and Cunliffe-Owen facilities at Eastleigh, Lord Beaverbrook ordered dispersal of Spitfire production. Many workshops and garages in the Southampton area, as well as in other parts of the country were commandeered to manufacture components. Spitfire manufacturing and assembly operations were established at Salisbury, Trowbridge, Reading, and Castle Bromwich, in the West Midlands, as well as Southampton.
Spitfire design was moved to Hursley Park, where there was less risk of disturbance by enemy action. Staff in the design office were bussed to and from Southampton every day.
By 1941, test flying from Eastleigh was becoming increasingly difficult due to the proliferation of balloon sites around the area. Cunliffe Owen's managing director lived at Marwell Hall, where he established a sizeable grass airfield with twenty hangers built among the surrounding trees. Aircraft assembled at Eastleigh were flown to Marwell by Civilian Air Training Auxiliary Squadron pilots, many of whom were women. From Marwell planes were then distributed to squadrons around the country. Many of the planes flown to Marwell were Spitfires, although Wellington Bombers, like the ones pictured, were also transferred from Eastleigh. Marwell activity peaked in 1943. Use of the airstrip continued until 1946.
In June 1946, after WWII, an air pageant was held at Eastleigh Airfield to celebrate Victory. A number of military aircraft did displays of aerobatics for the public. A Gloucester Meteor ended its demonstration over the airfield upside down at 500 feet and a Shorts flying Boat did a flypast at just 50 feet. Jeffery Quill, one of the original Spitfire test pilots provided a spectacular flying display in a Mk XXIV Spitfire. Fittingly, the Schneider trophy winning Supermarine S6B, the forerunner of the Spitfire, designed by RJ Mitchell was displayed. This float plane did a trundle past on the back of a tractor and trailer, rather than a fly past. Notice the war time camouflage on the hangers in the background.
Cunliffe Owen continued to produce Spitfires until 1946. After the war, Cunliffe-Owen produced their first, and only, indigenous design, the Cunliffe-Owen Concordia, a luxury 12-seat passenger plane. This plane was flown from Eastleigh for the first time on the19th of May 1947. Production commenced on an initial batch of six, but only the first production aircraft ever flew. The Concordia project was abandoned in November 1947 due to limited demand, a poor worldwide economy, lack of working capital, and a surplus of Dakota's left over from WWII, which could be readily converted for passenger use.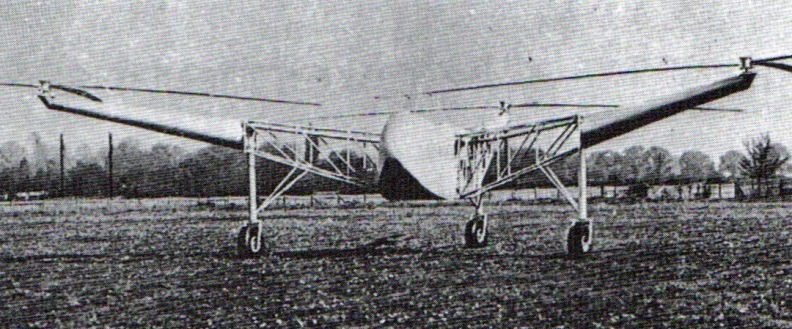 With low use of the factory in 1946, Cunliffe Owen sub-let portions of the plant to the Cierva Autogiro Company, with Cunliffe-Owen undertaking production of Cierva's designs.
When it first flew in 1948 the Cierva W.11 "Air Horse" was the largest helicopter in the world. It was powered by a Rolls-Royce Merlin engine driving three main rotors mounted on large outriggers, one at the front and two either side of the fuselage just aft of its midpoint. There were two large fins at the rear of the fuselage, and a cockpit on top of the nose which housed a crew of three. It had a passenger carrying capacity of 24. It was envisaged to fulfil roles as a crop sprayer, air ambulance and aerial crane. The two prototypes were built under contract by Cunliffe-Owen at Swaythling.
On the13th of June 1950, the prototype Cierva Air Horse Helicopter disintegrated during a test flight, due to a transmission failure. Test pilot Alan Marsh (second left) and two other crew members were killed. As a result, the private finance for Cierva was withdrawn and the second helicopter never flew. Cierva was taken over by Saunders Roe in January 1951.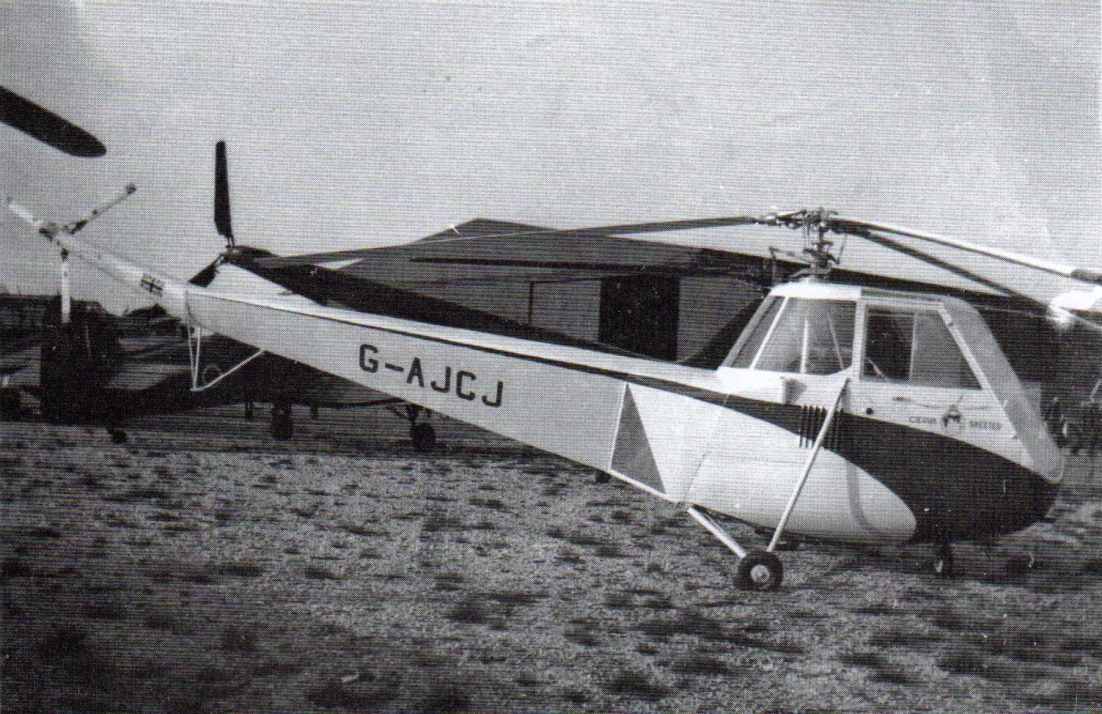 The Skeeter was a helicopter developed by Ceirva at the Cunliffe Owen factory at Eastleigh Airfield in 1948. They were later produced by Saunders Roe (Saro). This small helicopter had just enough room for two people. It was the first British built helicopter used by the British Army.
The final Skeeter was delivered to the army from Eastleigh in July 1960. In August 1959, Saro's helicopter division was taken over by Westland Helicopters. As part of Britain's aircraft industry consolidation the operations at Eastleigh closed in early 1962.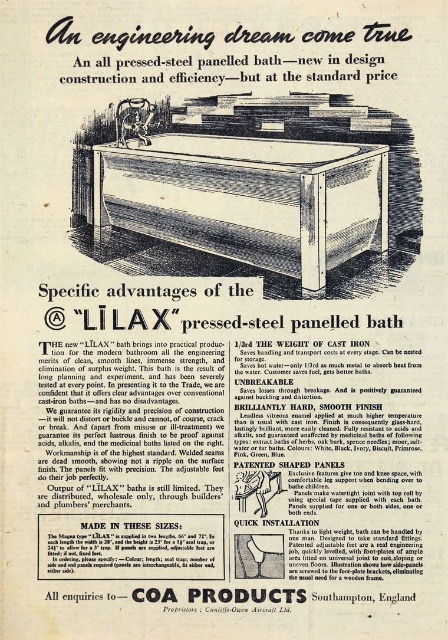 Following the death of their Chairman, Sir Hugo Cunliffe Owen, in December 1947, Cunliffe-Owen eventually stopped manufacturing aircraft. For a short while they tried to diversify and the advertisement on the right is for their "Lilax" pressed-steel panel bath. In 1949 the site was acquired by Briggs Motor Bodies, who made vehicle body panels for the Ford Motor Company. (I can't help thinking that perhaps the "Lilax" bath was the inspiration behind the design of the first Ford Transit).
In 1953, Briggs Motor Bodies was acquired by the Ford Motor Company. The first Ford Transit in the UK was assembled by Ford at Langley in 1965. Vehicle bodies were manufactured at Southampton and sent by road from Swaythling to be assembled at Slough. Complete Transit production moved to Southampton in 1972 and the Southampton factory became known as the Home of the Transit. The site expanded due to demand, and up to the mid-1980s, had a workforce of 4,500.
In 1983, with construction of the M27 Motorway, the factory was cut off from Southampton Airport. This restricted development for the Ford site. By 2009, Ford had consolidated much of its European Transit production to Turkey, and the Southampton workforce had been reduced to 500. During its heyday at Southampton, the Ford Transit helped to develop other local industries and Strachan's (Coachbuilders) Ltd, at Hamble, customised Ford Transit chassis to build mini buses in the 1960s and 1970s.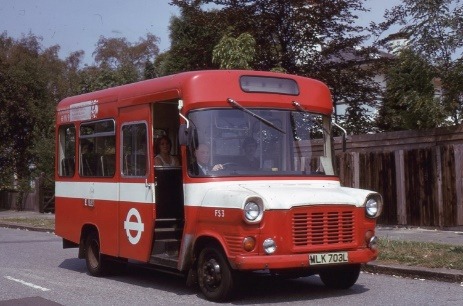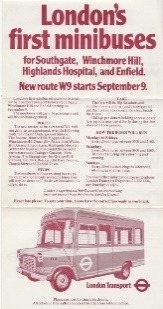 For a time Strachans, also acquired part of the old Carriage Works in Bishopstoke Road, to increase their production capability. The 16-seat minibus, produced by Strachans (Coachbuilders) Ltd, based on a Ford Transit Mk1, was claimed to be the largest capacity and lowest priced public service vehicle, in its class, when it was first manufactured in 1969. The complete vehicle, ex works, costs £1,600.
The Transit was, and may still be, the best-selling light commercial vehicle in Europe. Part of the appeal was the flexibility to adopt the chassis for all sorts of purpose, as can be seen in these pictures of a mini-bus, customised camper, ice cream van and a Mk1 Luton backed Transit. As a young engineer, representing my company at a large industrial exhibition, I drove one of these Luton backed beasts to Basle, Switzerland, and back, via Paris in the 1970s. But that is another story.
The Ford Transit has another claim to fame. The Metropolitan Police, in 1974, claimed it should have a criminal record as it was Britain's most wanted van, and had been used as the vehicle of choice in 95% of Bank robberies in the City of London. In 1992, Southampton produced its two millionth Transit. By 2009, Ford had built six million Transits worldwide. On 26 October 2012, Ford announced that, as part of a larger cutback of their European production capacity, the Southampton factory would close. In July 2013, the production of all Transit models for Europe was moved to Turkey.
This vehicle, pictured with my colleague and friend, Allen Guille, is the last Transit, which was produced at Swaythling, on the 26th of July 2013, ending Ford's Transit assembly operations in the UK. (Allen used to work for Ford's). The vehicle has been preserved, and carries signatures of the employees who built it inside the load bay. Demolition of the Southampton plant began in 2015, and by September 2017, the buildings on the site had been cleared. All that remains are the memories of a rich history of the development of aircraft and road transport that took place in their premises on Eastleigh Airfield.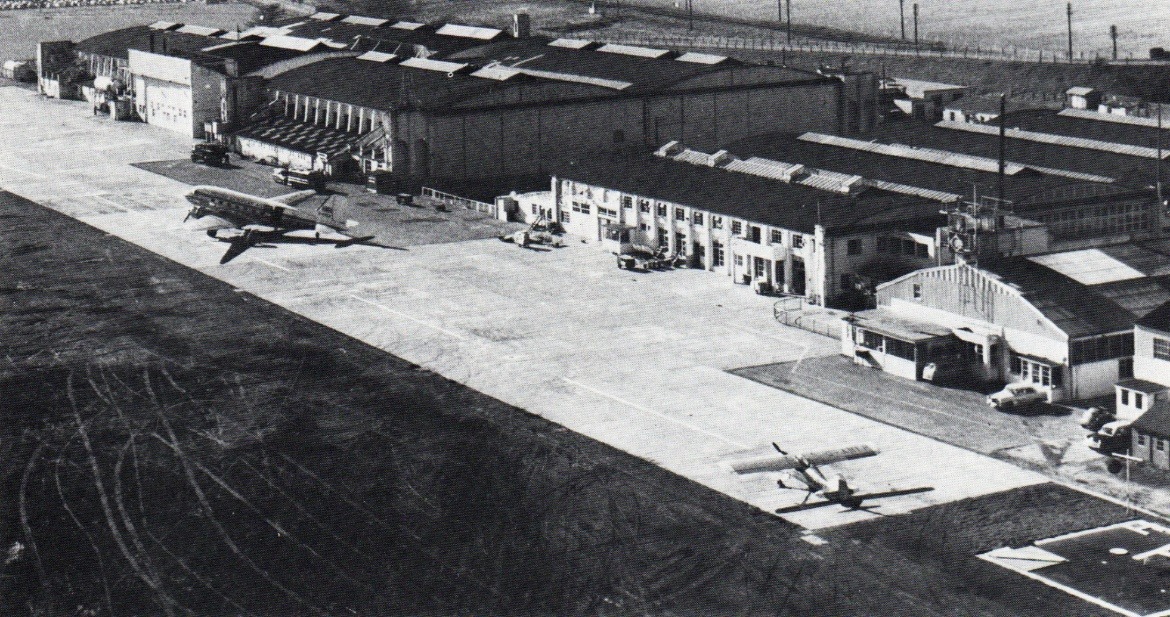 Eastleigh Airfield fell into gradual decline after WWII, through lack of investment. The main problem was the grass runway, which limited the airfield to smaller aircraft, particularly in the 1950s and 1960s when many companies were adopting heavier aircraft capable of carrying a larger number of passengers. The waterlogging of the runways in wet weather, also severely handicapped operations.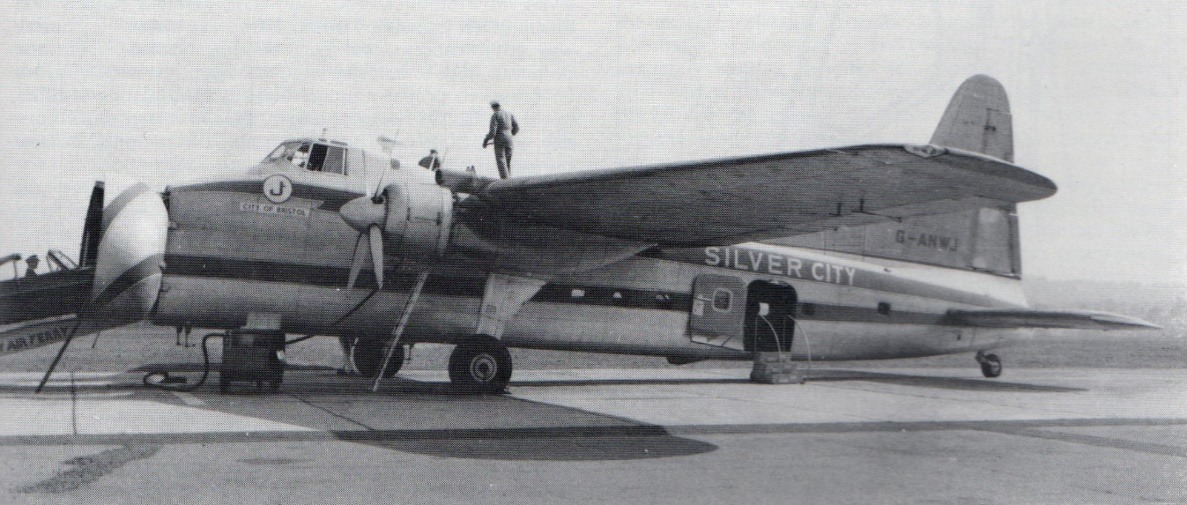 The main runway was extended in the 1950s to accommodate the heavy Bristol Freighter operated by Silver City and Jersey Airlines.
These aeroplanes, on routes to Cherbourg and Jersey, were the mainstay of Eastleigh Airport during the 1950's and 1960s. These planes could accommodate 3 cars and up to 20 passengers.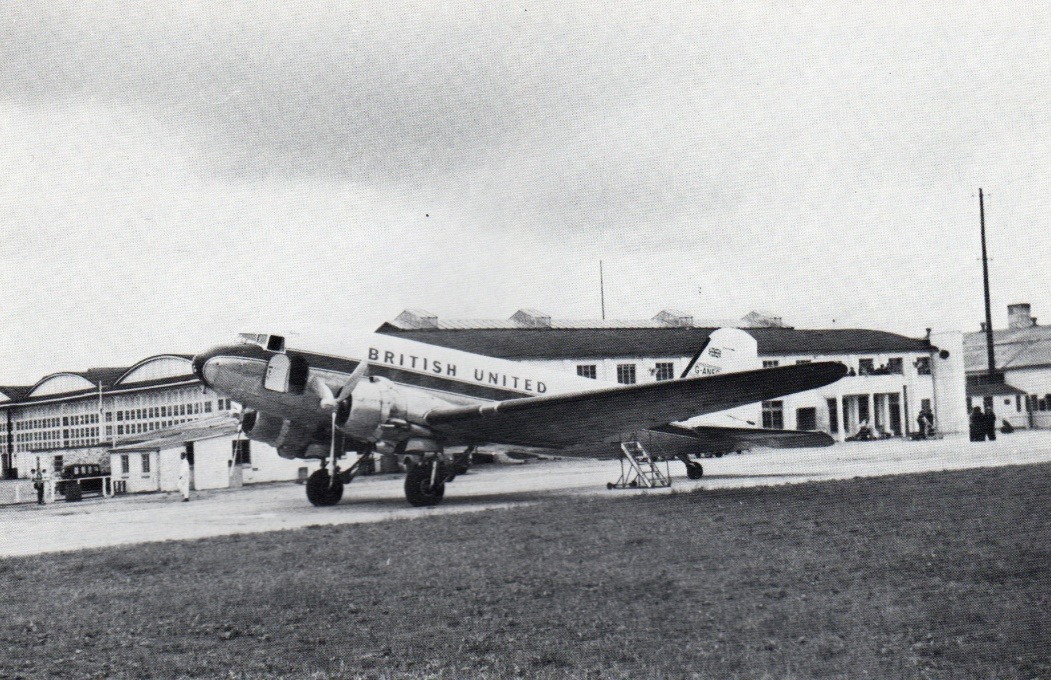 Other operators during this time were Cambrian Airways who provided a service linking Cardiff, Jersey, Bristol, Manchester, Belfast, Eastleigh and Paris in DH Heron's and British European Airways flying DC3 Dakota's. By the end of the 1950's, many operations at Eastleigh, had switched to Hurn Airport, near Bournemouth because it had a hard runway.
The Ministry of Aviation, having studied several schemes to provide a hard runway and upgrade the old WWI facilities at Eastleigh, concluded that the airport was uneconomic and that they intended to withdraw support for all flying facilities. Southampton Corporation were forced to drop plans that they had made towards development. Eastleigh reverted to a low level of flying activity, with the Ministry of Aviation, despite earlier announcements, continuing to maintain an air traffic control operation. By the late 1950s, Silver City Airways, who were the mainstay of commercial operations at Eastleigh, switched their operations to Hurn, near Bournemouth. Hampshire Aeroplane Club remained.
The Hampshire Aeroplane Club had a membership of around 300, 200 of which held private pilots' licences. Originally formed at Hamble in 1926, the club had moved to Eastleigh when the airfield had been acquired by Southampton Corporation in the early 1930s. R.J. Mitchell had been a member.
In the 1950s, and 1960s, the owner of the Hampshire Aeroplane Club was Vivian Bellamy, who was an ex-Fleet Air Arm pilot, and the clubs Chief Flying Instructor.
In 1958 the Hampshire Aeroplane Club began building aircraft that had been designed by Joe Currie in the 1930s. Joe Currie now worked for Hampshire Aeroplane Club and these two Currie Wots were built at Eastleigh in 1958/59. They are pictured outside the Clubhouse in 1959. The name Currie Wot originated (allegedly) whilst Joe Currie was building his first aircraft in 1937 and being tired of being constantly interrupted by being asked what he would call it, replied: "Call it WOT you ******* well like", so they did. The club planned to build 6 Currie Wot biplanes, with an anticipated sale price of £600 each, but these were the only two they completed. Kits and plans for these aircraft were made available for home construction and the first homebuilt aircraft, to this design, flew in 1963.
Hampshire Aeroplane Club experimented with building other small light aircraft, without success, although two film replicas were successfully built by the club.
This is the Roe IV Triplane replica, built by Hampshire Aeroplane Club, for the film "Those Magnificent Men in their Flying Machines". It first flew in July 1964. The film was a British comedy starring the likes of James Fox, Robert Morley, Terry Thomas, Eric Sykes, Tony Hancock, and our own Benny Hill, as well as a host of other well-known actors of the period. During the making of the film, this plane was found to be a very impressive flyer and so the Trustees of the Shuttleworth Collection, in Bedfordshire, decided that it should be acquired to add to their collection. This picture was taken at Old Warden Airfield during an air show in 2013.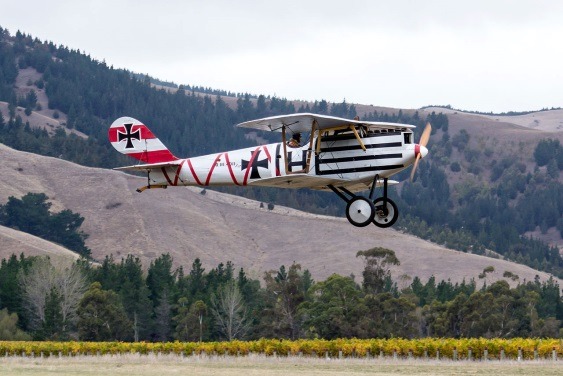 Another replica built by Hampshire Aeroplane Club, and the first, and probably last plane to be built in Bishopstoke, was a Pfalz DIII replica, which was built in 1965, for a film called The Blue Max. The film starred George Peppard, James Mason, and a young lady, that some gentlemen may remember fondly from their teenage years, Ursula Andress. Two of these aircraft were built for the film, the other being built at White Waltham, near Maidenhead, which was constructed using a Tiger moth, not built from scratch like the one at Bishopstoke. Both planes have been restored, still flying, and are now based in New Zealand. This picture was taken at an air show at Blenheim, in New Zealand, during 2015. This plane is not believed to be the one built in Bishopstoke.
Our Pfalz DIII replica started life in a barn at the Elkins coal yard, off Stoke Park Road. It then had to be taken to Eastleigh Airfield for final assembly. How do you get a plane like this from Bishopstoke to Eastleigh Airfield? You dismantle it and tow it in sections along Bishopstoke Road, behind an Austin Mini. At least that is what Tony Griffen did. Tony was in charge of building the wings, fuselage and tail plane, the framework being cut from a single piece of Spruce. Tony worked for the Hampshire Aeroplane Club and is a lifelong Bishopstoke resident. He is pictured with the plane, bottom right.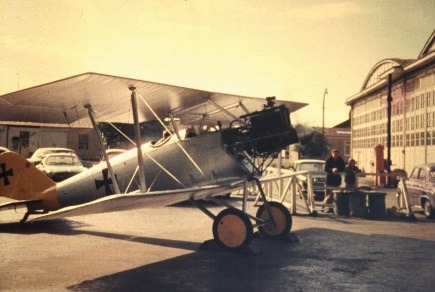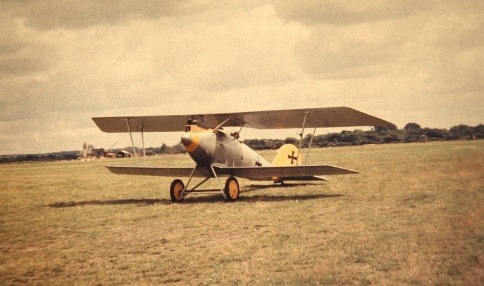 These pictures show the plane undergoing final assembly and testing at Eastleigh.
These picture, with Viv Bellamy at the controls, were taken during the first test flight. The  picture top right shows the vast array of instruments and controls in the cockpit. On completion of testing, and with all the necessary certificates, the plane was flown to Ireland to be prepared for filming.
This 1946 Mk VIII Spitfire was converted as a two-seater trainer and originally registered as N32. This aircraft was later registered as G-AIDN and acquired by Viv Bellamy. It is shown with the Hampshire Aeroplane Club logo. It was a common site in the skies over Eastleigh in the late 1950s and 1960s. I did not know Viv Bellamy, but as an ex-WWII fighter pilot he was known as a bit of a daredevil. Frequently on a Saturday afternoon, when us kids were in the old Eastleigh swimming baths, he would bring this Spitfire into land at the airfield, and always enjoyed skimming the tree tops surrounding the pool to send leaves, twigs and debris showering down on us. We had about one second to dive under the water before being deluged. He could often be seen grinning from ear to ear as he waved to us. We usually surfaced to wave back fondly with two fingers. G-AIDN is the only surviving Spitfire prototype in existence. Although it spent many years in America, I believe that it has returned to the UK, and is now based at Biggin Hill Heritage Hangar, in Kent.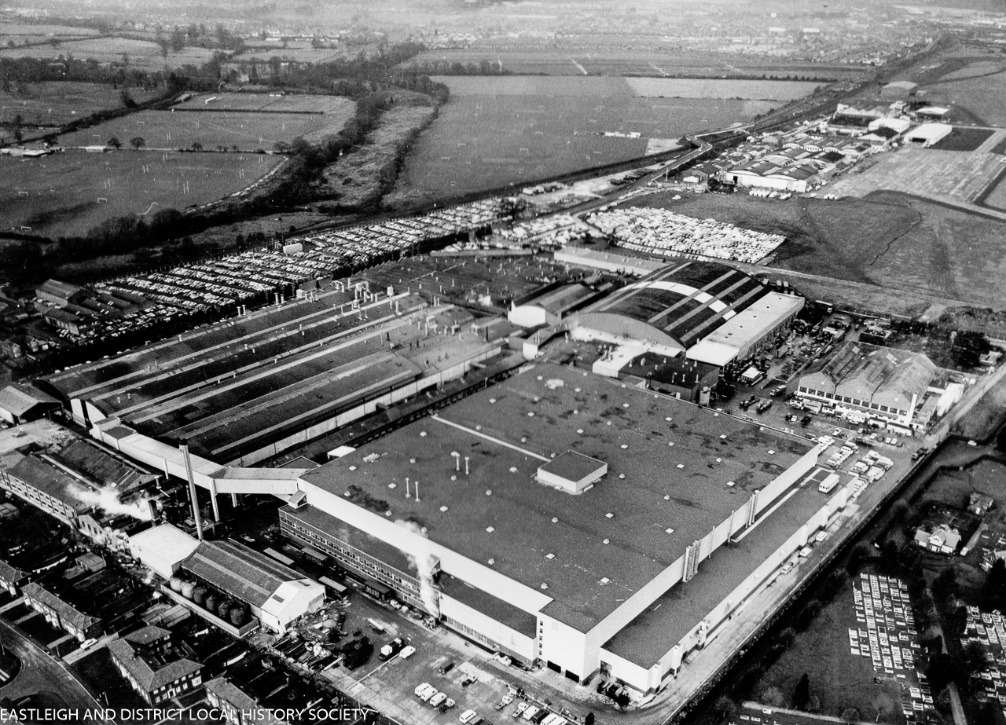 In 1961, with opposition to the development of the airport by the Ministry of Aviation and Eastleigh Borough Council within whose boundary the airport was located, Southampton Corporation sold the airfield to Nat Somers, who was convinced the airport could be a commercial success. Conditional on the sale, was that the new owner would develop a concrete runway.
Opposition to the development of the airport remained an issue and in April 1963, Eastleigh Borough Council refused planning permission for the hard runway, insisting on a feasibility study to assess impact on growth, and noise levels in the surrounding area. Consent to create a 5,500 feet long x 120 feet wide concrete runway was finally given in January 1964. The new runway was installed and became operational in September 1966.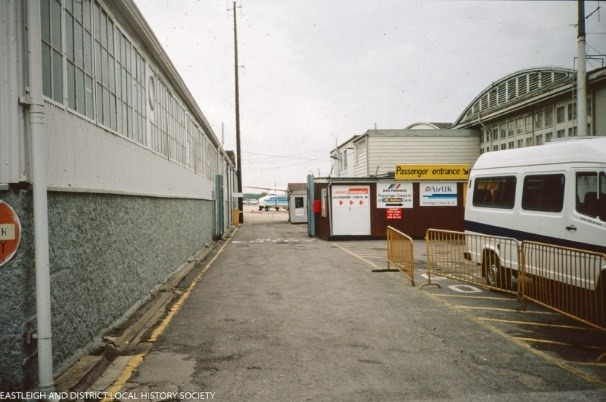 With the new runway built, commercial operations started to expand. In the first year of operations, nearly 275,000 passengers passed through the terminal, almost 4 times the figure for the previous year. Sadly, this led to the demise of Hampshire Aero Club as private flights could no longer operate so freely, although some private planes and pilot training was still taking place here in the 1970s. Whilst the runway was given consent, proposals to provide new terminal buildings were denied planning permission and the airport had to contend with the old hanger buildings, dating from 1917, until the early 1990s.
This picture of the main passenger entrance was taken in 1989. There had been some modernisation over the years, but the terminal facilities were still housed in an old WWI hanger from 1917.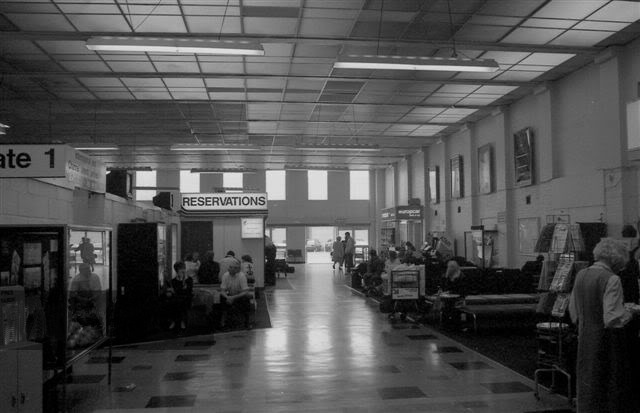 These pictures show the facilities inside the old WWI hanger building that passengers enjoyed in the late 1980s. Modern technology did not exist in the terminal in those days. The ticket and information office can be seen in the picture on the right, with check-in facilities at the end of the concourse, whilst the discerning traveller was able to take advantage of a vast array of goods available from the airport shop. There was also a "greasy spoon" style airport restaurant.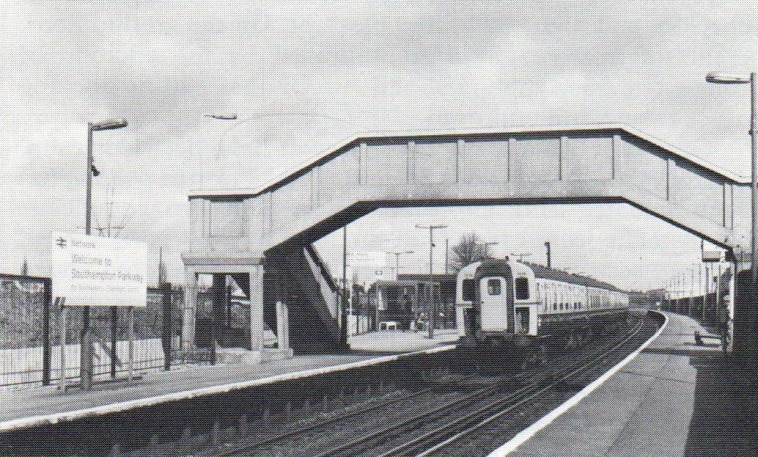 The first railway station to serve the airfield had opened as Atlantic Park Hostel Halt in 1929. It was closed before the 1950s. In 1966 the Halt was rebuilt as Southampton Airport Railway Station and rail services resumed.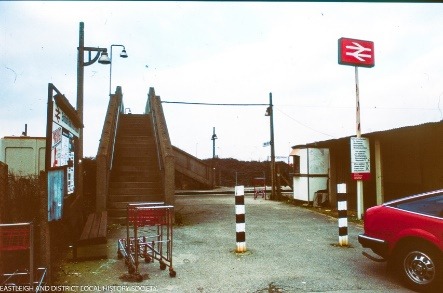 This station was further developed and renamed Southampton Parkway in 1986. Altered and renamed Southampton Airport Parkway in 1994, it has become a major stopping point for commuter services to and from Waterloo. It is located only 100 metres from the airport arrivals hall.
In 1970, Hampshire County Council undertook a South Hampshire Airports Study to assess the need for a regional airport to serve an area bordered by Bournemouth, Winchester, and Chichester. Recognising that the Eastleigh flight path was restricted by factories and housing to the north and south of the runway, the study outlined a plan to create a longer east west runway, which would avoid the flight path from flying directly over residential areas.
Plans were developed to create a new terminal and access roadway direct from the proposed M27 motorway. These plans were never approved. In this study, Eastleigh was recognised as being well located, with good road and rail access, but restricted in its growth potential. Hurn was chosen as the future regional airport for the south. The report concluded once again that Eastleigh should not be developed, yet Eastleigh at this time was handling 300,000 passengers a year compared to around 100,000 at Hurn.
A separate study around the same time by the Civil Aviation Authority did not agree with the findings of Hampshire County Council and concluded that Eastleigh was much more suitable as a regional airport. This was further emphasised by the Department of Trade's 1976 Airports Strategy for Great Britain' document, which accepted that Eastleigh's road and rail access provided it with significant advantage.
With all the political wrangling delaying the airport's development in the 1960s, the airport needed to survive, and encouraged diversification. Probably the most prestigious vehicle to be produced at Eastleigh Airfield was the Gordon Keeble motor car. These cars were produced between 1964 and 1966. They were built in some of the old WWI buildings, and I can remember seeing them being pushed between buildings on the airfield during production.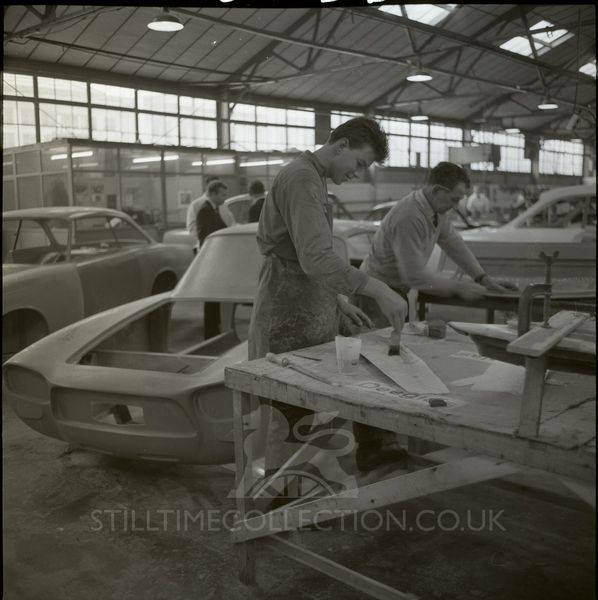 The car body was moulded in glass fibre and fitted with a V8 Chevrolet engine which had an output of 300 bhp. The car achieved a modest acceleration of 0 – 60 mph in 6.2 seconds. For cars built in the mid-1960s, this was a bit rapid. This sports saloon car was given a Tortoise as its symbol, because, according to legend, a pet Tortoise happened to wander in front of the car during a publicity photo-shoot. I am not sure I believe this story. I suspect Jim Keeble and John Gordon were, if you recall the story about the Tortoise and the Hare, just "having a laugh".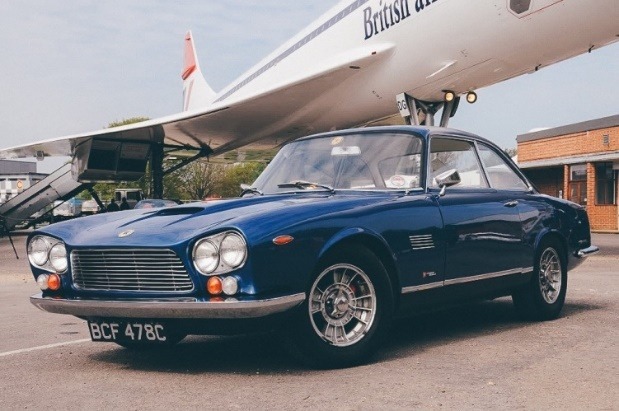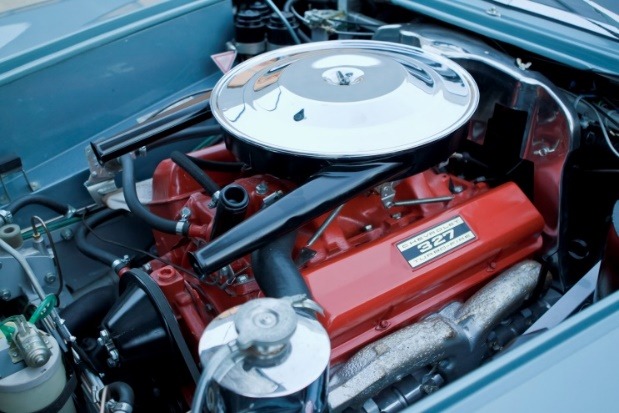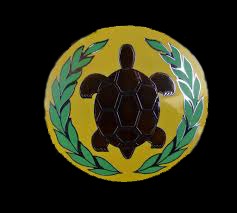 The cars were not cheap for their time. They originally sold for £2,798. It is believed that a strike at their steering gear supplier halted production. A total of 99 cars came off the production line, and one more was built from spares privately. According to the Gordon Keeble Owners Club website there are still 90 of these cars surviving.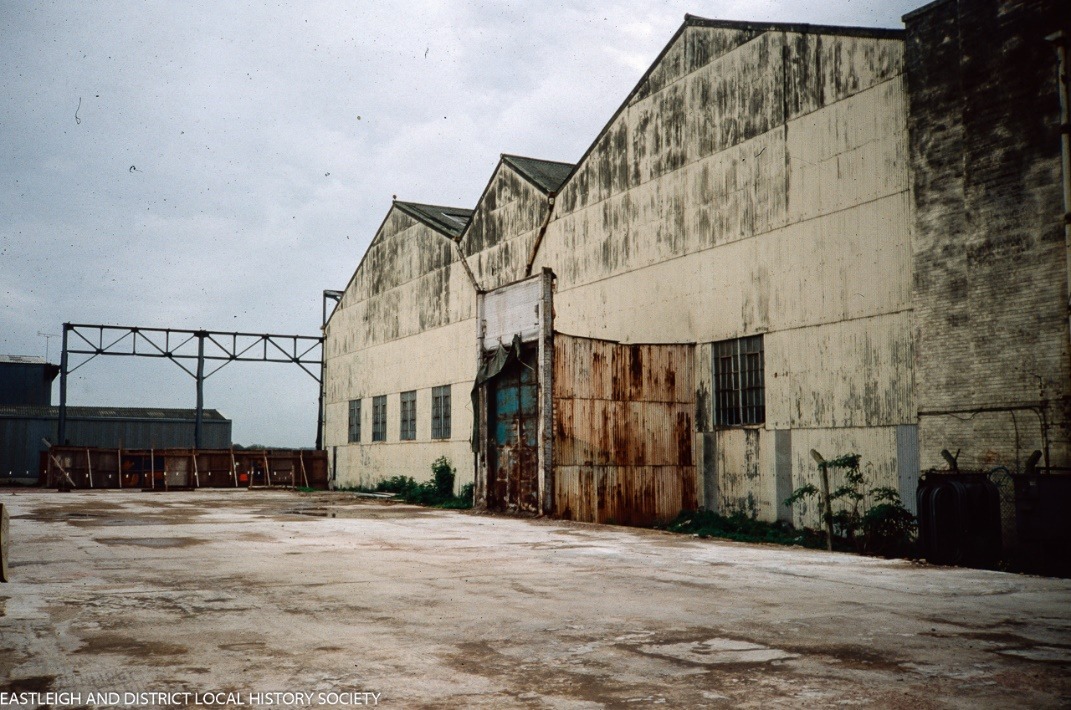 By the 1960s and 1970s, the airport buildings, dating from WWI were in poor condition. Industrial engineering companies operating from the airfield included: – Kollsman Instruments Ltd; Southampton Metal Treatments Ltd, who were electro platers; Power Vessels Ltd, who made generators; Metal Craft Ltd, sheet metal engineers; T.K. Fielder Ltd, steel fabricators; Hill & Co, who made sliding door gear; and Highway Trailers, who made flat-bed lorry trailers, as well as Gordon Keeble. There were also a host of aircraft support industries, and distribution companies operating from the airfield which are far too many to mention.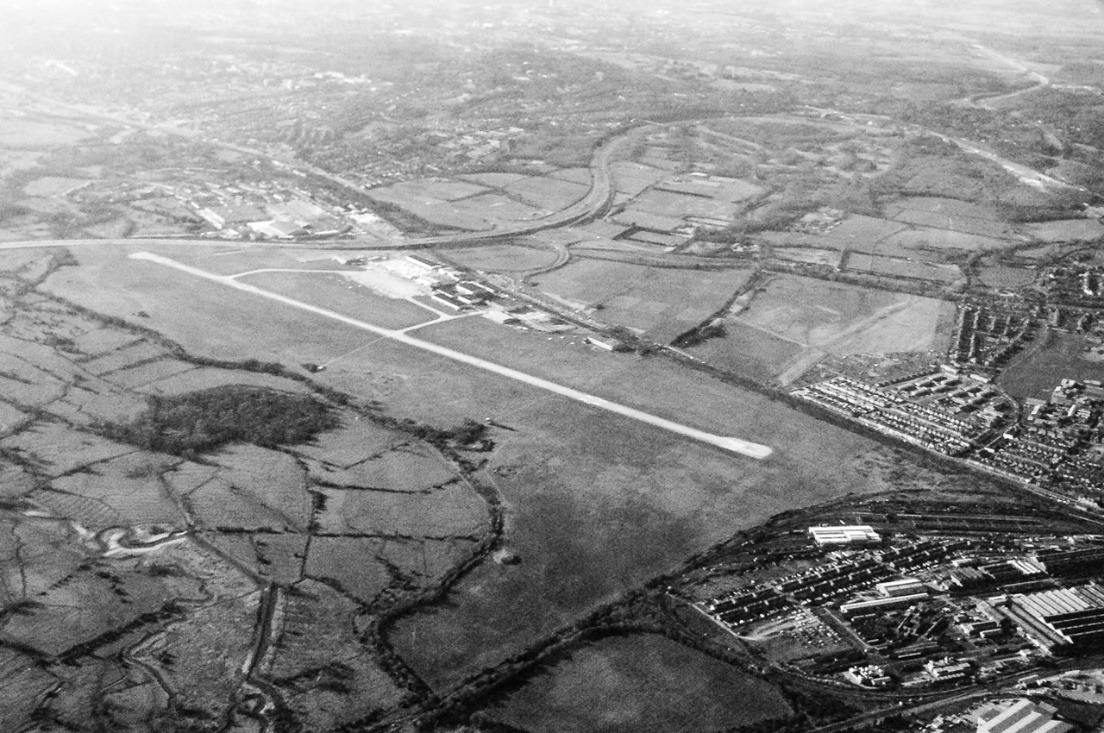 The M27 Motorway between Cadnam and Portsmouth was completed, in stages, between 1975 and 1983. In 1976 an enquiry reviewed the plan to route the motorway through the centre of the Ford Motor Works (which they did not like) and development was re-routed, north of Ford's, near the southern end of the runway.
In 1986, Eastleigh Borough Council published a local plan, and in 1988 issued a development brief which proposed: –
Passenger handling facilities should be improved.
No alterations to the runway would be permitted. (this effectively killed any development of an east west runway and explains the missing junction 6 on the M27).
A business park should be sited to the north eastern side of the airport.
Existing industrial buildings adjacent to the railway line should be redeveloped.
A new road linking Chickenhall Lane and Wide Lane to serve the airport and proposed business park (Don't laugh, we are still waiting).
In October 1988, the airport was purchased from Nat Somers by a consortium, backed by Peter de Savery, and almost immediately a planning application was made to remove some of the old hangers. This particular picture takes me back to my last school year at Wyvern. It was 1965, and for the first time, school leavers were given the opportunity to undertake a week's vocational training before entering employment. This particular building was where Highway Trailers were producing flat-bed road trailers, and I spent a week in their drawing office, which was on the mezzanine floor, that looked out over the runway. At the end of the week, I was rewarded with a scientific slide rule for my efforts. I still have it, just cannot remember how to use it anymore. There was very little security at the airfield in those days and anybody could enter to watch aircraft land, taxi and take off. I got in by riding my bike  through the tunnel under the railway line, opposite Doncaster Drove, where the HMS Raven ambulance was regularly decapitated, only 20+ years earlier.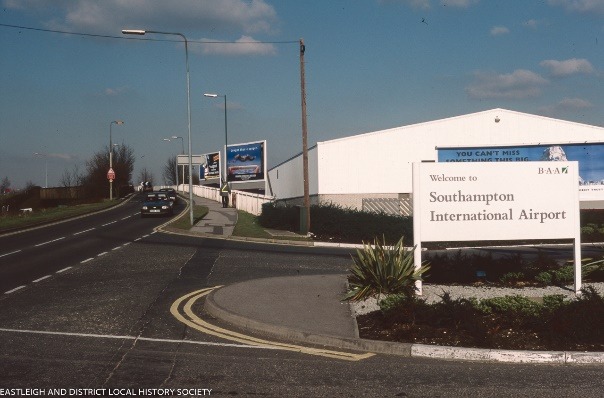 In 1990, British Airports Authority purchased the airport, announcing its intention to invest £27 million in the complete redevelopment of the site.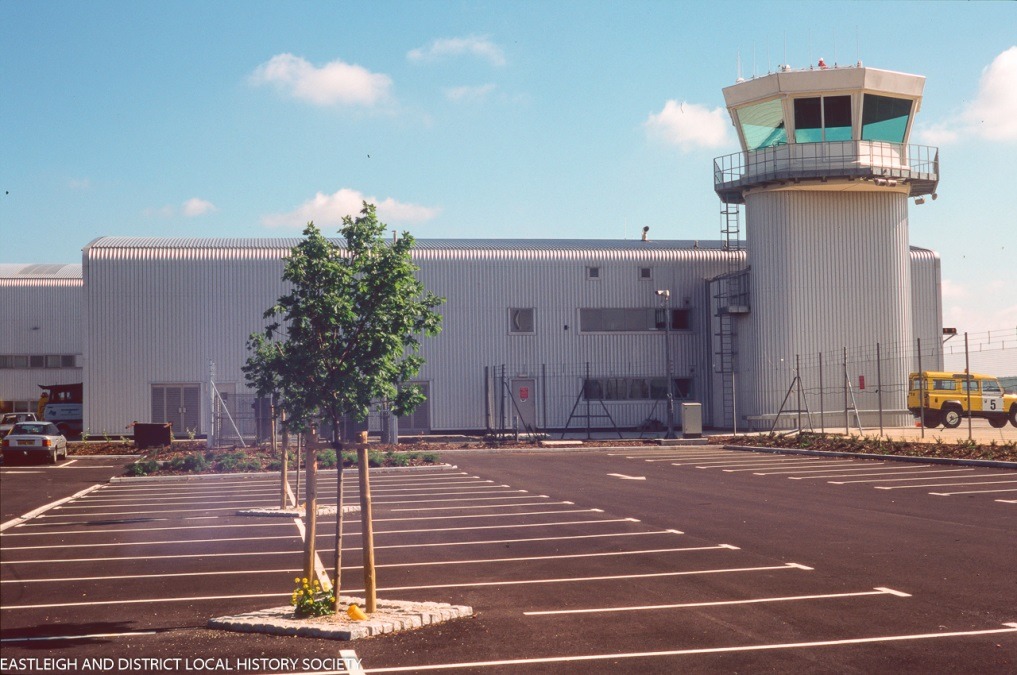 In 1993, detailed planning permission was approved for construction of a new air traffic control tower and a new passenger terminal.
In 1994 The airport was renamed BAA Southampton International Airport and the new passenger terminal was opened by HRH Prince Andrew, The Duke of York, on 9th December. By 1995 the old terminal building had been demolished. In 2003 Southampton Airport celebrated its one millionth passenger. In July 2005 the redeveloped departure lounge opened following a ₤5 million investment. In 2006 Southampton Airport was acquired by the Spanish company Grupo Ferrovial from BAA plc.
In 2014 Southampton airport was bought by AGS Airports Ltd which also owns and operates Aberdeen and Glasgow Airports.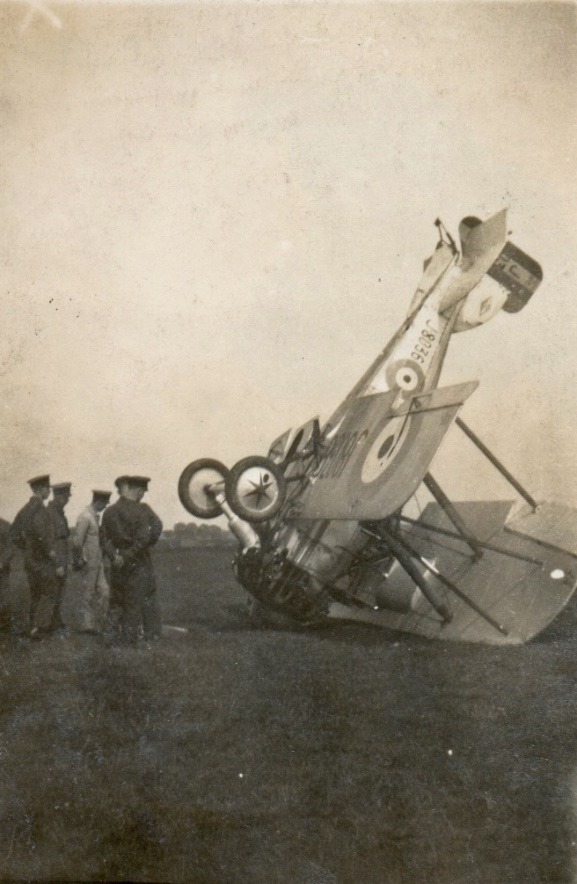 There have been flying incidents at Eastleigh Airfield over the years. We have already mentioned the prang in 1937, when a plane managed to successfully end up nose first in the dried-up Itchen Navigation. During WWI, a common problem at Eastleigh, was getting the wheel stuck in a rabbit hole on landing, which is apparently what happened on this particular occasion.
An incident, not generally reported, occurred in 1974. At the time, it was normal practice for trainee pilots to simulate emergency landings by flying low over the fields of Manor Farm, south of Fair Oak Road in Bishopstoke. One day, under instruction the pupil in a plane not dissimilar to this one, flew over the fields pretending to land, unfortunately he did too good a job, and wrapped his wheels around a fence. This flipped the plane on its back. The propeller and tail fin were a bit bent and battered, but thankfully the crew were OK. My wife and I lived nearby and wandered down the farm track to have a look. It did cause a bit of consternation as the emergency services did not seem to know how to access the crash site.
We have been fortunate to witness some spectacular flying displays from where we live. Again, in the mid 1970s, two Tiger Moths with wing walkers flew overhead. We heard the planes and went outside as they flew very low with the ladies on the wing waving as we, with our neighbours, waved back.
We have also been privileged to witness historic flights, with Lancaster's, Dakota's, Hurricanes and Spitfires giving a most magnificent display. This Lancaster passed overhead on the 18th of August 2012 and was pictured from my garden.
There have been a couple of serious incidents in modern times. In June 1990, a British Airways flight suffered decompression while flying from Birmingham to Malaga. The pilot was sucked halfway out of the cockpit. The co-pilot made an emergency landing at Southampton with thankfully no fatalities. Perhaps the most serious incident happened In May 1993, a Cessna 550 Citation overran the runway through the airport perimeter fence and onto the M27 motorway where it collided with two cars and caught fire. The two flight crew sustained whiplash injuries, and the three car occupants were also injured. The aircraft was destroyed.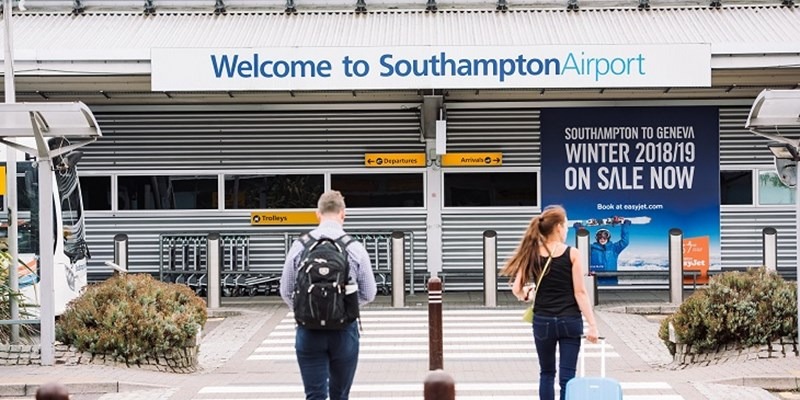 Despite the previous picture, flying is intrinsically safe. In 2017, two million passengers passed through Southampton International Airport without mishap. The roadway outside the airport departures and arrivals hall carries the name "Spitfire Loop", in memory of the famous fighter plane of WWII. A little further north, off Mitchell Way, is "Tinker Alley", which leads to Southampton Airport Fire Station. Tinker Alley dates from WWI and is still named after Lieutenant Tinker, of the American Forces Northern Bombing Group, who operated from the airfield 100 years ago.
Southampton International airport, as it is now called, will for my generation, be forever linked with the history of the Spitfire. Over 22,000 Spitfires were built. There is some slight difference of opinion as to how many Spitfires are currently airworthy, but a general consensus is that there are about 35. In total it is believed that there may be as many as 280 Spitfires still existing around the world, either flying, exhibited as static displays, in process of restoration, retained as future restoration projects, or held for spares.
In 1996 this gathering at Southampton Airport commemorated the 60th anniversary of the first flight of Spitfire prototype K5054, from what had generally been known as Eastleigh Airfield. A most impressive spectacle. This must have been the largest gathering of Spitfires in the UK in modern times. Hurricanes, a Dakota, and a Messerschmitt 108 trainer were also present.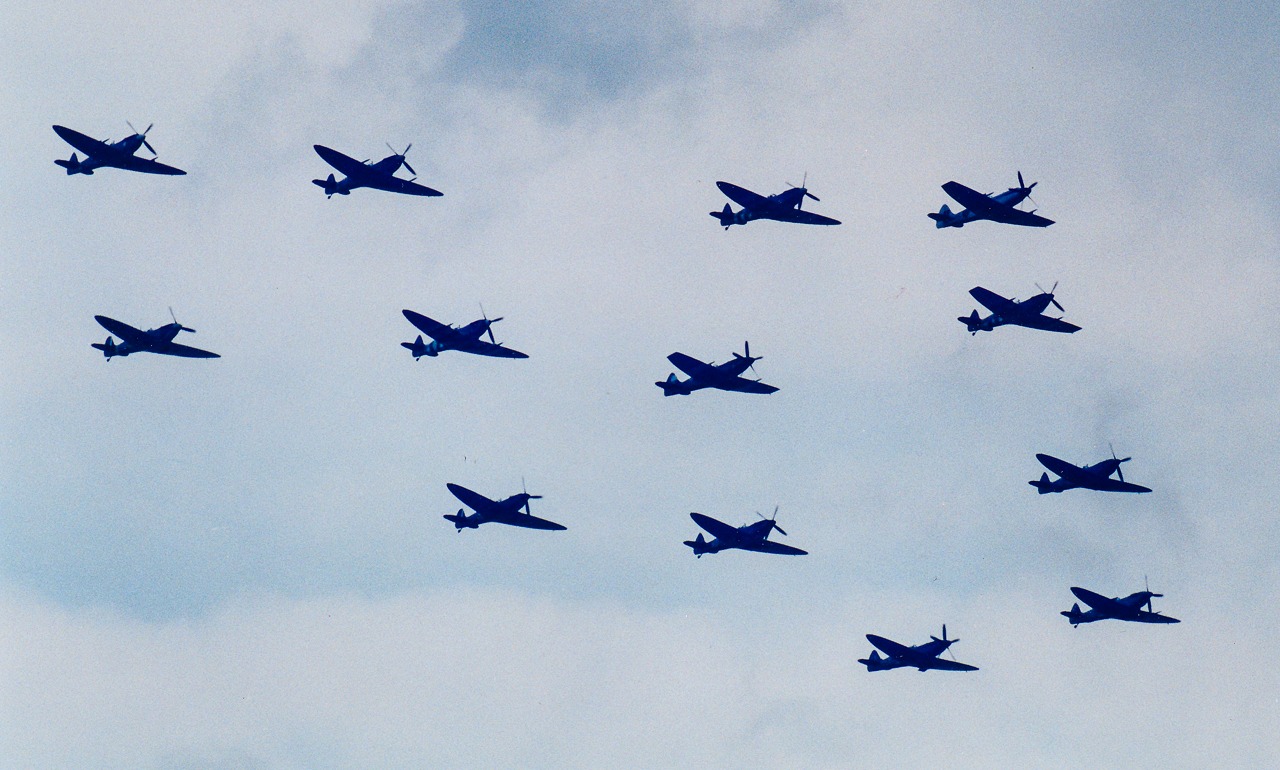 It is probable that this formation over Eastleigh in 1996 is the last occasion so many of these iconic planes will ever be assembled to fly together. A memorable moment.
Bibliography:
New, Peter T (1976) The Solent Sky, Southampton Printers
Bolle, Frederick (1919) The Battle of Eastleigh, Thompson Lea Press, New York
Hatchard, David (1990) Southampton/Eastleigh Airport, Kingfisher Publications
Phipp, Mike (2011) Wessex Aviation Industry, Amberley Publishing
Isaacs, John O (1988) Aeroplane Affair, Air Research Publications
Andrews, C.F. and Morgan, E.B. (1981) Supermarine Aircraft since 1914, Putnam, London
Lockyear, Eleanor (1999) Into the Jet Age, Holmes and Sons, Andover
O'Niel, Brian (2002) The Story of Eastleigh Airport
Dale, Malcolm (1992) The Wicko aircraft – Made in Eastleigh, Eastleigh & District History Society Paper No. 27
Hampshire Industrial Archaeology Society – Eastleigh Airfield
Additional Material:
Barry Friend, Tony Griffen, Allen Guille, Bob Winkworth, Mary South, Barry Kitchen, Eastleigh and District Local History Society.