Collyer and Sedgwick – A Titanic Story
By
Chris Humby MSc – January 2022
No other tragedy at sea still inspires so much interest. The Titanic story is well known and much has been written. What we do not know is how much is true?
Three members of one family from Bishopstoke were passengers on Titanic. These were the Collyer's, who lived in Church Road. There are a number of articles written about the Titanic tragedy. The story of Charlotte Collyer and her daughter Marjorie was covered extensively in newspapers in America and these stories are considered some of the most important Titanic survivor archives. For a while, Charlotte and Marjorie Collyer became celebrities.
There is very little recorded about the Sedgwick family. Sidney Newman Sedgwick was Curate at the Church of St Mary and St Nicholas in Leatherhead, and Charlotte Collyer was employed by the Sedgwick's as their family cook and servant. The Collyer and Sedgwick families both moved to Bishopstoke in 1905 when Sidney Sedgwick was appointed Rector of Bishopstoke. Sidney Sedgwick was a prolific author of historical novels, illustrated books on natural history and textbooks for teaching. He also wrote and produced numerous plays and operettas in the Gilbert and Sullivan style. The lives of the two families were closely entwined before and after the Titanic tragedy. This is their story.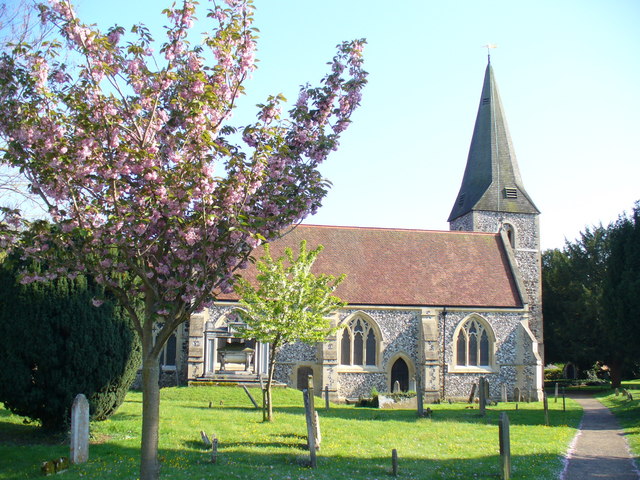 (St. Andrew's Church, Cobham, Surrey)
Charlotte Caroline Collyer (nee Tate) was the daughter of Allen Tate, a coachman, and his wife Louisa. She was christened at St Andrew's Church in Cobham, Surrey, on the 1st of October 1881. The family were poor, and not particularly law abiding. Allen Tate, her father, was arrested in 1890 for accidently stabbing his brother Harvey in a drunken brawl outside the Bull Hotel in Leatherhead, whilst a few months earlier, her Uncle Harvey, a labourer, had been fined ten shillings for stealing turnips from a field.
(Charlotte Caroline Collyer)
By 1901, the Tate family were living at Booths Yard, in Leatherhead. Charlotte had left her large family of seven sisters and one brother, and was living with Reverend Sidney Sedgwick and his family, at No 3 Fairfield House, Leatherhead. Charlotte Tate was employed by the Sedgwick's as their family cook and housekeeper.
(Sidney Newman Sedgwick M.A.)
Sidney Newman Sedgwick, eldest son of Richard and Emily Sedgwick, was born in Birmingham, Warwickshire in 1872. He was christened by his uncle, the Reverend Alfred Newman. His father was a successful commission agent in the tea trade. It would appear that the whole family were not only wealthy, but also academically gifted. Four brothers went to Cambridge University: – Sidney, Howard, Richard, and Arthur, whilst their sister Winifred studied at Oxford University. Three of the brothers, Sidney, Howard, and Arthur, became clergymen. Richard became a Doctor of Medicine, and Lawton, a fifth brother, became a veterinary surgeon. Their sister Winifred, having gained her degree, became secretary in her father's business, and remained a spinster.
Sidney Sedgwick was appointed curate of the Church of St Mary and St Nicholas, in Leatherhead in 1897. He had married his wife Enid in 1896 at the Holy Trinity Church, Stroud Green, in Haringey, London, and they were blessed with a son, Cyril, in 1899. Unusual for a clergyman of the time, Sidney Sedgwick had a reputation of being a man of pronounced left wing views.
(Harvey Collyer)
Harvey Collyer was born in West Horsley, Guildford, in November 1880. His father, George, was a gardener. Harvey had three brothers, one his twin George, and three sisters. In 1901, at the age of 20, he was employed as an ironmonger's assistant. Harvey Collyer was a member of the Young Men's Institute and attended the Church of St Mary and St Nicholas. Without doubt it is through his connection with the Church he met Charlotte Tate.
Harvey and Charlotte were married on the 6th of May 1903 at the Church of St Mary and St Nicholas, in Leatherhead. The ceremony was officiated by Reverend Sidney Newman Sedgwick. Their daughter, Marjorie Lottie Collyer, was born in January 1904. Sidney Sedgwick and his wife Enid also celebrated the birth of a son, Russell Luke Sedgwick, in October 1904.
(Reverend Sedgwick (centre) at St Mary's Church, Bishopstoke)
It is, perhaps, easy to understand the reasoning behind Reverend Sedgwick and his family moving to Bishopstoke. He had been offered promotion from assistant Curate in Leatherhead to the position of Rector at Bishopstoke, where the community was facing huge social change. His role, to support the transition of working class people into a community which had hitherto been occupied by many residents of wealth and privilege, would have appealed to his left wing views. It is, perhaps, more difficult to understand what influenced the Collyer family to move. Charlotte Collyer, with a young daughter, was employed by the Sedgwick family as cook and housekeeper. Harvey, her husband, was employed by Moulds, an ironmongers in Leatherhead, as an ironmonger's assistant and delivery driver. There are articles, written about the Collyer's, which comment on the close friendship which existed between the two families and how this may have influenced their move. I believe the real reason the Collyer family moved to Bishopstoke was more pragmatic.
(The Collyer Family)
Working for the Sedgwick's, with a young baby, would have been difficult for Charlotte after Marjorie was born. It is probable that Marjorie was cared for by the Sedgwick's nanny whilst Charlotte went about her duties, which could explain how Charlotte was able to continue in employment with the Sedgwick's after the birth of her daughter. It must have come as a concern to the Collyer's when the Sedgwick family announced they were relocating to Bishopstoke, Charlotte would be unemployed, which meant that they would have to be reliant solely on Harvey's income. Harvey was not in a well-paid job. It must have been a relief when they were both offered the opportunity to move with the Sedgwick's, with Charlotte retaining her role as cook/housekeeper, and Harvey being offered employment as a sexton. His job would be to maintain the church and surrounding graveyard, including grave digging.
The Rectory in Bishopstoke was a mansion that stood in attractive landscaped grounds. The Rectory had been built in 1807 by Reverend Dr Thomas Garnier, for his own accommodation, and furbished with servants' quarters. Dean Garnier had been born into a wealthy family at Rookesbury Park, Wickham, and was very well connected socially.
I believe that the Collyer family were offered accommodation at the Rectory of Bishopstoke, in the servants' quarters. I also believe that the accommodation they were offered was at a very low cost, or even rent free. There are other examples, in Bishopstoke, of servants and estate workers with privileges like this, at this time. The Collyer's would both still be employed, and probably paid similar amounts to what they had been receiving in Leatherhead. Marjorie would still, when necessary, be looked after by the family nanny. If my assumptions are correct, relocation would NOT be a difficult financial decision for the Collyer's, although it would mean moving away from close family.
In 1905, the Rectory was larger than it is today. These pictures, taken in 1931, show part of the servants' quarters being demolished so that Church Road could be widened. The house that can be seen in the distance, in the picture on the left, is Asfordbye. This is just one of the neighbouring grand houses that stood in the vicinity of the old Rectory.
Asfordbye House stood where Asford Grove is now, opposite Spring Lane. The house had a succession of names after it was built in the 1870s and had once been called St John's. It was occupied by various military gentlemen in the early 1900's such as, Lt. Col. Nesbit Willoughby Wallace and Lt. Col. Guy Henry Sawyer. This house was demolished around 1960.
Opposite the Rectory was Spring Grove, owned for many years by Rear Admiral Sir Arthur Cumming. The Admiral inherited Foxton Hall, in Derbyshire in 1878, and the family went there to live.
The house, still owned by the family, was then let to various tenants until 1912, when Admiral Cummings second son, Charles, married and came to live here with his wife Sylvia. Charles died in 1922, but his widow stayed on in Spring Grove until August 1934. The house was sold the following year and demolished soon after.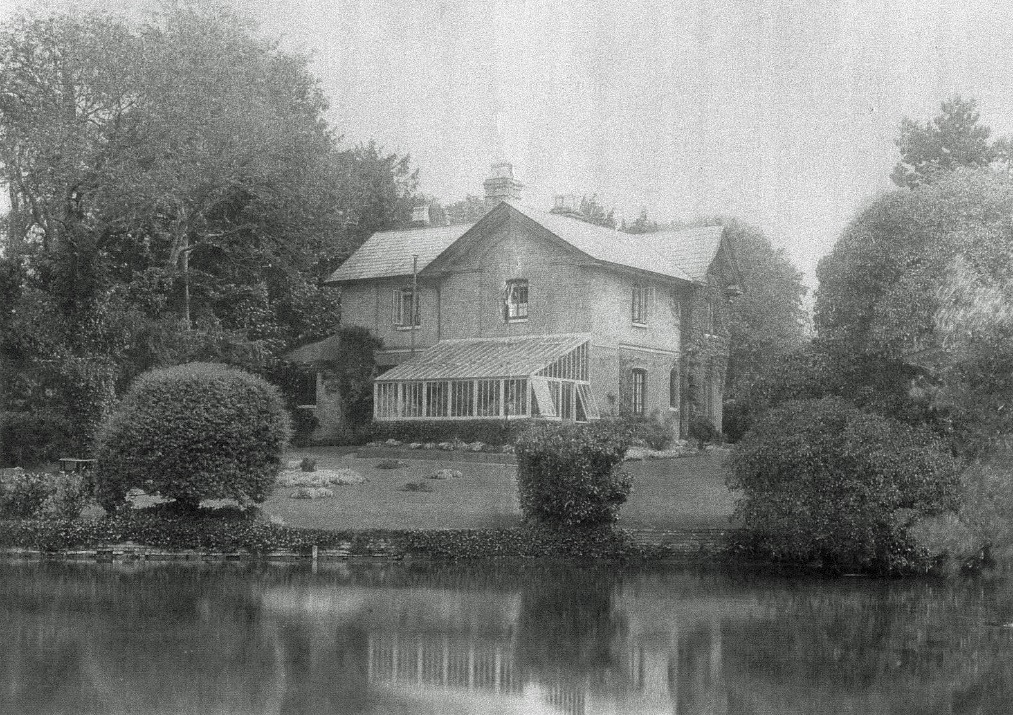 (Oakbank House)
Next to Spring Grove was Oakbank House, which was occupied in 1903 by Lt Colonel Lennon-Brown. The house is still standing.
Next to Oakbank, and close to the Rectory, stood the old St Mary's Church and The Cottage (now called Itchen House).
(The Cottage)
The Cottage was built in 1820 and was once home to Admiral of The Fleet, Sir Henry Keppel, who was also Lord in Waiting to Queen Victoria during her visits to Osborne House.
Admirals Keppel and Cumming were close friends, and Dean Garnier, who built the Rectory as his home, and where he lived with his family in preference to the Deanery in Winchester, was Admiral Keppel's nephew. Next to the Cottage and over the river opposite the Rectory Orchard, was the Manor House, occupied by Mr Richard Bourne. There was close social interaction between neighbours of high standing in the community.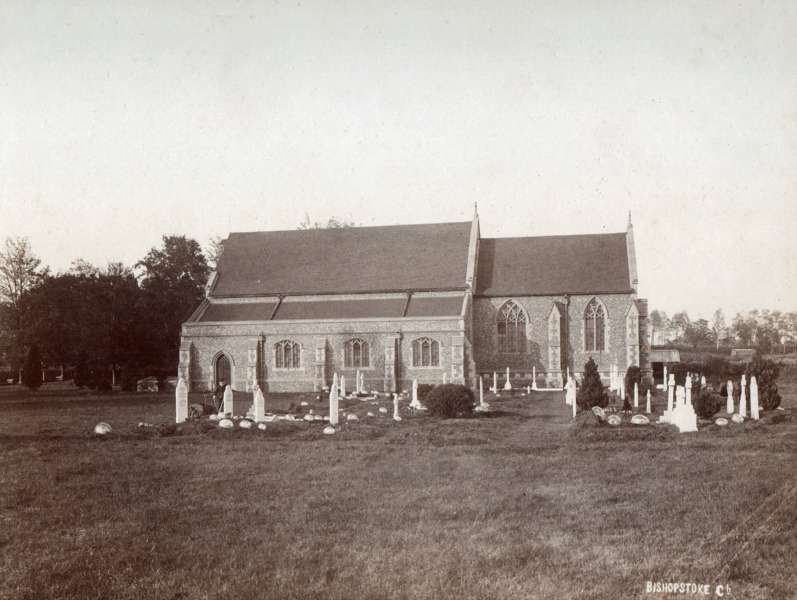 When Reverend Sedgwick arrived in Bishopstoke, this was his church. The new St Mary's Church had only existed for 15 years. There was no bell tower, and you can see from this picture from the early 1900's, how few, and how new, the gravestones were.
The old St Mary's Church, near to the old Rectory, was no longer used for Sunday worship, although it was maintained and used as a mortuary chapel. Many years before the arrival of Reverend Sedgwick, the bell tower had been condemned. There were structural concerns regarding the foundations.
The new Rector's socialist views were very different from the views held by previous members of the clergy in Bishopstoke. Many of his neighbours, as landed gentry, and senior members of the military, would not have welcomed these views and, as members of local society, would not have wished to mix outside their own social circle. I suspect they did not willingly welcome him in their company. Soon after arriving in Bishopstoke, Sidney Sedgwick considered the Rectory too large and grand for his needs and announced he wished to sell it to fund a new humbler residence. He probably desired to get away from the snobbery of his neighbours.
This picture shows Reverend Sedgwick at Bishopstoke Boys' School (now demolished). Public meetings in this school during 1905 and 1906 were to test his resolve.
His desire to sell the Rectory alienated village society. What Reverend Sedgwick did not realise was that his suggestion to sell the Rectory also re-ignited issues that had festered since the replacement of the old St Mary's Church in 1890. Mainly the loss of entitlement to faculty pews for those of his neighbours within society's higher echelons.
A public meeting was held on Thursday 30th November 1905 in the Boys' School to object to the sale of the Rectory, and in addition, the demolition of the old church and levelling of the graves. The Eastleigh Weekly News reported that "there was a crowded attendance, standing room being at a premium: while many more were unable to obtain admission." A transcript of the meeting was made and published in this booklet, on the left, so acute was the interest. Mr Bourne, of the Manor House, with a vested personal interest in keeping the old church open, immediately began proceedings by discussing the future of the old church and presented a number of letters from other residents who wished to retain their right to private family worship in their faculty pews. Arguments were given with strong and passionate representation.
Revd. Sedgwick addressed the meeting and explained that, to his knowledge, many of the rumours being presented were not based on fact. He believed that the commission appointed by the bishop was impartial to the decision regarding the old church. Ultimately it would be for the people of the village to decide. He could not therefore support the motion.
As chairman, Mr Bourne proposed that a submission be made to the Bishop of Winchester demanding that services in the old church should be reinstated every Sunday, and the motion was carried. Proceedings then turned to the original issue of the Rectory. Mr Bourne addressed the meeting and immediately declared that the Rector was not the owner of the Rectory and could not do with it as he pleased. It was the property of the parishioners. Revd. Sedgwick responded and was adamant on having the right to sell the Rectory. "I hold that Bishopstoke is a working man's parish, and I am a working man's parson, he stated. Why should I be compelled to live in a great house as if I were a landed gentleman – apart from the fact I can't afford it". There were many discussions, but the general opinion was that the Rectory should not be sold. Revd Sedgwick commented: "All I want is a house fit for a working man's parson, in a working class parish". The second resolution requested the Bishop NOT to sell the Rectory, and this motion was also carried.
Six months later, in May 1906, another meeting was convened to review the finding of the commission that had been appointed by the bishop, and this meeting was once again chaired by Mr Bourne. This meeting was highly contentious and hostile from the outset. At times, the village policeman had to intervene to keep order. There was much evidence presented by Mr Bourne about exchange of letters since the previous meeting, and Mr Bourne included comments that Reverend Sedgwick, at the previous meeting, was the only witness to advocate the destruction of the old parish church. He raised issues regarding the legitimacy of the Commission, and the way they had conducted their business. In particular, he cited Reverend Sedgwick for "fabrication of imaginary law" in controlling matters at Vestry meetings. After further heated discussion, the chairman, Mr Bourne, proposed the motion that: The parishioners, in public meeting assembled, express their utmost indignation at the conduct of the Rector in advocating the destruction or desecration of the parish church and the levelling of the graves – also at his attempts to sell the Rectory. The motion was carried.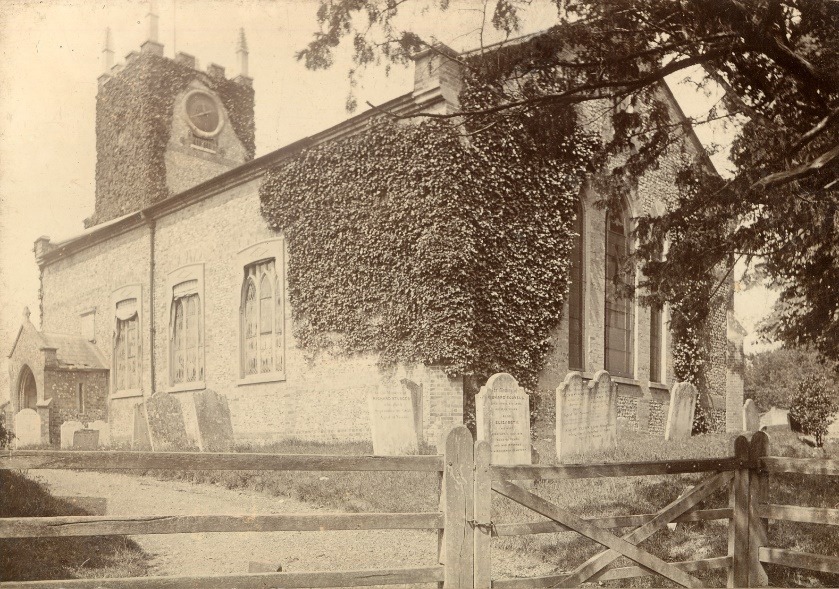 Reverend Sedgwick's tenure as Rector of Bishopstoke had not started well. However, the protests achieved nothing. Mr. Bourne continued to fail in his campaign to have the old church reinstated. In May 1909, despite, or more likely, because of Mr Bourne's belligerent efforts, an order was made, by the Bishop of Winchester, for the body of the old church, not the condemned tower to be demolished, which it was hoped would put an end to the matter.
Sidney Sedgwick was an educated and talented person, and despite his early set back with the higher echelon of the community, he quickly endeared himself to the village as a whole. He was one of the first people in Bishopstoke to own a car, which would have attracted enormous attention at the time. This picture, which appears to have been staged deliberately, was taken near St Mary's churchyard. In the background you can see houses in Stoke Park Road and behind Sidney Sedgwick, and his wife Enid, are the backs of the houses in St Mary's Road. There are three children with them. Their eldest son Cyril is probably the young lad stood in the distance, away from the car, whilst their youngest son, Russell, is seated behind his mother. There is also a young girl, in a bonnet, seated behind Reverend Sedgwick, I suspect that this is young Marjorie Collyer.
Marjorie and Russell had been born only a few months apart. Marjory's parents were employed by the Sedgwick's. I believe that the two children were raised together as part of the Sedgwick household. Their relationship, at that age, would have been akin to brother and sister. They attended the Infants' School together in Miss Street's class. Marjorie is arrowed in the third row, whilst Russell is arrowed in the front row holding the chalk board. This picture was taken in 1911. Children at Bishopstoke Schools would have been aware, that their Rector and Russell's dad, was a prolific writer of books, plays and operettas.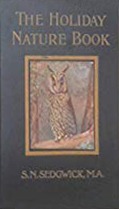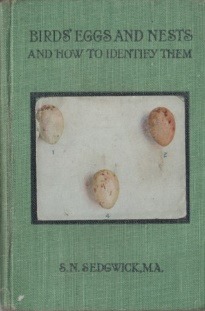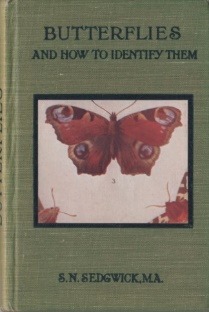 The books illustrated are just a small example of his instructional series on natural history. Some of these works were written in Leatherhead before he came to Bishopstoke, but many were written during his time here as Rector of St Mary's. These books were well illustrated with pictures he had taken. It is probable that many of these pictures were taken locally. Not only were his pictures published in his own books, but they were also published in works by other authors. For example, The Boys Own Nature book, and Nature Stalking for Boys by William Percival Westell, which also carried an introduction by General Sir Robert Baden Powell. This particular book was first published in 1909, and was created for the new scouting movement, which had been formed by Baden Powell in 1908. Sedgwick's works relating to natural history were very well regarded.
As a writer, Sidney Sedgwick did not limit himself to one particular genre. He wrote a number of historical novels, again these are just a few examples. The book shown bottom right is Nature Stalking for Boys that I mentioned earlier. It contained 100 of Sedgwick's pictures.
As a writer, he did not limit his work to fiction. There were also text books intended for teachers and their students. The Catechism, with Black-Board and Chart, is a complete course on lessons and instruction on the Church Catechism.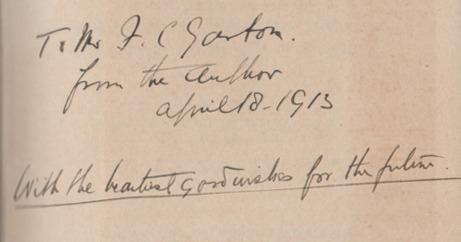 This particular book was gifted by the author, to the departing headmaster of Bishopstoke Boys' School in April 1913. The inscription reads: "To Mr F.C. Garton, from the author, April 1913. With the greatest good wishes for the future." All I can say is I hope Mr Garton enjoyed reading it!!!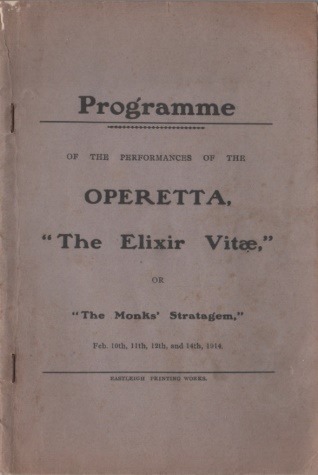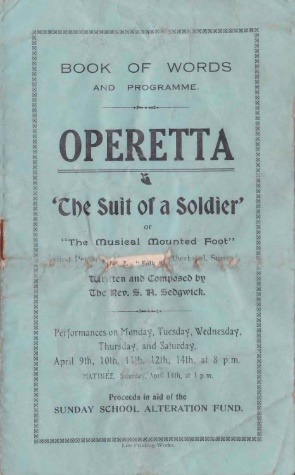 Sidney Sedgwick's most popular works were plays and operettas, the latter written in the Gilbert and Sullivan style. These works were performed in both Leatherhead and Bishopstoke, where they were used to raise funds for local causes. Funds for a new village hall in Bishopstoke were raised by Reverend Sedgwick with the proceeds from these performances. In all it is believed that 51 books, plays and musicals were published under his name, and a further 9 books were published in collaboration with other authors.
As a composer, Reverend Sedgwick is pictured with the cast of his operetta "Spanish Bullfighter" at Bishopstoke in 1910.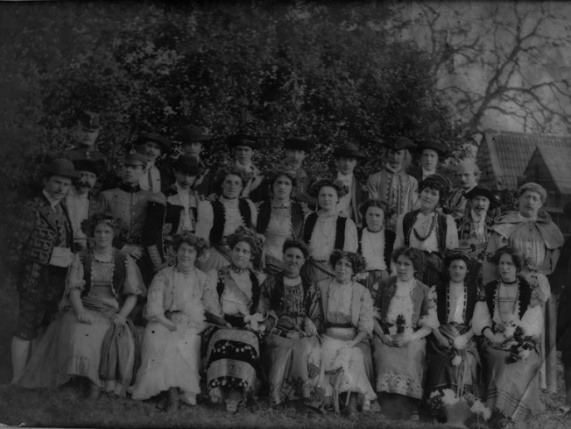 These are pictures of some other plays and operettas by Sedgwick which were performed in Bishopstoke. The picture, top left, was taken in the garden of the Anchor Inn, during rehearsal for Sedgwick's operetta, Zurika. The titles of plays or musicals in the other pictures are unknown.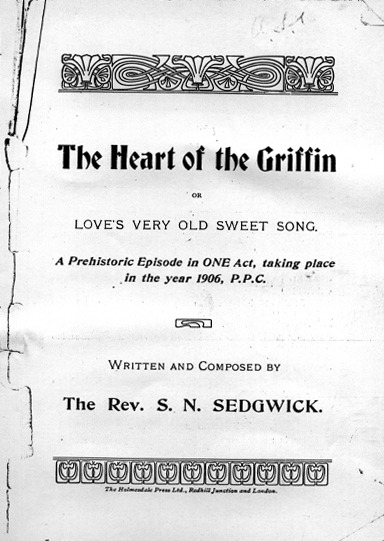 This picture was taken in the Rectory Orchard at Bishopstoke, which is known today as Glebe Meadow. The play is called "Heart of the Griffin", or "Loves Very Old Sweet song', a prehistoric episode, in one act, which was first published, and performed in 1906.
The census of 1911 shows the Sedgwick family had moved from the old Rectory and were now living at the new St Mary's Rectory in Stoke Park Road. The old Rectory had been let to tenants.
(Plans of Stoke Park Road Rectory as it was originally constructed)
The census data from April 1911 shows that the Sedgwick family, whilst having moved to Stoke Park Road, still enjoyed the services of two live-in servants Ada Abbott, aged 23, and Mabel Sangster, aged 17, who was employed as a nurse/nanny. The Sedgwick's eldest son, Cyril, was not present, he was staying with his grandparents in Birmingham.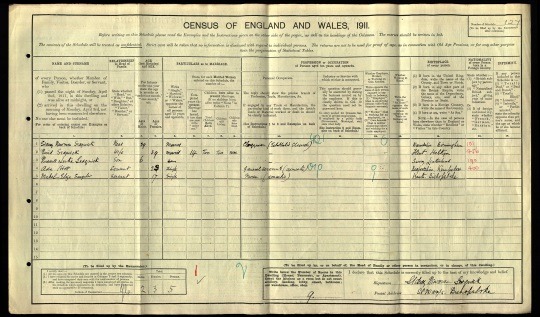 In 1911, Charlotte Collyer was no longer in-service with the Sedgwick's.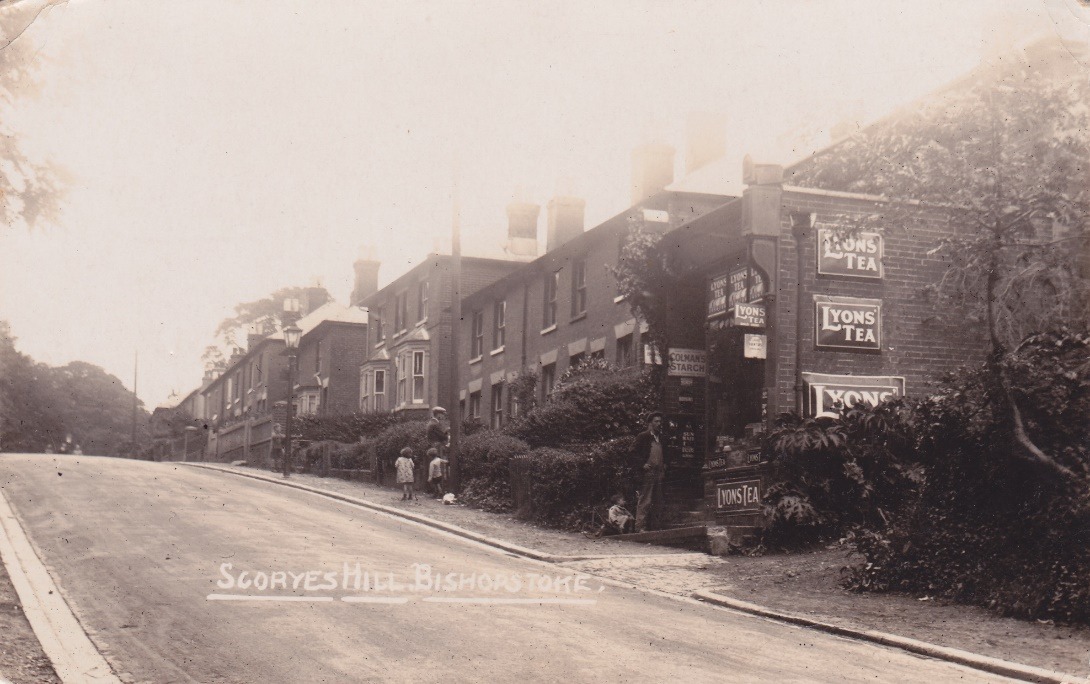 Whilst there is no exact date for when the Rector moved to the new Rectory, it is recorded in the Bishopstoke rate book on the 9th of November 1910, that the Collyer family had taken residence at "Mount View", Church Road.
The original entry had been overwritten in pencil to show Harvey Collyer had now replaced Henry Cook as tenant of the shop. The property is recorded as owned by Messer's Young & Co. In their new position as shop keepers, the Collyer's would have been elevated in social standing within the village.
1909/10 had been a busy period for the Rector. He had moved to a new Rectory, he had been successful in completing the new tower of St Mary's Church, and it was the same year that the south chancel window, which had been gifted from St Nicholas's Church in Leatherhead was installed.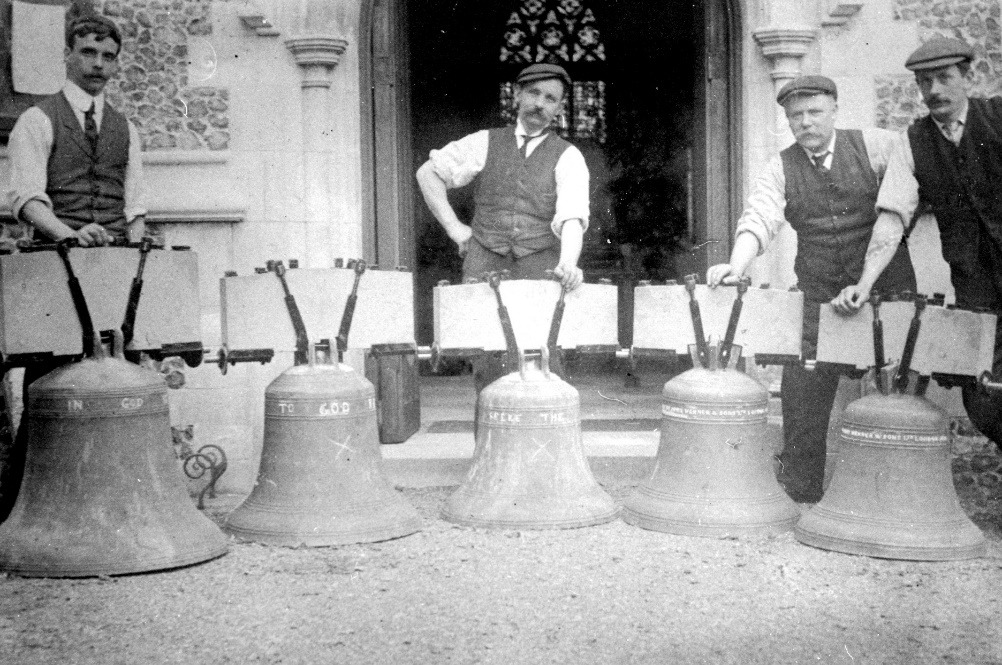 The new bell tower was fitted with five bells in 1909. Three bells, originally from the old St Mary's Church dated from 1598 -1600. Two more bells were presented by Mr Henry White, Solicitor, Coroner, and Churchwarden, who had moved to Oakbank, near the old St Mary's Church.
The first meeting of the Bishopstoke Bell Ringers was held at St Mary's on 18th May 1910. The Rector, Sidney Sedgwick, presided and was supported by Mr Henry White and the following gentlemen: Messer's Titcombe, Collyer, Ayliffe, Winterbottom, Snook, Tucker, George, and Hutchison. The bells were dedicated on 19th June 1910 by Reverend Sedgwick, and a peal of 720 changes was rung on the 22nd of June 1910 to celebrate the wedding of Henry White's daughter, Alice, to George Birtwistle, a maths tutor, and Fellow of Cambridge University. A meeting of the bell ringers was held in July 1910 to appoint officers. Mr Titcombe was appointed Captain of the Band, and Harvey Collyer was appointed Honorary Secretary.
Records from minutes and reports of meetings of the Bishopstoke Bell Ringers record that "Early in April 1912 we received an intimation from our secretary, Mr Collyer, that he would be leaving us as he was going to America, and on Easter Monday, April 8th, we met at the tower when the Rector took our photograph and we all wished him God speed in the new country".
The general opinion is that the Collyer's decision to move to America was for the benefit of Charlotte's health. She suffered from tuberculosis and had been advised that she would fare better in a warmer climate. It is said that they decided to move to Payette, Idaho, where they had friends, the Hallett's, who had established a fruit farm and had sent glowing reports of their success. It was Harvey and Charlotte's intention to do the same. They had arranged to buy a five acre plot of land when they arrived in Payette, on which they would create their own fruit farm. Although evidence is circumstantial, the fact that Harvey Collyer did not notify the bell ringers that he was leaving Bishopstoke until a few days before they left, and that the Collyer's had only been shopkeepers for little over a year, would indicate that they may have acted on impulse. Charlotte's health was clearly a concern. However, I suspect that all the publicity surrounding the maiden voyage of Titanic, and the availability of tickets to travel on the safest ship in the World, hastened their decision.
       Henry George Titcombe   Charles Ayliffe   ??   Frederick Hutchison      ??      Harvey Collyer
This is the picture that was taken by Reverend Sedgwick only two days before Harvey Collyer and his family set sail on Titanic from Southampton on the 10th of April 1912. Originally, the picture was black and white, but it has been colourised for clearer definition.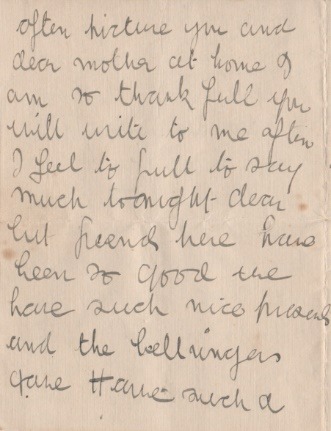 This letter was written by Charlotte Collyer in Bishopstoke, to her mother and sister, in Leatherhead. In the letter, Charlotte refers to the bell ringers giving Harvey a fine tuneful peal of farewell. She also says how much they would miss their friends and family. This letter was received at the post office in Leatherhead on April 12th at 2.30pm. Two days later, Titanic struck an iceberg.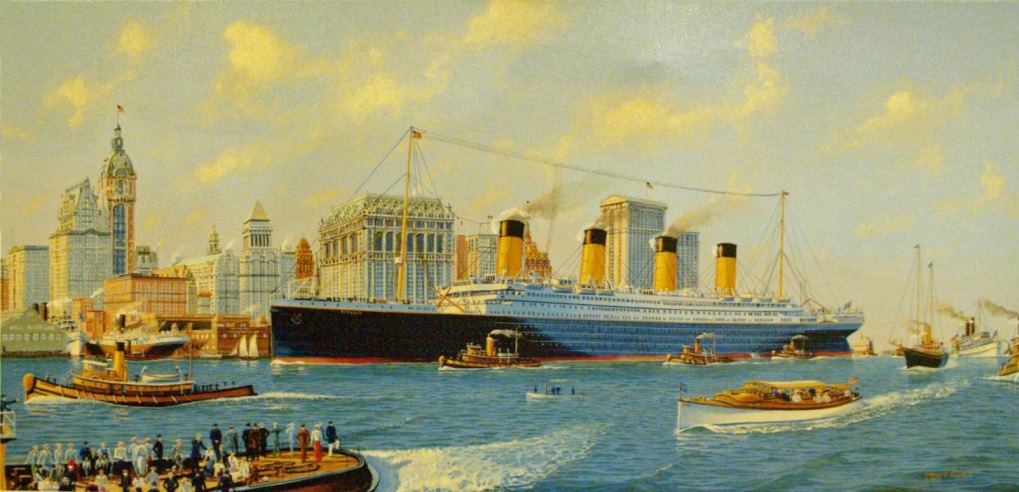 Charlotte's letter also says that the Sedgwick's had bought them a flask, for keeping drinks hot, as a farewell gift, and that Mrs Sedgwick and the boys would be coming to Southampton Docks to see them off on their voyage. It is not difficult to understand the euphoria that was being created by the first voyage of Titanic from Southampton to New York, although the ship was not full. Charlotte Collyer was not an enthusiastic sailor and would probably not have been convinced to sail to New York, if the ship, in a huge wave of publicity, had not been advertised as the biggest and safest vessel afloat. This artist's impression shows Titanic entering New York on her inaugural voyage in an accolade of triumph, being flanked by small boats and an adoring audience. As we now know, this was never to be.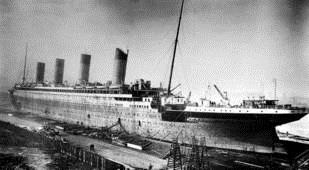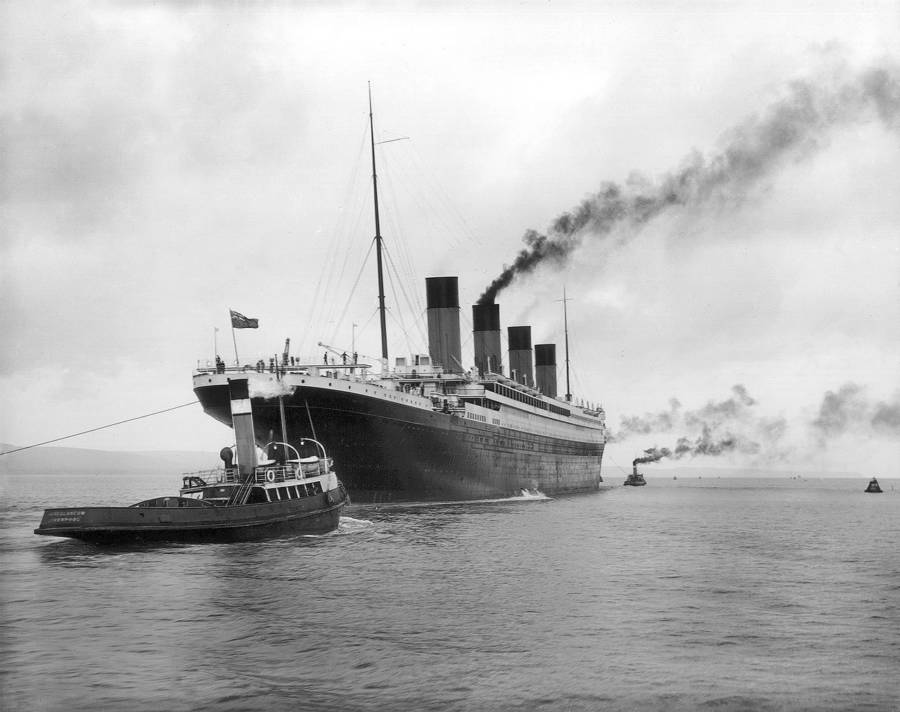 (Titanic construction and sea trials)
Titanic had been launched on 31st May 1911. This invitation ticket to the launch in Belfast, at the Harland and Wolff shipyard, is a picture of a rare original invitation, held in a private collection.
Before Titanic embarked on her maiden voyage, there had been almost a year of fitting out and preparation to ensure all would be well. The ship successfully completed her trials on 2nd April 1912, and thousands lined Belfast Lough to proudly watch Titanic – 'the new wonder of the world' – set sail for Southampton.  Although small by to-days standards, she was the largest ship afloat at the time she entered service.
The menu shown is dated 3rd April 1912 and has been copied from an original in a private collection. It reflects a moment's celebration aboard, as Titanic, with a few passengers, mainly members of the Harland and Wolff Titanic Guarantee group, and a skeleton crew, sailed from Belfast to Southampton to commence her ill-fated maiden voyage. There are irregularities in the ship's records relating to the Collyer's. The address given as the Collyer's residence before they boarded the ship on 10th April 1912 was 25, Church Road, Bishopstoke. This is probably correct but has mistakenly often been quoted as the address of their business.
25 Church Road was owned by Alfred Stagg and his wife who were only a few years older than the Collyer's. I am making an assumption, but I think it is reasonable, that the two families were friends. I believe, having vacated their own business further up Church Road at "Mount View", the Collyer's stayed with the Staggs whilst they waited to begin their new venture.
On their morning of departure, and before embarking Titanic, the Collyer's went to their bank in Southampton, where Harvey Collyer withdrew their entire savings in cash. Reports suggest that this was an amount of around £1200 ($5000). Today, this sum would be worth over £120,000. [Some articles quote £5000, not $5000]. How could they have amassed such a fortune by the age of 31. £1200 is a huge sum when a man's wage was less than £2 per week, and Charlotte's was probably even lower. It was certainly not from the sale of their shop, which other articles have assumed, because they did not own it. Evidence from Bishopstoke Poor Rate books show that the shop was owned by Messer's Young & Co. in the years before and after the Collyer's tenure.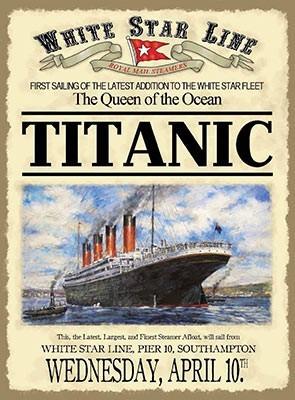 The only practical explanation I can give as to how a young family had been able to accumulate such a large sum is that they enjoyed living in the Rectory rent free. How else could a young couple have saved what must have been nearly all of their joint income during the few years they lived in Bishopstoke, especially as they had only been in business for little over a year?
This is the Ship's manifest for second class passengers embarking at Southampton on 10th April 1912. The Collyer family are the last three passengers listed on the page and their ticket no was 31921, which had cost £26 and 5 shillings, around £3000 in today's money.
These documents record second class passengers that perished on the 15th April 1912. On the top document, created in May 1912, Harvey Collyer is recorded as being a Grocer from Mount Hill, Basingstoke. This should more accurately have been recorded as Mount View, Bishopstoke. In the document on the right, created in June 1912, Harvey's profession, although listed correctly as grocer, his last place of abode in England was given as being with a Mr Still in Basingstoke. Clearly, this should have been Mr Stagg, in Bishopstoke, again illustrating inaccuracies. His death is recorded as "Supposed Drowned." His remains were never identified.
I have some sympathy and understanding for the pressure put on the White Star clerks and how these mistakes were made. They would have been totally unprepared for the mammoth task they were faced with and there were a number of organisations that wanted and expected answers immediately. Everything was handwritten and they probably only had carbon duplicates to work from. What a nightmare.

(Pictures of Titanic sailing from Southampton)
These pictures show Titanic pulling off the jetty in Southampton and sailing down the Solent to cross the channel to Cherbourg, before calling at Queenstown enroute to New York. When she sailed, the Collyer's had everything they owned on board. Harvey wrote the following letter to his family, which was posted once the ship arrived in Queenstown, Ireland.
Titanic April 11th My dear Mum and Dad
It don't seem possible we are out on the briny writing to you. Well dears so far, we are having a delightful trip the weather is beautiful and the ship magnificent. We can't describe the tables it's like a floating town. I can tell you we do swank we shall miss it on the trains as we go third on them. You would not imagine you were on a ship. There is hardly any motion she is so large we have not felt sick, yet we expect to get to Queenstown today so thought I would drop this with the mails. We had a fine send off from Southampton and Mrs S (Sedgwick) and the boys with others saw us off. We will post again at New York, then when we get to Payette.
Lots of love don't worry about us. Ever your loving children
Harvey, Lot & Madge
This is a picture of the original letter which is held in a private collection. Titanic sailed from Queenstown at approximately 1.30pm on April 11th.
(Titanic's First Class Lounge)
The following is a short extract from a report that appeared in the New York press, after Titanic sunk, in which Charlotte describes her first impressions of the ship:
"We were traveling second cabin, and from our deck, which was situated well forward, we saw the great send-off that was given to the boat. I do not think there had ever been so large a crowd in Southampton."
"The Titanic was wonderful, far more splendid and huge than I had dreamed of. The other craft in the harbour were like cockle-shells beside her, and they, mind you, were the boats of the American and other lines that a few years ago were thought enormous. I remember a friend said to me, just before visitors were ordered ashore": "Aren't you afraid to venture on the sea?" But now it was I who was confident. "What, on this boat!" I answered. "Even the worst storm couldn't harm her."
This is part of the Second Class Dining Room on D deck where the Collyer's were seated for their meals. The dining room was provided with a piano and pianist for entertainment whilst they ate.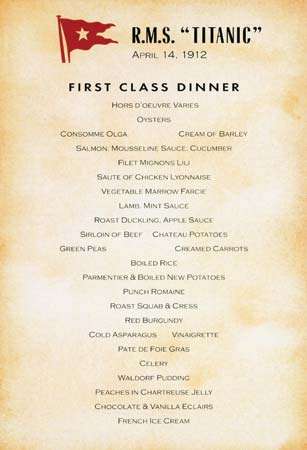 Passengers on board Titanic would have enjoyed a fine standard of food, even in the lower classes. These first class menus of the meals served before the iceberg was struck, have been copied from websites and are probably not authentic, although it is probable that they reflect the style of food that would have been served.
These second class and third class menus, from the 14th of April 1912, are photographs of genuine artefacts held in a private collection. As second class passengers on board Titanic, the Collyer's would have enjoyed a fine standard of food, not dissimilar to that of first class, just with none of the fancy silverware, trimmings, or extra courses.
The meals served aboard Titanic were of the highest possible standard. Third class food was simple and plain, but plentiful. Most other shipping lines, at this time. did not provide food for third class passengers, they had to bring their own. Second class food matched the standard of the UK's most luxurious hotels and restaurants, and first class passengers enjoyed additional trappings of grandeur.
Charlotte Collyer, shortly after arriving in New York, said in a newspaper article: "I don't remember very much about the first few days of the voyage. I was a bit seasick and kept to my cabin most of the time". (This is not what her husband had written in his letter home) "But on Sunday, April 14, I was up and about. At dinnertime, I was at my place in the saloon, and enjoyed the meal, though I thought it too heavy and rich. No effort had been spared to serve even to the second cabin passengers on that Sunday the best dinner that money could buy. After I had eaten, I listened to the orchestra for a while; then, at perhaps nine o'clock, or half-past nine, I went to my cabin". 
First class passengers had priority on board Titanic. Within first class, there was even an upper and lower first class hierarchy. The Restaurant was for old money families and high society. It was set aside for those who considered themselves too dignified to be seated next to someone who was not born into their fortune. Other first class passengers were allocated to other dining venues, which may be an alternative explanation to the two very different first class dinner menus for the fateful evening of April 14th, 1912.
At 11.40pm on the evening of April 14th, 2012, Titanic struck an iceberg. Charlotte recalled, through a newspaper article:
"The sensation, to me, was as if the ship had been seized by a giant hand and shaken once, twice; then stopped dead in its course. That is to say, there was a long backward jerk, followed by a shorter forward one. I was not thrown out of my berth, and my husband staggered on his feet only slightly. We heard no strange sounds, no rending of plates and woodwork; but we noticed that the engines had ceased running. My husband and I were not alarmed. I lay quietly in my berth with my little girl, and almost fell asleep again. Harvey went out to investigate and reported back, saying:  'What do you think? We've struck an iceberg – a big one – but there's no danger. An officer told me so!"
There were many stories published about the Titanic tragedy, but none seemed to captivate the American public in such a dramatic way as the story of Charlotte and Marjorie Collyer. These stories were published in a Semi-Monthly Magazine for which Charlotte was paid $300. We will never know how much journalistic licence was used in the construction of these articles. This particular iceberg was allegedly photographed by the chief steward of the liner Prinz Adalbert on the morning of April 15,1912, just a few miles south of where the Titanic went down, and like Charlotte's and Marjorie's stories, received widespread publication. The iceberg, pictured above,  was alleged to be the one that Titanic had struck.
This is my picture of a similar iceberg; they are still making them!!! Although this one was photographed in Disko Bay, Greenland in August 2019. Disko Bay is where the iceberg that sank Titanic is believed to have originated. Charlotte's story continues:
"Suddenly we heard hundreds of people running along the passageway in front of our door. They did not cry out; but the pattering of their feet reminded me of rats scurrying through an empty room. I jumped out of bed and put over my night dress a dressing gown and then a coat. I caught up my daughter, Marjorie, just as she was, in her nightgown, wrapped a White Star cabin blanket around her, and started out of the door. My husband followed immediately behind. Neither of us took any of our belongings from the cabin; and I remember that we even left his watch lying on his pillow. We did not doubt for an instant that we would return."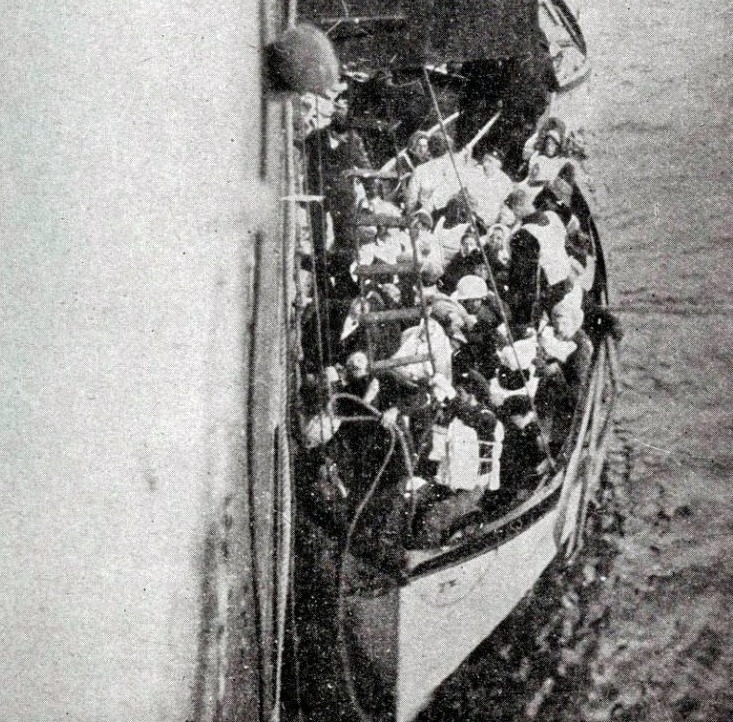 "When we reached the second-cabin promenade deck, we found a great many people there. I, and all the others about me did not believe that the Titanic could go down. Then, above the clamour of people asking questions of each other, there came the terrible cry: "Lower the boats. Women and children first!" Someone was shouting those last four words over and over again: "Women and children first! Women and children first! The third boat was about half full when a sailor caught Marjorie, my daughter, in his arms, tore her away from me and threw her into the boat. She was not even given a chance to tell her father good-bye! You, too!" a man yelled close to my ear. "You're a woman. Take a seat in that boat, or it will be too late."
"I heard my husband say: "Go, Lotty! For God's sake, be brave, and go! I'll get a seat in another boat." The men who held me rushed me across the deck and hurled me bodily into the lifeboat. I landed on one shoulder and bruised it badly. Other women were crowding behind me; but I stumbled to my feet and saw over their heads my husband's back, as he walked steadily down the deck and disappeared among the men. His face was turned away, so that I never saw it again; but I know that he went unafraid to his death."
"The bottom of our boat slapped the ocean, as we came down with a force that I thought must shock us all overboard. We were drenched with ice-cold spray; but we hung on, and the men at the oars rowed us rapidly away from the wreck. It was then that I saw for the first time the iceberg that had done such terrible damage. It loomed up in the clear starlight, a bluish-white mountain quite near to us. Two other icebergs lay close together, like twin peaks. Later, I thought, I saw three or four more; but I cannot be sure. Loose ice was floating in the water. It was very cold".
"We had gone perhaps half a mile when the officer ordered the men to cease rowing. We lay there in silence and darkness on that utterly calm sea. I shall never forget the terrible beauty of the Titanic at that moment. She was tilted forward, head down, with her first funnel partly under water. No sound reached us except the music of the band, which I seemed, strange to say, to be aware of for the first time. Oh, those brave musicians! How wonderful they were! They were playing lively tunes, ragtime, and they kept it up to the very end. Only the engulfing ocean had power to drown them into silence. On the boat deck that I had just left, perhaps fifty men had come together. In the midst of them Father Byles, was leading those doomed men in prayer. The band was playing "Nearer My God to Thee" — I could hear it distinctly. The end was very close."
"It came with a deafening roar that stunned me. Something in the very bowels of the Titanic exploded, and millions of sparks shot up to the sky. Two other explosions followed, dull and heavy, as if below the surface. The Titanic broke in two before my eyes. The fore part was already partly under the water. It wallowed over and disappeared instantly. The stern reared straight on end and stood poised on the ocean for many seconds — they seemed minutes to me. Cries more terrible than I had ever heard rang in my ears. I turned my face away; but looked 'round the next instant and saw the second half of the great boat slip below the surface as easily as a pebble in a pond. I shall always remember that last moment as the most hideous of the whole disaster."
"For our part, we went in search of other lifeboats that had escaped. We found four or five, and Mr Lowe took command of the little fleet. He ordered that the boats should be linked together with ropes, so as to prevent any one of them from drifting away and losing itself in the darkness. This proved to be a very good plan and made our rescue all the more certain when the Carpathia came. He then, with great difficulty, distributed most of the women in our boat among the other craft."
[explanation- Officer Lowe, having transferred his passengers from lifeboat 14 to other lifeboats, then returned to pick up more survivors from the water. He was one of only two officers from Titanic who tried to redistribute passengers to other lifeboats, so he could use his boat to rescue more people].
"Someone gave me a ship's blanket, which served to protect me from the bitter cold; and Marjorie had the cabin blanket that I had wrapped around her. But we were sitting with our feet in several inches of icy water. The salt spray had made us terribly thirsty, and there was no fresh water and certainly no food of any kind on board the boat. The sufferings of most of the women, from these various causes, was beyond belief."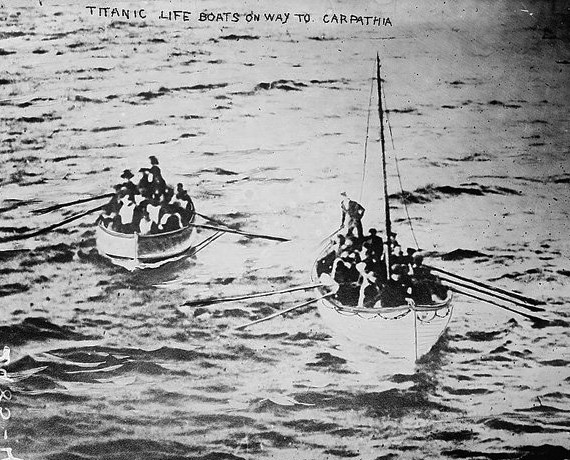 "All my memories are hazy until the Carpathia arrived at dawn. She stopped maybe four miles away from us, and the task of rowing over to her was one of the hardest that our poor frozen men, and women, too, had had to face. Many women helped at the oars; and one by one the boats crawled over the ocean to the side of the waiting liner. They let down rope ladders to us; but the women were so weak that it is a marvel that some of them did not lose their hold and drop back into the water. When it came to saving the babies and young children, the difficulty was even greater, as no one was strong enough to risk carrying a living burden. One of the mail clerks on the Carpathia solved the problem. He let down empty United States mail bags. The little mites were tumbled in, the bags locked, and so they were hauled up to safety."
"We all stood at last upon the deck of the Carpathia, more than six hundred and seventy of us; and the tragedy of the scene that followed is too deep for words. There was scarcely any one who had not been separated from husband, child, or friend. No survivor knows better than I the bitter cruelty of disappointment and despair. I had a husband to search for, a husband whom, in the greatness of my faith, I had believed would be found in one of the boats. He was not there."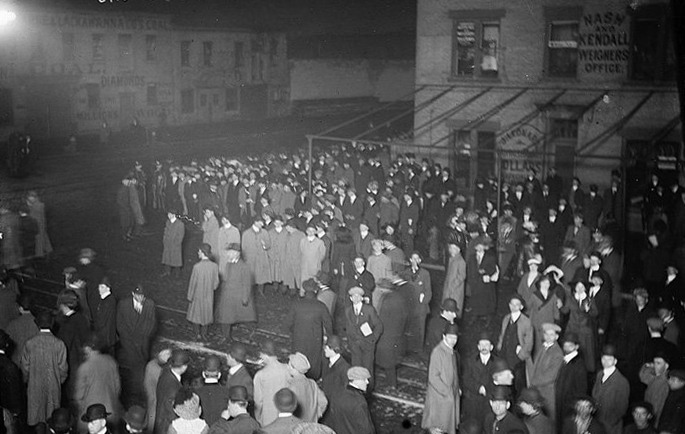 In New York, thousands of people waited anxiously for news of friends and relatives.
When they arrived in New York on 18th April 1912, Charlotte and Marjorie were destitute. All their belongings and money had been lost. After staying in an hotel, they were taken into care by a Dr Tienne, of Brooklyn, New York. The couple were pictured here at his home for promotional photographs. Their story was sold exclusively to a New York paper which serialised their plight in its Semi Monthly Magazine Section.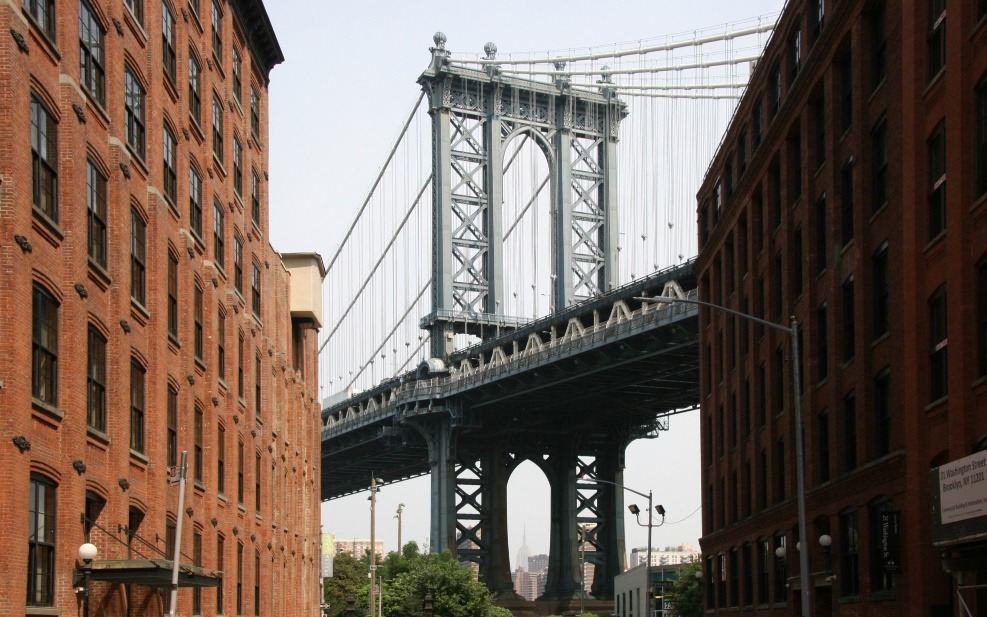 (Brooklyn, New York)
Having recuperated, Charlotte wrote on 21st April 1912 from Brooklyn to her mother in law, part of which I will outline:
My dear Mother and all,
I don't know how to write to you or what to say, I feel I shall go mad sometimes but dear as much as my heart aches it aches for you too for, he is your son and the best that ever lived. I had not given up hope till today that he might be found but I'm told all boats are accounted for.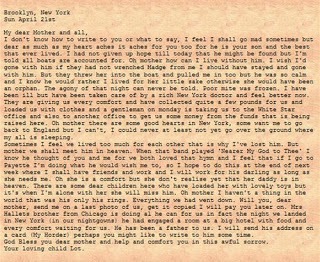 I have been ill but have been taken care of by a rich New York doctor and feel better now. They are giving us every comfort and have collected quite a few pounds for us and loaded us with clothes and a gentleman on Monday is taking us to the White Star office and also to another office to get us some money from the funds that is being raised here.  I feel that if I go to Payette, I'm doing what he would wish me to, so I hope to do this at the end of next week where I shall have friends and work and I will work for his darling as long as she needs me. Oh, she is a comfort but she don't realise yet that her daddy is in heaven. There are some dear children here who have loaded her with lovely toys but it's when I'm alone with her she will miss him.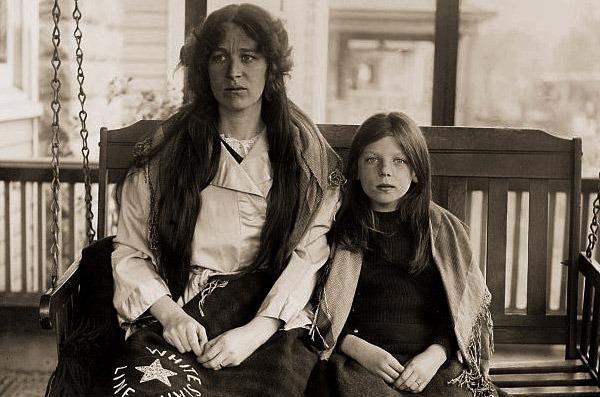 (Charlotte and Marjorie posing for a photograph on the porch
of Dr Tienne's residence in Brooklyn, New York)
The newspapers could not get enough of the Collyer story, even after she left New York. the leader from one particular article explains:
"Mrs Charlotte Collyer's article, How I Was Saved from the Titanic," printed seven weeks ago in the Semi-Monthly Magazine Section, still holds the record of being the most graphic and most intensely human document relating to that shocking disaster that has yet been published. We felt that it would be so when we first heard the story from her lips; and on the spot we obtained from her the exclusive right to use it for the benefit of our readers. Other magazines and many newspapers, learning from other passengers something of the dramatic and harrowing nature of her experiences, sought to anticipate us. But Mrs Collyer loyally refused to listen to them. The house where she was staying, before she went West, was besieged by reporters and camera men. Efforts were made to interview the servants by reporters posing as tradesmen. Little Marjorie was unable to play in the yard in front of the house on account of the persistent attempts to photograph her. It was under such disturbing conditions that this heart breaking narrative was written for us".
The newspaper made no pretence about using the stories to raise money for the Collyer family. The Titanic disaster generated a mass outpouring of sympathy from the American public. Many events were held to raise money for the survivors of RMS Titanic, but the articles about the Collyer's and their plight went beyond expectation. They were inundated with messages of sympathy, toys for Marjorie, and money. Do I blame Charlotte for taking advantage of her circumstances? No. What I question is how many of the stories published were from her own experience, as opposed to exchanges of stories she had heard aboard Carpathia, and to what extent journalistic licence conspired to merge stories heard from other passengers, so the journalists could create a web of intrigue to sell newspapers. There is no doubt that there were elements of truth, but there also have to be questions raised about the authenticity of her recollections. I do not blame Charlotte if this is so, I admire her tenacity. She was fighting for survival, not only for herself, but also for her young daughter. She was probably being manipulated by an eager American press.
The papers were also keen to feature Marjorie's story, although a report in the Brooklyn Daily Eagle, appeared to tell a tale too mature for that of an eight year old child.
The article, published on April 25th explains that the Collyer's were on their way to the West to win their way in the land of new opportunities. The article goes on to explain that she is living in daily expectation that she will see her father again. Her one poignant grief is that her doll – a great big dolly, with eyes that could open and shut – perished with the steam ship. She has a new doll now. Its name is Eleanor (pictured). In fairness, the article explains that she is too young to appreciate the horror of what she had been through, and that she still does not understand that her father has perished. There are a couple of paragraphs from this article I would like to relay to you.
"My father had a store in Bishopstoke – up on the hill, she said. He sold it to get money to go to America, and one day he took me on his knee and said "Margaret, how should you like to go to America." Sadly, the reporter could not even get her name right. "I said I should like it very much. I didn't know much about America, and I was very much exited".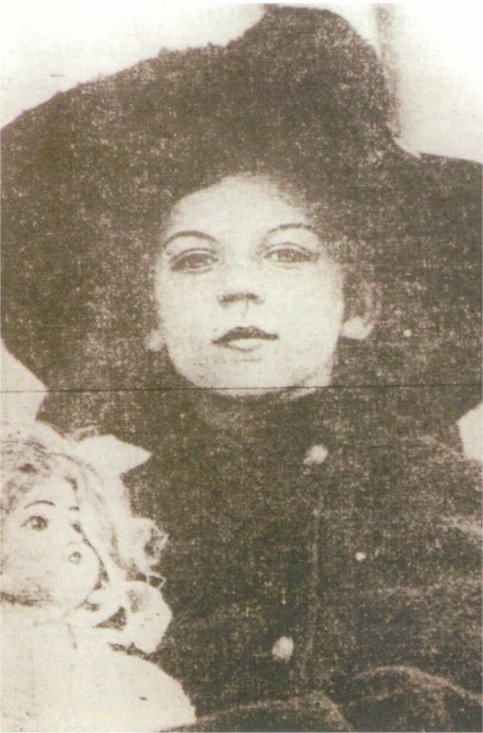 (Marjorie Collyer aged 8)
The article continues about how "there was an officer in their boat who had a pistol. Some men jumped into the boat on top of the women and crushed them and the officer said that if they didn't stop, he would shoot. Another man jumped and he shot him. My mother says I called out 'Don't Shoot' but I don't remember it".
Her mother's stories told of the orchestra playing and passengers singing hymns as Titanic took her final bow and sunk below the waves. These recollections have become folklore. In this interview, Marjorie recalled: "While we were rowing away, we heard a lot of people crying and the women in our boat asked the officer what that noise was. He said that the people on the boat were singing".
If you had been the officer on the lifeboat that night, what would you have said to the women and children in your boat? Perhaps, in this article, Marjorie has given us an insight into how easily recollections of that night may have become distorted in their retelling.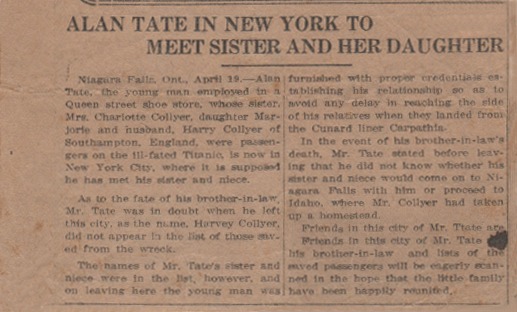 Charlotte's brother, Alan Tate, was a shoe salesman living in Niagara, Canada and, as soon as he heard of the tragedy, he went to New York to find his sister. This is a pictures from an original copy of an article published in the local Niagara Falls newspaper on April 19th, 2012.
Alan Tate explains, in an article published on 22nd April, that when he arrived in New York it took him five hours to find the hotel where they were staying. His sister, Charlotte, was suffering terribly from the effects of the exposure in the open boat during the night of horror following the disaster. Mrs Collyer's hands were swollen to twice their size from the effects of being frostbitten and tugging at an oar, and she was suffering from a nervous breakdown as well as from the effect of the bitter cold to which she was exposed for hours on the water. The article relates, in some detail, how the tragedy unfolded and how she had been separated from her husband. It states that Charlotte distinctly saw the boat in which her husband was, drawn under by the vortex created by the sinking Titanic. This information contradicts some of her later comments.
Some very influential people and businesses had been moved by the Collyer story.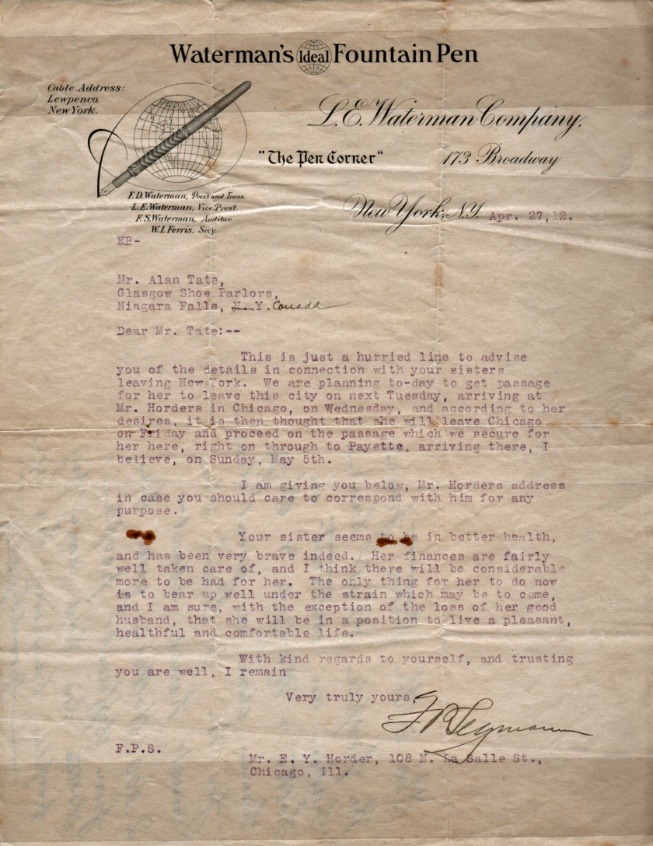 This original letter, in a private collection, was sent to Alan Tate in Niagara on 27th April 1912 from the Waterman (Pen) Company to say that they are handling arrangements for Charlotte and Marjorie to leave New York on Tuesday 30th April to arrive in Chicago the following day, where they will stay with Mr Hoarder (Mrs Hallett's brother), before leaving on Friday on the passage that has been arranged for them, through to Payette, Idaho, where they will arrive on Sunday May 9th.
This letter explains that: – your sister seems to be in better health and has been very brave indeed. Her finances are fairly well taken care of, and I think there will be considerably more to be had for her. The only thing for her to do now is to bear up well under the strain which may be to come, and I am sure, with the exception of the loss of her good husband, that she will be in a position to live a pleasant, healthful, and comfortable life. Alan Tate forwarded this letter to his mother, in Leatherhead.
On the back he wrote: – "This is the letter from the people that have taken an interest in Lottie and Madge, and they have done a great deal for her, I think she must have about $2000 given her from different people. Lottie has had some big people backing her up".
On Sunday 28 April 1912, Charlotte wrote to her family from New York. Charlotte said that she was feeling better, and was getting ready to go to Idaho, although the loss of Harvey was heart breaking. She was grateful for the support she was receiving and how delighted and thankful she had been to see her brother Allen. Charlotte enclosed a copy of the newspaper interview which Marjorie had given and asked that her mother share it with Harvey's mother. She asked for some family photos and explained that Marjorie had still not understood about the loss of her father and enclosed an address where the family could write to them.
Certainly, by the time she arrived in Payette, Idaho, Charlotte was a relatively wealthy woman. In addition to over $2000 received from public donation, she had received $300 from publishing her story and further sums of money from the Titanic Trust Fund. Much of the family fortune had been restored.
This town, in the middle of nowhere is where Harvey and Charlotte had committed their future. This picture was taken in 1910, the whole town must have turned out to be photographed. Even today, the town and surrounding area has a population half the size of Bishopstoke. Newspapers continued to publish the Collyer story. They reported:
"The owners of the land that Mr Collyer had contracted to purchase were willing to make every possible concession that would enable the widow to carry the property until it should be self-supporting; and all her neighbours were ready to turn to and to help her place it on that basis. It did not take long, however, for Mrs Collyer to find that not all the help she could expect would suffice to make her task one that she would be able to accomplish. There was only the bare ground to start with. The forest growth had been cut down, and the roots removed; but that was all. There was no house to live in. It must be remembered that it was his wife's failing health that was the principle consideration that led Mr Collyer to seek a home in America. He hoped that, in a wholesome, outdoor life in a more congenial climate, she might regain her strength. He had, of course, never contemplated her taking up the active pioneer work of making a fruit farm from the very beginning. He would not have dreamed her equal to it. Mrs Collyer, however, did not lack courage. She received unmistakeable warnings that already she was overtaxing her powers. To go on would be surely fatal. Only then did she sadly relinquish her hopes and ambitions and decide to brave again the perils of an ocean voyage, and to return to her own country – there to seek among those nearest and dearest to her, rest for herself, and a home for Marjorie. No one, we are sure, who has sent a cheque, with the thought, silent or expressed, that it might assist Mrs Collyer in making a home in Idaho, will grudge the gift, under the circumstances just described, now that she has had to abandon that enterprise".
An open letter from Charlotte Collyer, dated New York, 8th June 1912, was published in a newspapers to thank the American public for their help and support:
"My Dear American Friends:
My heart is too full of gratitude for all the kindness and sympathy and generous help you have showered on me and my little daughter for me to begin to tell you even a part of what I feel. The greatest comfort to me in my sorrow, my greatest support in the struggle I have made to carry out my husband's wishes and to make a home for myself and Marjorie in this wonderful land, have been the way that God's love for us has been revealed to me in the loving welcome and aid received from all the dear friends my story has made for us. I do not feel able to tell you in detail how I was at last compelled to give up my cherished plans and to return to England. I must leave that task to another. But I could not bear to have one of you feel that I am ungrateful or unappreciative of your goodness. It is only that the experiences I have been through have left me without the necessary strength to make the fight alone. In my dead husband's name, and Marjorie's, and from my heart, I thank you all".
Although I am sure that this open letter conveys Charlotte Collyer's sincere gratitude to the American public, the letter has been very well constructed, and is politically and professionally crafted, which does not match the writing style used, by Charlotte, in her hand written letters to her family.
In Bishopstoke, the news of the foundering of the Titanic and the loss of their late comrade Harvey, reached the bell ringers. The Bishopstoke Bell Ringers record book shows that as soon as authenticated information reached them that there was no longer any hope of Harvey Collyer being saved, a muffled peal was rung and, on the following Sunday, a muffled peal was again rung, and the Rector, Revd Sedgwick, read the committal portion of the funeral service.
A memorial to Harvey Collyer was erected in St Mary's Church in the form of a notice board and stand.
Charlotte and Marjorie returned to live in Bishopstoke. These scenes of Bishopstoke Mill, Riverside shops, Spring Lane, and Church Road would have been familiar and of comfort to them. Where they lived in Bishopstoke on their return is uncertain. Charlotte's Wedding Certificate, when she re-married in 1914, stated that she was living in Church Road.
Following her ordeal, Marjorie would have returned to Bishopstoke Girls' School. Hopefully, the publicity and attention the young girl had received in the aftermath of the Titanic tragedy had subsided, and she was able to return to a normal life.
I believe this picture, from a private family collection, taken at Bishopstoke Girls' School in 1913 shows Marjorie. There are no names to accompany the picture, but I cannot believe that this is anybody other than her.
Compare for yourself this inset picture taken in New York just a few days after the sinking of Titanic, and the young girl pictured, third from right in the front row of the photograph at Bishopstoke School just a year or so later.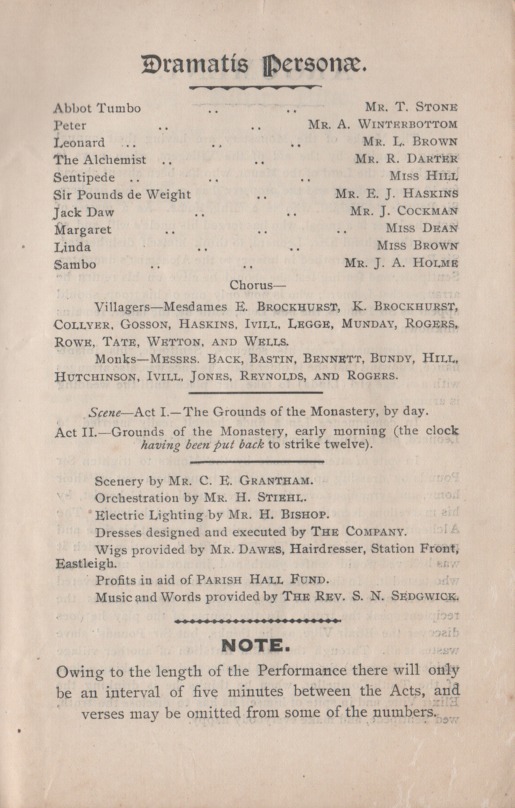 Charlotte also appears to have returned to a normal life in the bosom of Bishopstoke, following the death of her husband. This programme is from a performance of one of Sidney Sedgwick's many operettas. The title is "The Elixer Vitae" or "The Monk's Strategem". It was performed in Bishopstoke on the 10th, 11th, 12th and 14th February 1914 and featured Charlotte Collyer in the chorus as one of the "Villagers". The operetta is what we would consider to be a farce in the Gilbert and Sullivan style. The central character of the story is Sir Pounds de Weight, who is described as a rascal. He has forged his uncle's will, and so caused the rightful heir to be disinherited. Through subterfuge Sir Pounds arranges for his nephew, the rightful heir, to marry Sir Pounds betrothed, the Alchemist's daughter, to whom he was betrothed in infancy, but unknown to him, his betrothed, Sentipede, has arranged with a village girl to take her place. The Alchemist, meanwhile, has been searching for a potion which would confer youth and immortality on those that tasted it. In the course of his experiments, he has discovered a drug which makes the recipient speak the truth. Sir Pounds is bamboozled into taking a dose of the truth-compelling drug and has to disclose the truth, wed Sentipede, and make everybody happy.
So why did people flock in their droves to watch this drivel?
Sir Pounds de Weight is described as calling himself Lord of the Manor. Think back to when Reverend Sedgwick first settled in Bishopstoke in 1905 and was publicly harangued by Richard Bourne who lived in what is called the Manor House. He was not Lord of the Manor, although he may have acted as such, and his house has never been entitled to any legitimate claim to the title of Manor House. Is it possible that this, and perhaps some other plays and operettas written by Reverend Sedgwick, were written with "tongue in cheek" satirical characterisations which, whilst being obvious to residents of the day, are now lost to us. Perhaps, this made the plays so popular. I like to imagine that, in this performance, Reverend Sedgwick was light-heartedly getting his own back on his old adversary Richard Bourne.
I would add that, although acceptable at the time it was written, some of the characterisation and characters portrayed in the operetta would not be considered appropriate, nor acceptable, in society today.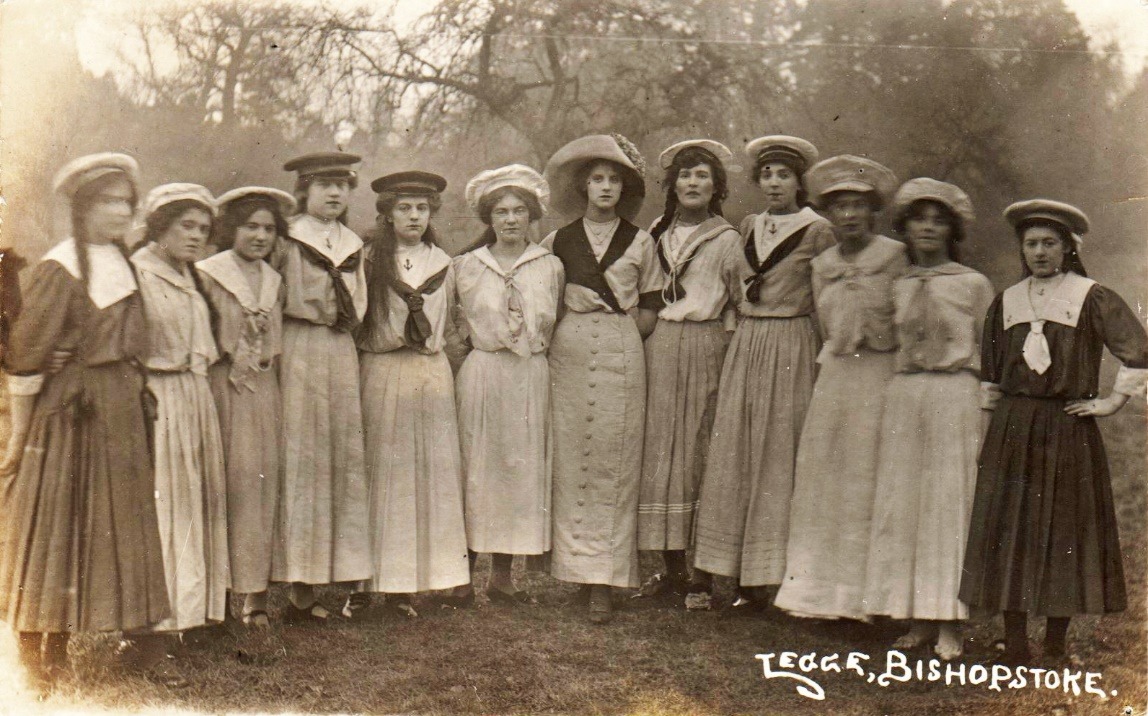 This picture is a rare find. It is a picture of a chorus line from a Sedgwick operetta taken in the Rectory Orchard at Bishopstoke. It could be from the operetta "The Elixer Vitae." The picture was taken during the winter, which would coincide with the performance given in February 1914. According to the programme there should have been thirteen girls as villagers in the chorus, but the picture shows only twelve. The costumes do not seem to fit entirely with the profile of the story, although it is entirely possible that the costumes had been recycled from a previous play or operetta. What is certain is that the lady pictured fifth from the left is Charlotte Collyer. Whether this picture was taken after her return from America, or from before she departed has to remain uncertain. What is ironic, considering the fate of the Titanic, is that she is dressed in a sailor's uniform. If this picture was taken in 1914, it is the last picture we have of her, and this picture, like some in this article, is from private collections, that have not been previously published.

The outbreak of WWI commenced at the end of July 1914, Charlotte Collyer re-married in Bishopstoke on October 29th, 1914, her spouse being James Ashbrook Holme, who gave his address as Hamilton Road, and his occupation as lay reader.
James had been born in West Derby, Lancashire, in 1886. His father was from Liverpool and worked for the railway as a ticket collector. At the age of 15, in 1901, James was serving an apprenticeship in a book store, but by 1911, his occupation is recorded as that of an evangelist.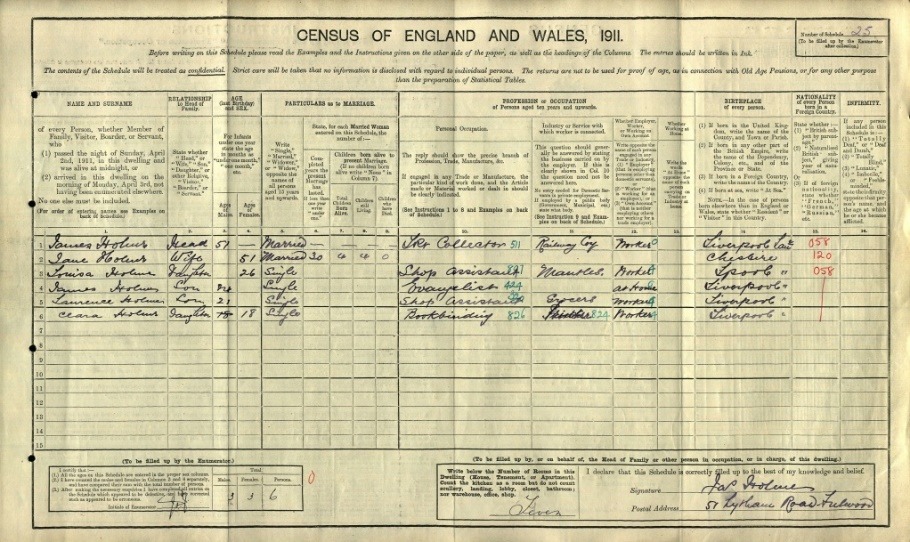 It is thought that Charlotte's marriage did not meet with the approval of the Collyer family. Her younger sister, Eva Tate, attended the wedding and acted as a witness. Reverend Sidney Sedgwick officiated.
It must have become obvious to Charlotte that her health was deteriorating, and by the time of her marriage to James, it is probable that she was already aware that she would die. I am not saying that there was not affection between Charlotte and James, but Charlotte seems to have been a very determined lady. I believe that the "Lioness" was attempting to protect her "Cub". She was trying to ensure that there would be continuity of care for Marjorie after her mother's death.
After their marriage, Charlotte, James, and Marjorie moved to Grayshott, near Haslemere, Surrey which had a reputation of having a mild climate, beneficial to those suffering from Tuberculosis. James Holme became licensee of the Fox and Pelican, which is where they lived. At the age of 35, Charlotte succumbed to her illness, and died in November 1916. She left a sum of £720 in trust for her daughter.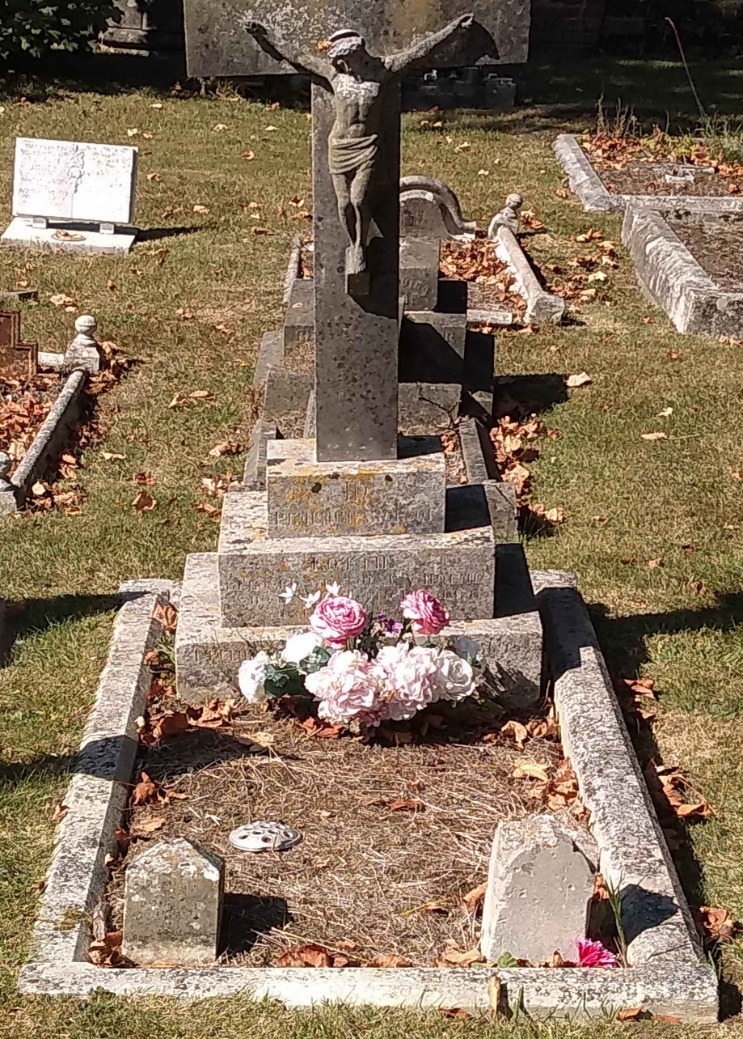 Although the family were living in Grayshott, James arranged for Charlotte to be buried in St Mary's Churchyard, Bishopstoke, and provided an ornate headstone and surround to her grave.
The inscription on the headstone reads:
In Remembrance of Lottie
Beloved Wife of J.A. Holme
Who entered Paradise
November 25th, 1916
In the communion of Jesus
RIP.
This is not the act of an uncaring husband. He ensured that Charlotte was laid to rest, as a final act, by her friend Reverend Sidney Sedgwick, who had been by her side and supported her spiritually throughout her adult life.
Best laid plans do not always work out as intended. There are reports that say James Holme was reluctant to care for Marjorie, believing that a public house was no place for a 12 year old girl. I am not convinced this version of events is entirely correct. Charlotte had appointed public trustees, as well as her husband to administer her legacy to Marjorie. Charlotte was also in receipt of a regular income from the Titanic Trust which, on her death, was transferred to her daughter Marjorie until she reached the age of eighteen. I suspect that the trustees involved Social Services. It is probable that Social Services would have insisted that the child, living in these circumstances, and not living with a member of their birth family, should be made a ward of court. Arrangements would then be made to try and place the child with a family member. If no family member was prepared to support them, they would be put into supervised care. I suspect it was Social Services, not James Holme, who considered that a public house was no place for an orphaned twelve year old girl, nor would Social Services have approved of Marjorie living with a man who was not her blood relative.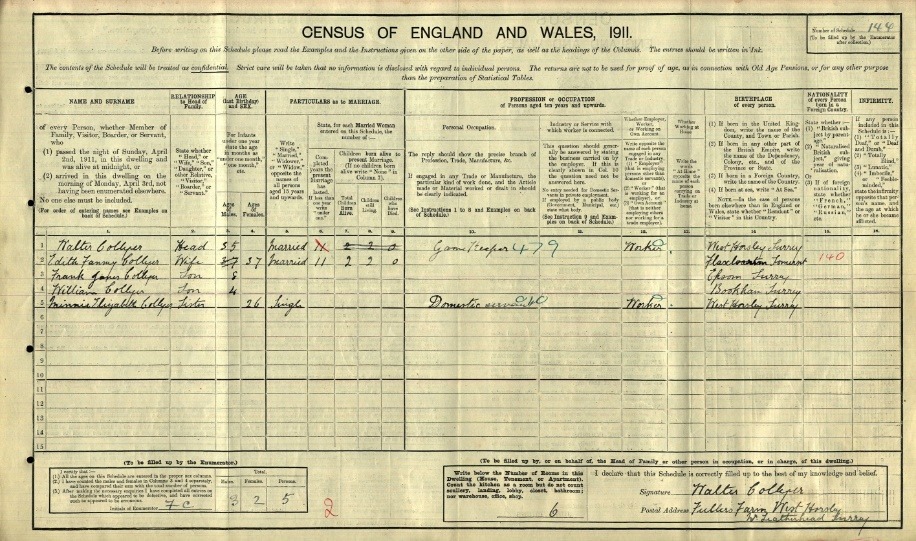 Marjorie was eventually placed with her uncle, Walter Collyer (Harvey's brother) and her aunt Edith, who lived at Fuller's Farm, in West Horsley, Surrey. Walter Collyer was a gamekeeper, and during WWI an army reservist with a family of two boys, the elder of whom was about Marjorie's age. Also living with the family, and working as their domestic servant, was Minnie Elizabeth Collyer, Walter's younger sister, and also Marjorie's aunt. Marjorie's guardians would have been entitled to any income Marjory may have had, including Marjorie's legacy from the Titanic Trust to help pay for her keep.
Marjorie's time with her uncle, aunties and nephews at Fuller's Farm does not seem to have been happy, although there are no clear explanations as to why. It is also quite likely that they were strangers to her before she went to live with them. After her mother married James Holme, there would not have been any contact with the Collyer family, and life on a farm would have been far different from what she had been used to.

Less than two and a half years after the death of her mother, James Holme died at the age of 32. In his will, James Holme bequeathed the sum of £747, some of which was left to Walter Collyer. Leaving money to Walter Collyer was clearly intended for the benefit of Marjorie. This was not, I believe, the act of a man who was reluctant to care for the child, I think it is more likely that James Holme had been forced to abandon her by Social Services, and this was his final act of commitment to Charlotte and Marjorie.
Marjorie left Fuller's Farm and the care of her family at the age of 18, when her income from the Titanic Trust expired, according to Alun Roberts of Leatherhead History Society. Marjorie then appears to have undertaken clerical work. By 1923, she had moved to the village of Shere, between Guildford and Leatherhead, where she worked in Forrest Stores and met her future husband.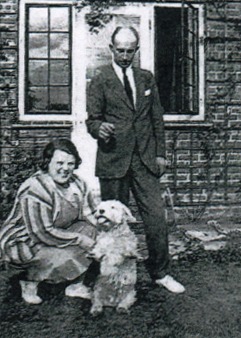 The couple were wed in St Mary and St Nicholas' Church in Leatherhead on 24th December 1927, the same Church where Marjorie's parents had been married. Marjorie and Roy settled in Chilworth, Surrey. Marjorie's husband, Royden Bernard Bowden Dutton, was a delivery driver and mechanic, who drove the shop's van, a similar job to the one that her father had held years earlier in Leatherhead. This picture was taken around 1930, eighteen years after young Marjorie, perhaps too small and weak to climb the rope ladder from the lifeboat to get aboard Carpathia, may have been put in a mail bag and hauled aboard.
(Officer Harold Lowe of Titanic)
Articles published in America about their traumatic episode on lifeboat 14 were graphically and dramatically reported and attributed to Charlotte Collyer. She was certain that some male passengers were shot by officers, and she reported that: "officers drew revolvers and waved the crowd back. I covered my eyes as I sat in the lifeboat. Officers stood by with pistols to keep away the men from the steerage, who on at least one occasion attempted a rush. When occasion warranted the officers did not scruple to fire."
Charlotte also described at great length Fifth officer Lowe's use of his personal weapon during the launching of lifeboat no.14 "The boat was practically full, and no more women were anywhere near it when Fifth Officer Lowe jumped in and ordered it lowered. The sailors on deck had started to obey him, when a very sad thing happened. A young lad, hardly more than a school boy, a pink-cheeked lad, almost small enough to be counted as a child, was standing close to the rail. He had made no attempt to force his way into the boat, though his eyes had been fixed piteously on the Officer. Now, when he realised that he was really to be left behind, his courage failed him. With a cry, he climbed upon the rail and leapt down into the boat. He fell among us women and crawled under a seat. I and another woman covered him up with our skirts. We wanted to give the poor lad a chance; but the officer dragged him to his feet and ordered him back upon the ship. He begged for his life…but the officer drew his revolver and thrust it into his face. 'I give you just ten seconds to get back on that ship before I blow your brains out! he shouted'. The lad only begged the harder, and I thought I should see him shot where he stood. But the officer suddenly changed his tone. He lowered his revolver and looked the boy squarely in the eyes. 'For God's sake' he said gently. 'We've got women and children to save. We must stop at the decks lower down and take on women and children'. The little lad turned round and climbed back over the rail, without a word… all the women about me were sobbing; and I saw my little Marjorie take the officer's hand. 'Oh, Mr. Man, don't shoot, please don't shoot the poor man!' she was saying, and he spared the time to shake his head and smile. He screamed another order for the boat to be lowered; but just as we were getting away, a steerage passenger, came running the whole length of the deck and hurled himself into the boat. He fell upon a young child and injured her internally. The officer seized him by the collar, and by sheer brute strength pushed him back on to the Titanic. As we shot down toward the sea, I caught a glimpse of this coward. He was in the hands of about a dozen men of the second cabin. They were driving their fists into this face, and he was bleeding from the nose and mouth." 
It is easy to understand how these graphic and dramatic stories enthralled the readers of the newspapers. Yet there has to remain a question whether some of the reports like these are entirely genuine. We will never know. An article in the Huffington Post explored why Harold Lowe, one of only two officers who continued to use lifeboats to search for survivors in the aftermath, had his reputation sullied because it was alleged, he initially refused to save one man because he was Japanese.
This oft-repeated allegation originated from a magazine article by Charlotte Collyer in May 1912, which reads. "A little farther on, we saw a floating door that must have been torn loose when the ship went down. Lying upon it, face downward, was a small Japanese. He had lashed himself with a rope to his frail raft, using the broken hinges to make the knots secure. As far as we could see, he was dead. The sea washed over him every time the door bobbed up and down, and he was frozen stiff. He did not answer when he was hailed, and the officer hesitated about trying to save him. 'What's the use?' said Mr Lowe. "He's dead, likely, and if he isn't there's others better worth saving than a Jap!"
"He had actually turned our boat around; but he changed his mind and went back. The Japanese was hauled on board, and one of the women rubbed his chest, while others chafed his hands and feet. In less time than it takes to tell, he opened his eyes. He spoke to us in his own tongue; then, seeing that we did not understand, he struggled to his feet, stretched his arms above his head, stamped his feet, and in five minutes or so had almost recovered his strength. One of the sailors near to him was so tired that he could hardly pull his oar. The Japanese bustled over, pushed him from his seat, took the oar, and worked like a hero until we were finally picked up. I saw Mr Lowe watching him in open-mouthed surprise. By jove! muttered the officer. I'm ashamed of what I said about the little blighter. I'd save the likes o' him six times over if I got the chance."
This account by Charlotte Collyer was eventually considered false, but not until 2018. As Lowe's biographer noted in the Huffington Post.
"Collyer was never in the rescue vessel, having been transferred from boat 14, to either boat 10, or 12 before it left Lowe's flotilla; a fact confirmed by several eyewitness, including two crew members. Supporting this are Collyer's further claims that the women in her lifeboat later had to row to the Carpathia once dawn arrived, which happened only to the occupants of boats 10 and 12. Rescue vessel 14 commanded by Lowe approached the Carpathia under sail, which means Charlotte Collyer could not have witnessed the events she described."
Lowe's biographer would lead the reader to believe that the event did not happen because it could not have been witnessed by Charlotte Collyer, but does this mean it did not happen, and the story purported to have been witnessed by Charlotte Collyer was witnessed by somebody else? Again, we will never know.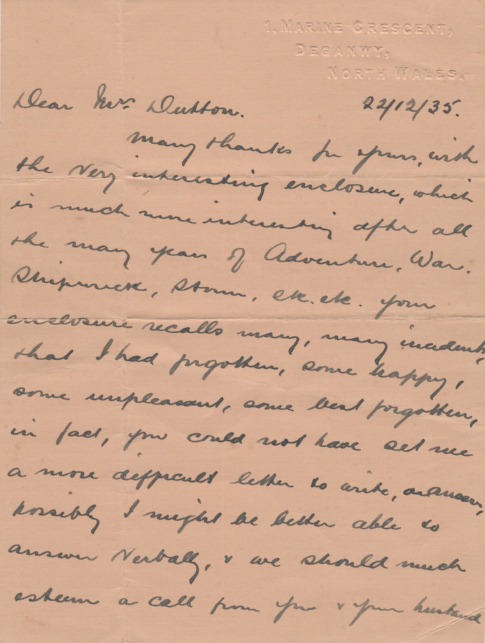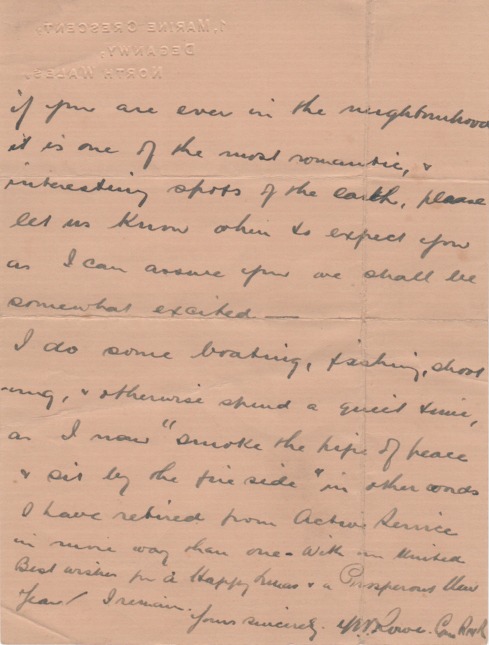 In December 1935, Marjorie Dutton wrote to Commander Harold Lowe, enclosing an original copy of the article from the Semi-Monthly Magazine. She explained that it contained the story of the Titanic as told by her mother at the time of the accident, and Marjorie said that as she mentioned your name in it several times, I wondered if you'd care to accept a copy as I have had the story reprinted. I wonder what he thought about some of the comments attributed to him. His response (pictured from the original in a private collection) is cordial, reflective, and melancholy and he replies that her letter has prompted "many incidents that I had forgotten, some happy, some unpleasant, and some best forgotten". The letter continues in general terms, and he invites her and her husband to visit him at his home in Wales and reminisce about that fateful night.
His letter clearly indicates that he understands, as a child, Marjorie would not have comprehended some of the events that took place, and it is clear that he bears no ill feeling for some of the comments that her mother may have made. The tone of his letter seems to indicate that Charlotte and Marjorie's tales of that fateful night, like all good story's do contain elements of truth, however it adds no insight as to whether Charlotte witnessed all the events which were attributed to her. This is the problem with history, we only know what has been written, not what happened.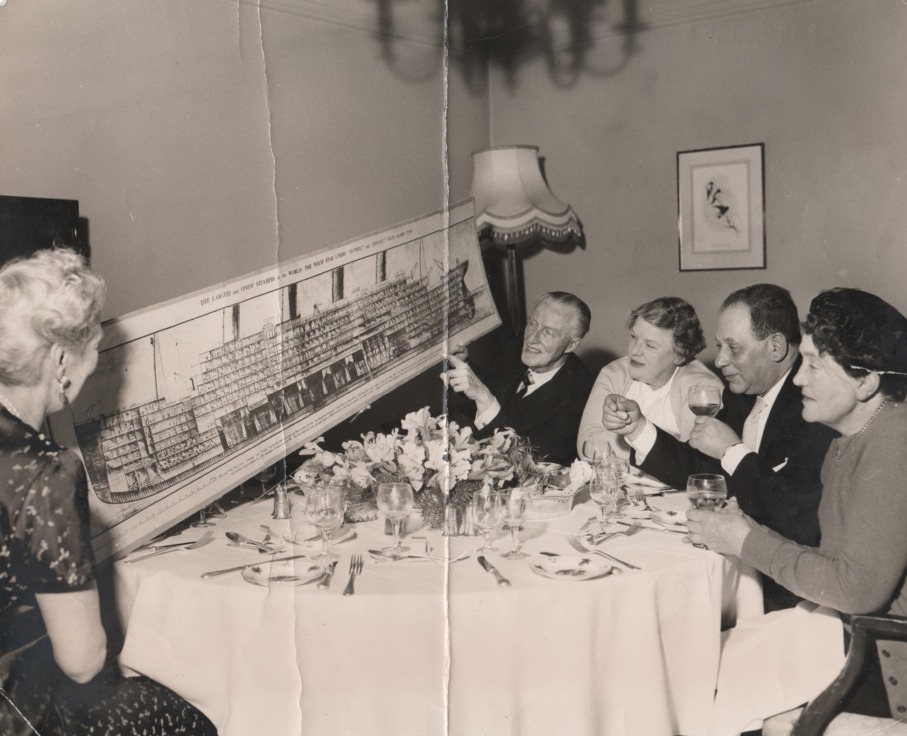 During the 1950s, Marjorie corresponded with Walter Lord during his research for his book A Night to Remember, which was based partly on the stories published by Charlotte Collyer. Marjorie was a special guest at one of that book-turned-film's screenings in London, alongside several other Titanic survivors. She is pictured here, second left in the group, at a dinner celebrating 46 years since the sinking. They were raising funds for the Titanic Fund, which supported survivors.
Marjorie's life, more than most, seems to have been marred by tragedy. At the age of eight, she lost her father, at the age of twelve her mother died, and, at the age of fifteen, whilst living with relatives, her step-father passed away. Married in 1927, in 1943 when she was still only thirty nine, her husband died.
Marjorie never remarried and continued to live in Chilworth, Surrey, where she worked as a doctor's receptionist. It seems that apart from a few years as a child living in Bishopstoke, her life had not been blessed with happiness. She wrote in a private family letter, later in life, that it felt as if the aftermath of those few days aboard Titanic had dogged her life forever. Suffering from frail health, and unable to care for herself, Marjorie moved to a nursing home, Langdale, in Alverstoke, near Gosport. She died there following a stroke on 26 February 1965 aged 61.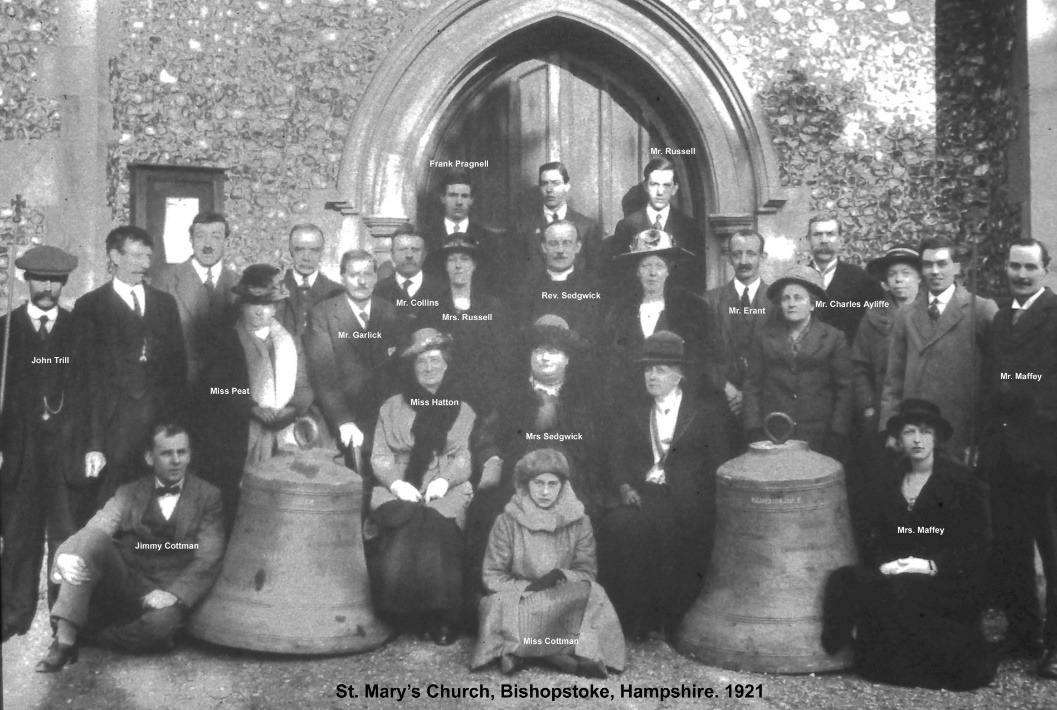 Sidney Sedgwick and his family, an integral part of the Collyer story, left our village in 1922. He became Rector of Liss, in Hampshire. He is pictured here at Bishopstoke in 1921 to celebrate three more bells being added to the peal. In 1934 his final parish was Warnford. He retired in 1938. His wife, Enid, died the same year. In 1939, Sidney Newman Sedgwick was living at Yew Tree Place, Liss, near Petersfield. Living with him was his eldest son, Cyril. Records show that Cyril was classed as mentally deficient. A man of exceptionally wide interests and talents, Sidney Newman Sedgwick died in 1941, and was remembered with great affection in all his parishes. Sedgwick Road in Bishopstoke was named in his memory in the 1950s.
Russell Luke Sedgwick (arrowed), his youngest son, became a teacher. In 1939, Russell was proprietor of St Wendeline's Army and Navy Grammar School in the village of Warningcamp, near Arundel. The school was closed in September 1939 when war was declared and became used as accommodation for Canadian and New Zealand troops. After the war, it became Arundel Youth Hostel until it was closed in 2013.
Dr. Russell Sedgwick gained a PhD and was elected a Fellow of the Royal Geographical Society and a Fellow of the Royal Society of Arts. Quite an achievement for a lad who, like some of us older Bishopstoke residents, survived the intolerable stench from the urinal in the outside toilets at the old Victorian Boys' School in Church Road.
Bibliography
Special thanks to Steve and Jane Raffield for sharing their personal collection of Titanic memorabilia to assist my research.
Roberts, Alun (2003) The Story of the Collyer Family – Leatherheads connection with the Titanic Disaster, Leatherhead and District Local History Society.
Heath, Linda (2002) Leatherhead Parish Magazine – December Issue
Kent-Layton, J. Wormstedt, W. & Fitch, T. (2012) On a Sea of Glass, Amberley Books
Charlotte and Marjorie Collyer – The British Titanic Survivors who lost everything – https:// chrissyhamlin.blogspot.com on the hidden history blog
Encyclopedia Titanica.org
https://clickamericana.com
Additional Material
Malcolm Dale, Stan Roberts, David and Sue Marriott, Reverend Richard Wise, Jackie and Ian Lawford, Joan Simmonds, Joyce Burford.