He owned a Bakers and Grocery shop at 25, Church Road.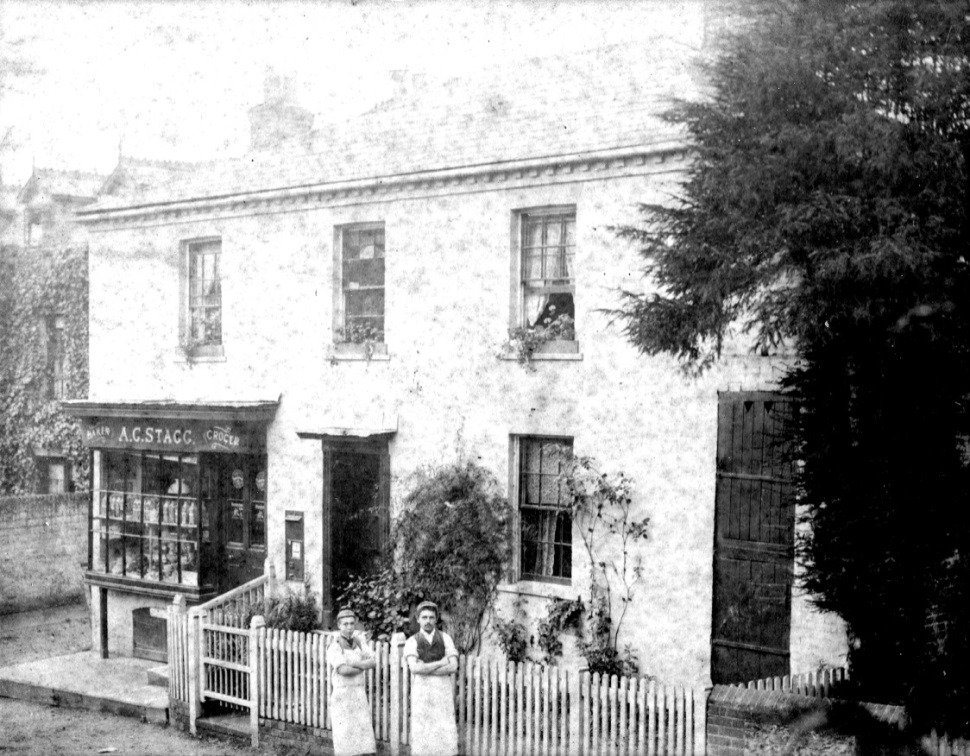 (Whitehaugh is the ivy clad building to the left & behind the shop)
(Where the Whitehaugh Court flats are today)
Alfred is pictured in the middle outside his shop.
Delivery wagons outside the shop.
This "Hovis" Bread ledger of A. G. Stagg shows what bread and cakes were ordered for George Edward Younge, (Charlotte Younge the Victorian Novelist was his cousin) who lived at Stoke Lodge in Church Road. He was the Treasurer to Winchester City Council.
May 2nd — ¼ of bread 3d, May 3rd — ½ of bread 6d, May 4th — ¼ of bread 3d, May 5th — ¼ of bread 3d, May 6th — half a loaf of Hovis 7½ d, May 7th — ¾ of bread 9d & cakes 6d, total 3 shillings, 1 ½d and was paid for by A. Noyce.
Besides bread, other purchases include, household, groceries, lard, a box of Sunlight soap powder & 4 lb of lump sugar, paid for by H. Holloway.
Alfred and his wife Ann pictured in their pony and trap.
Alfred and Annie Stagg's grave in St. Mary's Churchyard, Bishopstoke The inscription reads "In loving memory of Alfred George Stagg who fell asleep Jan. 2nd 1924 aged 57 years " "Thy will be done" Also his wife Annie died Sept. 27th 1950 aged 82.
C.N.George took over from the Stagg's, he was a "High-Class" Baker, Confectioner and Grocer.
Through the years different kinds of shops were made at 25, Church Road. This barbers shop was at 25b Church Road, with its window display for Queen Elizabeth's Coronation in 1953.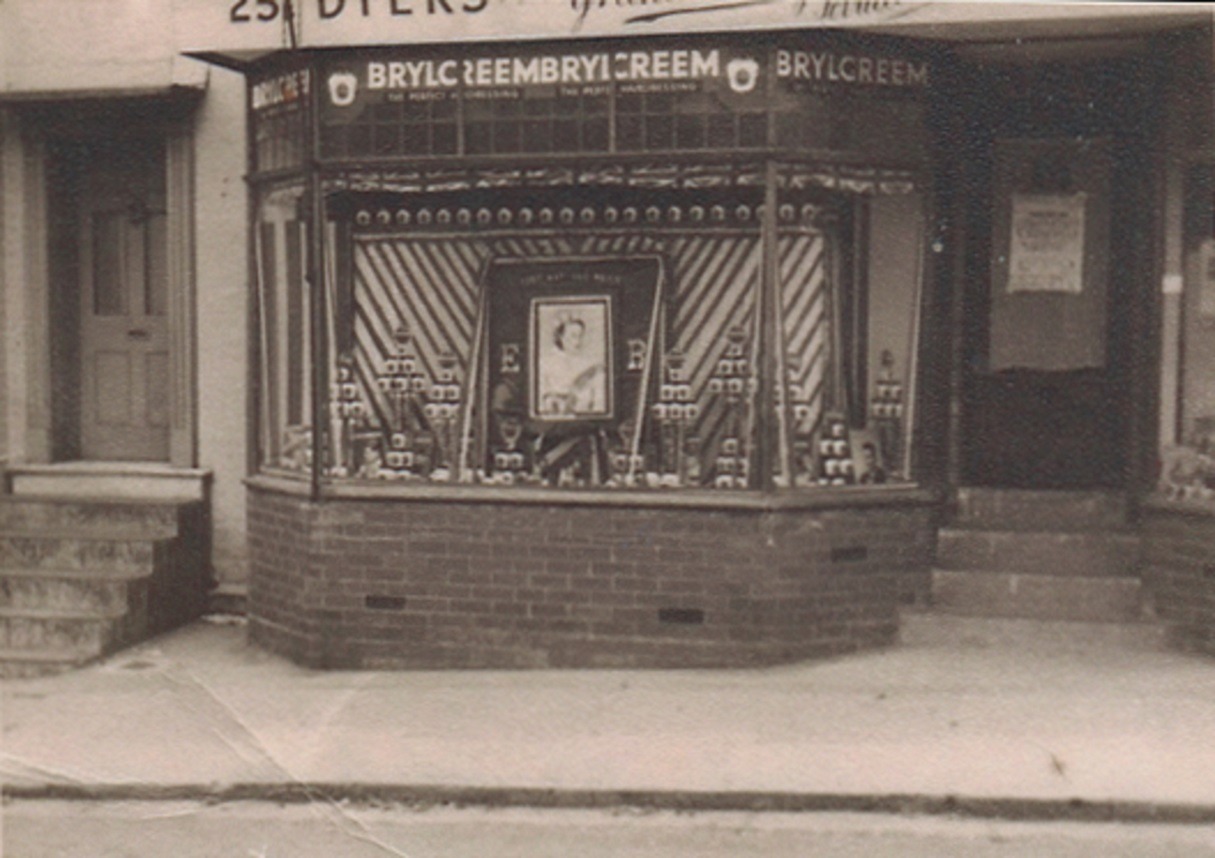 "The Hampshire association for the care of the blind " were another business to use the premises.
These next photos were taken just before the demolition of the old building to make way for a new building, for the care of the blind called "Open Sight"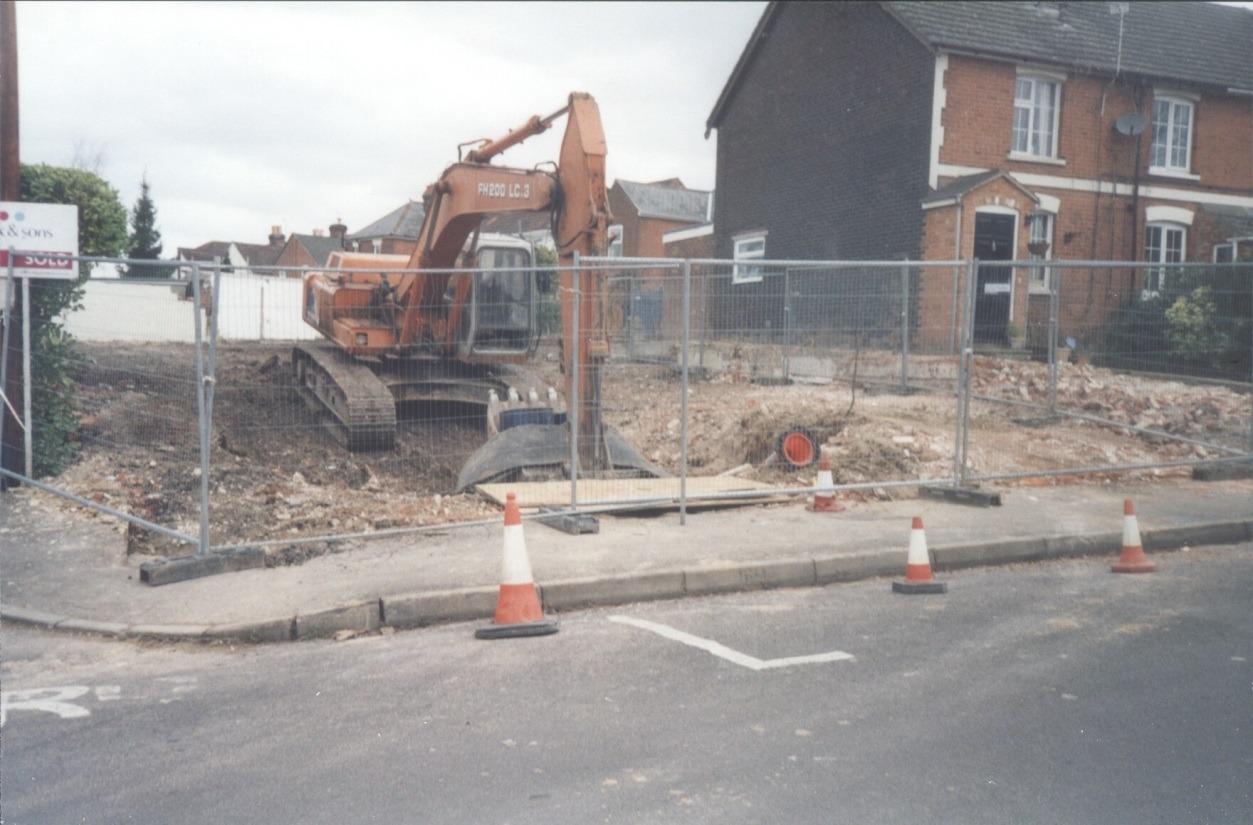 The Open Sight Offices in Church Road today.